Saakashvili attempts a Napoleon in Odessa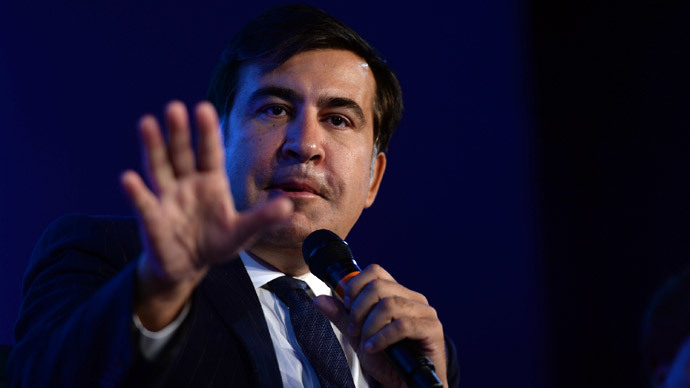 Petro Poroshenko's decision to appoint Georgia's disgraced former President as Governor of the Odessa region just might be his most bizarre move yet. Mikhail Saakashvili is a wanted criminal suspect in his homeland.
When the pro-Euromaidan activist Maxim Eristavi tweeted on Friday that Mikhail Saakashvili was to become Odessa's new Governor, the Twittersphere didn't seem to know whether shock or amusement was the most appropriate reaction. However, on closer inspection, the move isn't such a surprise after all. There are myriad reasons why Saakhasvili would find Odessa's top job attractive and equally as many why Poroshenko is most likely delighted to send him there.
READ MORE: Ex-Georgian president, wanted at home, becomes governor in Ukraine
It's common knowledge that Ukraine is a tragically divided land, but Odessa is split like no other city in the country. 150 years ago, Odessa was one of Europe's most vibrant destinations, at a time when it was a multi-ethnic smorgasbord of Russians, Jews, Greeks, Italians and Albanians. In fact, it even had two French governors – Duc De Richelieu and Count Andrault De Langeron. So famed was Odessa that in 1869, the legendary American writer, Mark Twain, predicted that it would become "one of the great cities of the old world."
Russia's national poet Alexander Pushkin wrote of the Black Sea Pearl: "the air is filled with all Europe, French is spoken and there are European papers and magazines to read." By 1897, 37% percent of the city's population was Jewish. Post World War II, the Russian (largely to Moscow and Leningrad) and Jewish (mainly to Israel and the USA) elite moved out and the Soviets moved in Ukrainian villagers to replace them.
Its best days behind it
The glory days have long since passed. Riddled with corruption, in the 21st century, Odessa is an extremely melancholic and economically moribund city better known for mafia activity and sex tourism (Odessa Dreams by the Guardian's Shaun Walker is a useful read on the latter subject), than high culture. Despite its rich history, and striking Italianate architecture, any right-thinking visitor would find the place rather mournful.
During Ukraine's civil war, Odessa – which is primarily Russian speaking but geographically close to western Ukraine – has threatened to boil over on numerous occasions. Last year, at least 32 anti-government protestors were murdered when the municipal trade union building was set ablaze. Nevertheless, an uneasy peace has largely held.
Oligarchs will not run Ukraine anymore, says @poroshenko, oligarch running Ukraine https://t.co/UleNL2GSTE

— max seddon (@maxseddon) May 30, 2015
Saakashvili's arrival in Odessa sees Poroshenko kill two birds with one stone. The Georgian's presence in Kiev – one assumes at the behest of the regime's American sponsors – probably wasn't entirely to the Chocolate King's taste. Additionally, as Ukraine's oligarchs intensify their scramble over what's left of the economy, Poroshenko doubtlessly resented the fact that Odessa's previous governor, Igor Palitsa, was seen as loyal to his political and business rival, Igor Kolomoysky.
The Georgian despot
Nevertheless, this gamble is going to backfire badly for Ukraine's President. Saakashvili ran Georgia like a personal fiefdom. This won't be possible in Odessa. Firstly, the local legislature is not a rubber stamp body with a 4/5th's majority as he enjoyed in Tblisi. Another Saakhasvili technique in Georgia was to raid, and eventually take-over, opposition TV stations. Again, these tactics simply won't pass muster in the Black Sea region. Ukraine's national TV networks are already owned by Poroshenko and his supporters, anyway.
As a Georgian, Saakashvili will be well aware of Odessa's importance to the Black Sea's illicit trade triangle, which centres on the ports of Batumi/Poti (Georgia), Illichovsk/Odessa and Varna/Constanta (Bulgaria/Romania). The Odessa route for EU-destined contraband (via Transnistria and Moldova) is more direct and prized than the southern Varna alternative. It's difficult to imagine how Saakashvili, as an outsider, could stare down the Odessa mafia and succeed in reforming the ridiculously corrupt ports in the region.
Speaking of graft, Saakashvili is currently a fugitive from justice in his homeland. Tblisi's authorities accuse him of ordering brutal attacks on opposition protestors, illegally raiding the Imedi TV offices and seizing property belonging to a businessman, Badri Patarkatsishvili. In addition, prosecutors claim the ex-President spent $450,000 of public funds on botox injections and hair removal for himself and his family.
READ MORE: Exiled former Georgian President Saakashvili has assets frozen
Until recently, the one-time protege of American neocon John McCain, was hiding out in New York. Earlier this year, he turned up in post-coup Ukraine with all the appearance of an actor searching for a good script. At least, he now has a meaty role to get his teeth into.
However, his toxic legacy in Tblisi doesn't inspire confidence. Following the 2003 'Rose Revolution,' Saakhasvili promised to reform Georgia and triumphantly lead it into both the EU and NATO. He achieved neither aim. Instead, he fronted an increasingly authoritarian regime until finally being ousted in 2013 by a broad opposition coalition, headed by billionaire Bidzina Ivanishvili. Two years earlier, he had attempted to deprive his rival of Georgian citizenship in a cynical attempt to hold onto power.
In 2008, Saakashvili, for reasons that have never made much sense, launched a catastrophic war against the breakaway province of South Ossetia. Eventually Russian "peace-enforcement" troops crushed his forces. The residual embarrassment, coupled with economic stagnation, made his name mud with most Georgians, who eventually tired of his eccentric, autocratic governance.
In Ukraine, he is attempting an unlikely political comeback. With the exception of Napoleon, who the ever-confident Saakashvili possibly equates himself to, second revolutions have been rare for European leaders. Saakashvili turned Georgia into a basket case, leaving a 16% unemployment rate behind him. Odessa is already an unholy mess economically. Will Saakashvili meet his Waterloo in the Ukrainian province? The smart money says "yes."
The statements, views and opinions expressed in this column are solely those of the author and do not necessarily represent those of RT.
The statements, views and opinions expressed in this column are solely those of the author and do not necessarily represent those of RT.
You can share this story on social media: