Ex-Georgian president, wanted at home, becomes governor in Ukraine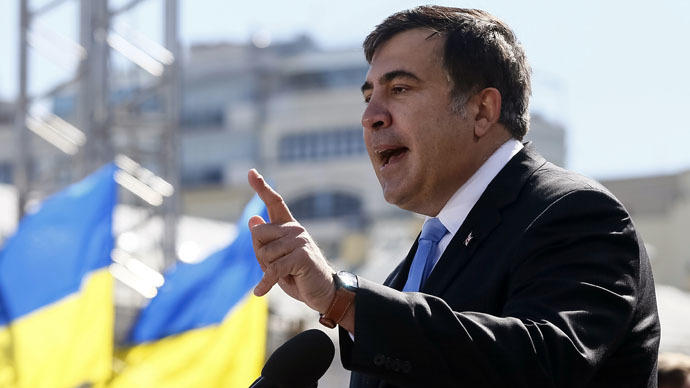 Georgia's former President Mikhail Saakashvili, wanted by his country's prosecutors for embezzlement, abuse of power and politically-motivated attacks, has been appointed governor of Ukraine's Odessa region.
President Petro Poroshenko personally appointed Saakashvili to the post, saying the former Georgian leader is "a friend of Ukraine." In a statement at Saakashvili's nomination in Odessa, Poroshenko said the two had known each other for 25 years, since university days.
Нас об'єднує любов до Одеси і України.Від щирого серця бажаю успіху новому главі ОДА Михайлу Саакашвілі.У добру путь! pic.twitter.com/O1Dj8cWWRq

— Петро Порошенко (@poroshenko) May 30, 2015
According to Poroshenko, Saakashvili "has proven with deeds, not words that he can not only give birth to creative ideas, but also put them into practice." He added Georgia's ex-president had changed his country "in the direction of transparency, effectiveness, anti-corruption, appeal for foreign investors, fair justice, protection of citizen's rights, democracy," something Poroshenko "would like to see very much" in Odessa.
Earlier on Saturday, Saakashvili was given Ukrainian citizenship under Petro Poroshenko's personal decree, published on his website. According to the Ukrainian constitution, only a citizen can become an official at governor level.
I ❤️ Odessa http://t.co/Z8hjhZjrvu

— Mikheil Saakashvili (@SaakashviliM) May 29, 2015
Mikhail Saakashvili left Georgia in autumn 2013, days before his presidential term expired. He has been living abroad ever since.
In spring 2014, Georgia's new ruling coalition accused Saakashvili of embezzling hundreds of thousands of dollars from the state budget. According to Georgian officials' accounts, he spent the money on parties and expensive presents for his nearest and dearest. Saakshvili denies the charges, saying the funds went to attracting foreign investors to the country. Georgia's prosecutors have started an investigation into the case.
READ MORE: Ukraine refuses to extradite ex-Georgian President Saakashvili
There are several other criminal cases ongoing against Mikhail Saakashvili. He is being accused of abuse of power during the crackdown on anti-government protests in the Georgian capital Tbilisi on November 7, 2007. He was also allegedly involved in the attack on the opposition TV station Imedi, which was seized by Georgian special forces on the same day, and the appropriation of the founder's assets.
During his term, Saakashvili personally controlled the country's special forces. After his opponents came to power, the force was removed from the head of state's direct command, and its documents declassified.
In February 2015, Georgia issued an extradition request for Saakashvili, but Ukraine declined it.
The Russian Foreign Ministry's human rights representative Konstantiv Dolgov has made a sarcastic comment about Saakashvili's new post. "Saakashvili, accused of multiple crimes against the people of Georgia, has been appointed the governor of Odessa, where neo-nazis had burned people alive and got no punishment," Dolgov said on Twitter, referring to the May 2014 fire in which dozens opponents of the Maidan movement perished.
READ MORE: 'If the US hadn't sponsored him, Saakashvili would be on Washington's wanted list'
"This is deeply symbolic of 'Kiev-style democracy', which the West is still watching with shameful approval!" the Russian official added.
Saakashvili has been a long-time supporter of the current Kiev administration, ever since its heads were leaders of the Maidan movement which toppled the former Ukrainian president in the February 2014 coup. He came to Kiev to support the protesters during the rioting. Before the latest appointment, Saakashvili was Poroshenko's advisor on reform.
In his new post, Saakashvili says he plans to turn the port city of Odessa into "the capital of the Black Sea." In an address following his nomination, he said: "It is very important for me to start, because this is going to be a very long process," adding, "it needs serious change... to bring many more tourists and investors to Odessa and turn it into a real world wonder."
По Одессе развесили галстуки для Миши pic.twitter.com/NuEADvhKsX

— Исторический Ликбез (@kh_reader) May 30, 2015
Activists in Odessa have greeted the new governor with a flashmob. They've put up neckties with notes saying "for Misha", on trees, monuments and fences across the city. The joke is a reference to a video shown by the BBC in August 2008, where Saakashvili is seen chewing his necktie. The Georgian leader's unusual snack has since become the butt of numerous jokes.
You can share this story on social media: