Exiled former Georgian President Saakashvili has assets frozen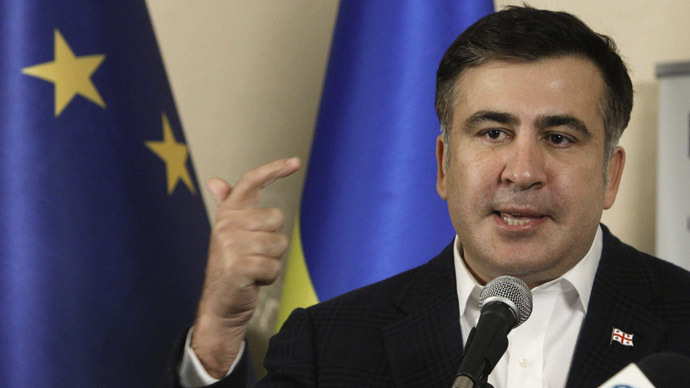 Former Georgian President Mikhail Saakashvili had his assets frozen by a court in his native Georgia. This affects his bank accounts and property belonging to both him and his family. He also faces corruption charges and illegally breaking up a protest.
The news was confirmed by Saakashvili's lawyer, Otar Kakhidze, who said the asset freeze had been imposed by the Tbilisi city court. It affects not only his property, but also his mother's and grandmother's. His lawyer verified that the former president's bank accounts in Georgia had also been frozen.
The pre-trial hearing at the Tbilisi City Court was scheduled for September 22, but it has been delayed until November 19, according to RIA Novosti. He will face charges of brutally breaking up a protest in 2007, a raid on the Imedi television station offices and the seizure of billionaire Badri Patarkatsishvili's property.
The case was opened under Article 333 of the Criminal Code of Georgia on the abuse of power, the use of violence or a weapon, and the breach of the dignity of a victim. Saakashvili has refused to answer any questions or otherwise cooperate with investigative authorities.
Since his presidential term ended in 2013, when he was routed in parliamentary elections, Saakashvili has been living in exile in the United States. However, the 46 year-old has continued to face numerous charges, stemming from his time in power from January 2004 to November 2013.
On August 31, Georgia's Chief Prosecutor Office launched proceedings to indict Saakashvili and place him on the international wanted list. Natia Sukhiashvili told the Georgian Rustavi-2 television station in an interview that "Mikhail Saakashvili was on the wanted list in Georgia," adding that based on the Chief Prosecutor's Office corresponding request, "the procedure for Saakashvili's putting on the international wanted list and the issuing of Interpol's Red Notice for him has been launched in parallel," RIA Novosti added.
The charges relate to abuse of office during his time as president, when hundreds of opposition protesters were brutally beaten in November 2007. They had been demanding early elections and for Saakashvili to step down as president.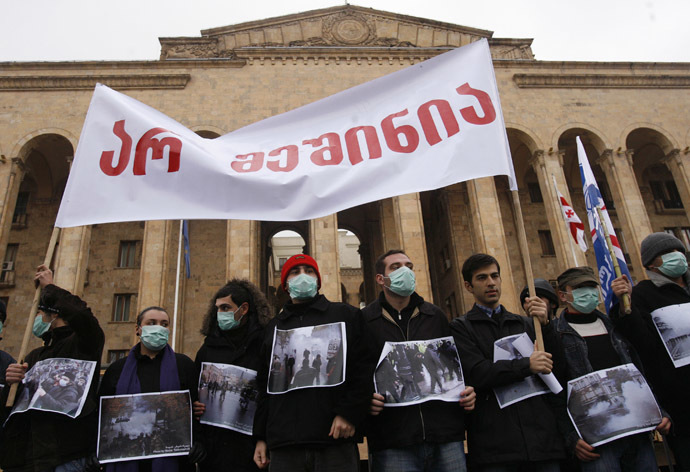 He was also indicted on allegations of corruption during his time in power. ITAR-TASS report that he had embezzled funds to the tune of $5 million between 2009 and 2012.
He has already returned seven suits and a Cashmere coat he purchased with taxpayers' money while in office. He is also believed to have spent $450,000 on Botox injections and hair removal for himself and his family. If he is convicted, he could face up to 11 years in prison.
The former Georgian president is also accused of using state funds to bring his personal masseur, Dorothy Stein to Tbilisi to give him a massage. Stein says she was paid 2,000 euros, to massage him on regular occasions, including giving him her trademark "bite massage."
In March, Saakashvili was summoned to appear before the Prosecutor General's Office in Georgia in connection with the death of former Prime Minister Zurab Zhvania in 2005.
An official investigation into Zhvania's death maintained it was accidental, the result of carbon monoxide poisoning from a faulty heater, but Zhvania's supporters have always insisted that it was a carefully choreographed homicide.
"Saakashvili should answer all the questions of the investigation, otherwise suspicions against him will deepen further. If he still has good sense, he should come to Georgia," Prime Minister Irakli Garibashvili stated in March.
"If Mikhail Saakashvili fails to turn up, an international arrest warrant for him will be issued in accordance with the Georgian legislation," Garibashvili stressed.
In February 2014, a Georgian court sentenced Saakashvili's ex-Prime Minister Vano Merabishvili to five and a half years in prison for embezzlement. Both the ex-PM's supporters and Western diplomats labeled the sentence as "political persecution," but Georgia's new authorities firmly denounced all allegations that political motives were behind the court's decision.
Mr. Saakashvili said the charges proved nothing more than that he is the target of a political witch hunt. "If you cannot find, for somebody who has been in power for nine years in a post-Soviet country, anything connected with corruption or enrichment, that makes me very proud," he said.
Meanwhile, Saakashvili has been carving out a new life for himself in the United States. The 46 year-old has strong links to the country, where he studied law at Colombia University. He now spends his time in Williamsburg, Brooklyn, living in his uncle's apartment, according to the New York Times. The paper adds that he frequently attends parties and bars, and he is an avid fan of riding his bike as a way of getting around town.
You can share this story on social media: