​US to Georgia: Don't touch Saakashvili, he's our SOB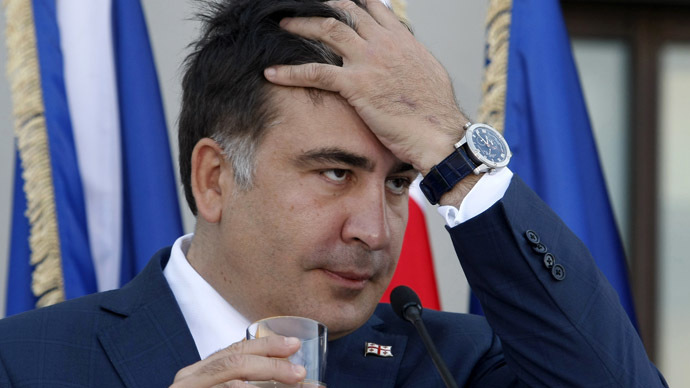 Following criminal charges filed against former President Mikheil Saakashvili of Georgia by the prosecutor's office, Tbilisi City Court accepted the prosecution's motion and ordered the fugitive president's pretrial detention in absentia.
The charges include abuse of power, violent dispersal of peaceful protest rallies, persecution and intimidation of political rivals, and the unlawful expropriation of the Imedi TV channel.
Earlier, several key figures of Saakashvili's regime had also been charged in similar fashion. The list included Vano Merabishvili (former interior and prime minister), Zurab Adeishvili (former minister of justice), David Kezerashvili (former defense minister), Bacho Akhalaia (former defense and interior minister) and Gigi Ugulava (former Tbilisi mayor).
Washington reacted immediately.
US Republican Senators John McCain and Jim Risch, as well as Democratic Senators Jeanne Shaheen and Ben Cardin, said in a joint statement July 28 that they were "extremely disappointed and concerned" about this ruling. Democratic Senator Chris Murphy and Republican Senator Ron Johnson had this to say:
"While we appreciate the goal of preventing a culture of impunity for government officials, the prosecution of Georgia's former President – in addition to the former Prime Minister, Interior Minister, Defense Minister, and Chief Prosecutor - contributes to the perception that the ruling Georgian Dream coalition is systematically pursuing charges against their political opponents."
The US State Department issued a separate statement, saying: "Commitment to the rule of law means both that everyone must comply with the law in a democratic society and that the legal system should not be used as a tool of political retribution."
Simultaneously, however, the United Nations Human Rights Committee urged Georgia to continue its trials against former officials, and demanded to speed up the cleaning up of violations committed by those officials, though it also said that an impression of political retribution should not be created.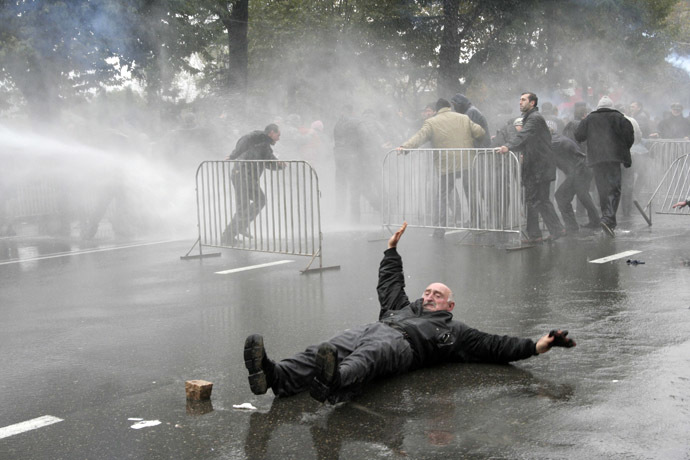 The former 'revolutionary'
The rise of Saakashvili started in 2003, when he succeeded in overthrowing his former patron President Eduard Shevardnadze in the course of one of the "color" revolutions, the so-called "Rose Revolution." Contrary to widespread expectations, Saakashvili's regime did not bring Georgia either prosperity or any of the generally desirable values such as democracy, human rights, the rule of law, etc.
Admittedly, Saakashvili inherited from Shevardnadze what was essentially a failed state. In a relatively short period of time the new government was able, with huge Western financial support, to achieve some impressive results in battling corruption and organized crime, conducting economic and law enforcement reforms, developing infrastructure and tourism. In 2004-2006 Georgia was recognized as "a beacon of democracy" in the region. That was how US President George W. Bush eloquently put it in his speech in Freedom Square in Tbilisi in May 2005.
In 2007, however, things took a different turn. Saakashvili and his close associates started abusing their powers, intimidating and persecuting political rivals, and gaining control over the media, as the ruling party gained ever greater sway over core businesses and the justice system. To muzzle potential criticism, Saakashvili hired several leading US lobbying firms very adept at manipulating public opinion and the media.
Saakashvili's trump card was always his strong anti-Russia and anti-Putin rhetoric. This won him quite a few prominent friends in Washington; some of these are now rallying in his defense.
While constructing superb government and police buildings, luxury hotels, health resorts and other showy prestige projects, the Saakashvili regime neglected climbing unemployment rates, a lack of social welfare and widespread poverty.
At this point, a rhetorical question can be asked: was the West aware of the misdeeds of Saakashvili and his entourage? The answer is yes, of course. And yet it is obvious that the US and EU will not denounce Saakashvili, and that they will use all of their influence to force the new Georgian government to give up their legal prosecution of him.
Personally, I do not think they will succeed. Saakashvili did too many evil things to too many people in Georgia. More than that, the court in Tbilisi has not yet charged him with his most heinous crime of all – the August 8, 2008 military assault on South Ossetia. It is now common knowledge, with plenty of documentary evidence, that it was Saakashvili who started that war. Sooner or later he will be charged with that crime as well.
Pathetically, Saakashvili is now an official adviser to the Ukrainian government. One can imagine what kind of advice a man who lost 20 percent of his country's territory can give to Kiev.
Another, no less pathetic action was performed by Tuft's University Board: it offered a "Senior Statesman" position to that odious person with criminal charges hanging over him. Not a very dignified decision by such a prestigious American University. One wonders what the students' and faculty's reaction will be when they read and see the upcoming criminal case proceedings.
Edward Lozansky for RT
Edward Lozansky is President of the American University in Moscow.
The statements, views and opinions expressed in this column are solely those of the author and do not necessarily represent those of RT.
The statements, views and opinions expressed in this column are solely those of the author and do not necessarily represent those of RT.
You can share this story on social media: