Ireland veers left, Poland moves right, Europe's unity is stretched
Published time: 26 May, 2015 16:26
Edited time: 26 May, 2015 16:53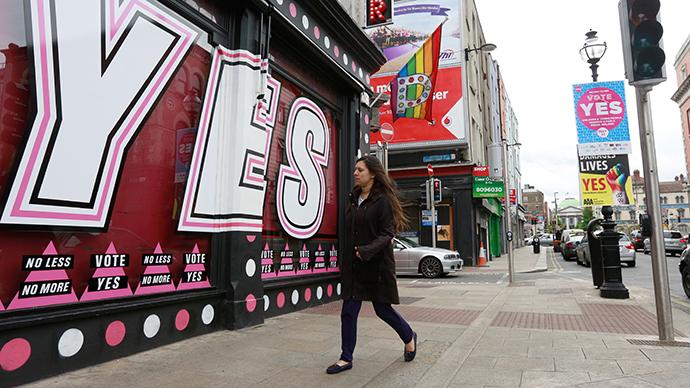 While Dublin celebrated a referendum victory for 'marriage equality,' Poland took a sharp turn to the right last weekend. This is just the latest evidence the EU is unworkable in its present form.
At first glance, Celtic Ireland and Slavic Poland might appear very different. In actual fact, their historical similarities are manifold. Both experienced ultra conservative Catholic pasts and have endured sustained outward migration. During the Papal reign of John Paul II and Solidarity's struggle against communism, most Irish felt closer to the Poles than largely Protestant Germans, for instance.
Ireland and Poland experienced political earthquakes last weekend. The fact that those tremors were so radically different proves once more why the EU, as it's currently constituted, has no future.
In Dublin on Saturday, thousands of people took to the streets to celebrate the introduction of same-sex marriage.
Ireland became the first nation in the world to introduce the practice by popular vote. The bill was the culmination of a breakneck liberalization process in which Ireland has socially transformed in just two decades, compared with the century it required for England and France. Ireland's swift mutation from a priest-ridden, fearful backwater to a modern, strident bastion of liberalism has been entirely fuelled by influences from other Anglophone countries like the US, Canada and New Zealand.
READ MORE: Ireland becomes first country to approve gay marriage in referendum
Despite joining the EEC in 1973, Europe has had very little cultural clout in Ireland for the simple reason that the Irish have very little interest in continental European languages, preferring Irish Gaelic and English. Ask a random stranger in Cork who Bernard-Henri Levy is and expect puzzled looks (some might hazard a guess that he designs jeans). Query instead about Oprah Winfrey or Jeremy Clarkson and pretty much everybody will tell you why the American and Brit are famous. Hardly a surprise when they both speak English and Levy is a Francophone.
At the other end of the continent, Poland fancies itself as an important European geopolitical player. In fact, it has been noticeable in recent years that Warsaw's politicians and media prefer to describe the country as 'Central European' rather than 'East European.' One assumes that Poles feel there is some kind of stigma attached to the latter definition.
Under the pro-Brussels tandem of Donald Tusk and Bronislaw Komorowski, Poland began a rapid Irish-style tilt to liberalism. Much as its cities have been colonized by German retail outlets, it seemed Poland was also assuming its larger neighbor's earnest values and the Church's dominance appeared to be retreating.
Of course, this new Polish altruism of Komorowski and Tusk was in marked contrast to the double act of the Kaczynski's, Lech and Jaroslaw, who had preceded them. The twins presented a rather eccentric foreign policy. Pro-NATO, as well as loyal supporters of George Bush's USA, they displayed anti-Russian and German sentiments and were hostile to Brussels. Meanwhile, they were sympathetic to Serbia on Kosovo (on this issue they were at variance with the US, but on the same page as Moscow), supportive of Israel but deeply Catholic and socially conservative.
Radio Ga-ga
Indeed, support from 'Radio Maryja' (a wildly popular religious radio station, which is a curious Polish cultural phenomenon) was central to their political success. To reinforce the Kaczynski paradox, Radio Maryja was financed by the Polish-American Edward Moskal, a renowned anti-Semite.
Just when EU liberals believed that Warsaw's intractability had decreased, Polish voters dealt them a hammer blow. Last December, when Tusk assumed the role of President of the European Council, mainstream media were falling over themselves to commend how he had 'transformed' Poland. Now, it turns out that his remodeling was only superficial.
Enter Andrzej Duda, the president elect, and heir to the Kaczynski mandate, who shares little of Tusk's enthusiasm for 'European values.' Just as Eurocrats and the liberal media were patting Ireland on the back for its overwhelming support for gay-rights, Duda had an entirely different take, and one that was more rooted in St Petersburg than Brussels. "The affirmation of homosexuality will lead to the downfall of civilization, we can't agree to it," he exclaimed.
Unlike his conservative brethren in Russia and America, Duda is also not too keen on Jews, disagreeing with Poland's apology for their treatment during and after WW2. Incredibly, he stated that those who sympathized were "smearing the country's (Poland) good name."
Europe's moral division
Just as Dublin, which hosts thousands of Polish emigrants, had gone all progressive, Warsaw had massively regressed in European liberal terms. On the same weekend! If you were looking for further fuel for the notion that the EU is entirely unworkable, there is plenty of it here. As the western side of the continent is hurtling towards New York hipster scruples, the eastern chunk is nonchalantly eyeing Moscow's crusade for 'traditional values' and thinking "we'll have some of that."
The Western press seems spooked by Duda. London's Daily Telegraph announced that Poland was now on "the velvet road to dictatorship." Perhaps it's just me but haven't you also noticed that any leader who rejects the neoliberal consensus is immediately labeled a dictator? Think of Hungarian Prime Minister Viktor Orban, or Russia's Putin. Correctly pointing out that Poland's president oversees foreign policy, the excitable Telegraph failed to explain how Duda will convert this influence into creating his fantastical "dictatorship."
Speaking of Putin, while many of Duda's moral and economic positions mirror those of his Russian counterpart, it's fair to say Warsaw's incoming president is no fan of the Kremlin. Instead, as a Polish nationalist, Duda pretty much hates all his neighbors equally. Of course, Moscow might view this as an improvement from Komorowski's policy of singling out Russia for attention. While the latter focused most of his venom on Russia, Duda will surely spread the antipathy more evenly.
Ukraine's post-Euromaidan regime enjoyed pretty much unconditional loyalty from Warsaw over the past year. Expect that to change now. President Poroshenko's choice to glorify the Nazi collaborators from the Organization of Ukrainian Nationalists (OUN) and the Ukrainian Insurgent Army (UIA) might have gone down very well in Lvov, but it fell like a lead balloon in Poland. The OUN/UIA murdered countless Jews and Poles and killed between 60,000 and 80,000 Poles in the Volyn Massacre alone.
Poroshenko is probably about to learn a salient lesson of nationalism - it's cool to play the patriot card until your more powerful neighbors do the same. When that happens, you are in serious trouble.
This weekend proved, once again, why the current EU project is doomed. The Eurocrat ambition to create a carbon copy of the US has never looked so deluded. The US works in practice because from Boston to San Diego, there is one language and a general conformity in the beliefs and aspirations of the majority. Today, the values of Poland and Ireland are worlds apart. Charlemagne himself couldn't square that circle.
The statements, views and opinions expressed in this column are solely those of the author and do not necessarily represent those of RT.