'Extension of anti-Russian sanctions would hit Greece quite hard'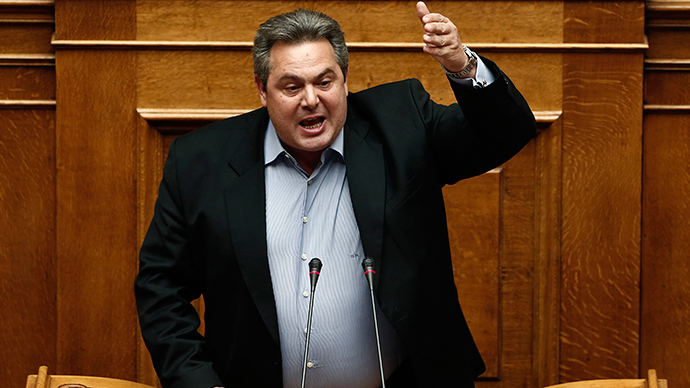 As the Greek economy is in crisis and the country is trying to attract money from any source to survive, prolongation of the sanctions against Russia would only worsen the situation, former Greek diplomat Leonidas Chrysanthopoulos told RT.
The US is asking Greece to support the extension of sanctions against Russia. The request was made during a visit by the Greek Defense Minister Panos Kammenos to Washington. Greece does not seem very keen on it as these sanctions as they are causing the Greek economy an estimated loss of €4 billion a year.
RT:The White House has previously admitted to playing a role in the sanctions on Russia imposed by the EU. Is Europe losing its sovereignty?
Leonidas Chrysanthopoulos: What is actually happening now is that the Greek government will not accept the extension of the embargo against Russia when it ends in July. We are in the middle of an economic crisis that has been created by the EU and we are trying to find money from all kinds of sources to survive. That's one aspect of this. The other aspect, as Minister Kammenos said, is that we have our traditional relations with Russia and these relations are very important to Greece and to its people.
READ MORE: Washington asks Athens to back anti-Russia sanctions - Greek minister
RT:How much friction is this going to cause between Greece and the rest of the EU?
LC: It's going to create problems but we must not forget that when Greece came out in February and raised the issue of not extending the embargo we had two other countries that popped out – Austria and Slovenia – that supported us. So it's quite possible that other countries who have been hit by the Russian embargo would also come out and this stupid story of the embargo may finally stop. And we must also take into consideration that it is the EU that created the issue in Ukraine but not Russia, by not accepting to have the Association Agreement because the Parliament of Ukraine did not accept the demand to free Timoshenko. And then everything broke loose. So this is something that the Greek government also believes in.
RT:How problematic would it be for Greece if the anti-Russian sanctions were extended?
LC: It would hit us quite bad as the Minister said. We get about four billion euro per year from Russia in our agricultural exchanges and we have 1.5 million tourists coming to Greece. That would hit us quite hard.
The statements, views and opinions expressed in this column are solely those of the author and do not necessarily represent those of RT.