'Russia-China growing trade not targeted against US, any other country'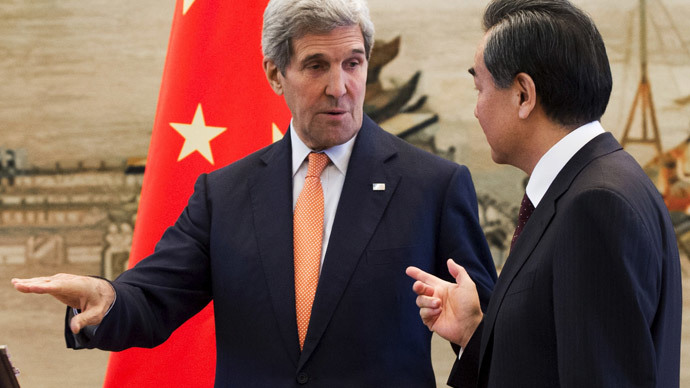 The growing economic ties between Russia and China as well as their military cooperation are not targeted at a third country, including the US, Dr. Zhang Xin, Research Fellow at the East China Normal University told RT.
The US Secretary of State John Kerry has expressed his concern over Beijing's claims to the disputed waters in the South China Sea during a news conference with Chinese Foreign Minister Wang Yi in Beijing on May 16.
He said the "region needs smart diplomacy in order to conclude the ASEAN-China code of conduct and not outposts and military airstrips." Earlier this week, the US Defense Department reported that action could be taken against Beijing's activity in the area. China reacted immediately, insisting that Washington is the first to blame for tension in the region.
RT:Why is the US so concerned over China's activity in the disputed waters?
Dr. Zhang Xin: I would say it is probably the result of a much longer trend. The US administration and certain political forces in the United States regard China as the largest threat to its international dominance. So the recent land reclamation efforts by China in the South China Sea is just one part of this rising challenge of US domination in the international system. I think that is the main reason for the US' increasing concerns over China's actions in the South China Sea.
READ MORE: 'Not aimed at third country': Russia & China start joint drills at Mediterranean
RT:Do you see it as US interference in China's internal policies?
ZX: To a large extent it is. At least it is an intervention in a regional issue, because the US does not have a direct stake in it. It does not have either the legal or historical justification to be an active part in the disputed waters in the South China Sea, no matter which angle we look at the issue.
RT:We see how politicians in Washington and Beijing are exchanging harsh words over the South China Sea. However, during his visit, Secretary Kerry speaks about diplomatic solutions and mutual understanding. How do you explain that?
ZX: From the US perspective, it doesn't want to go all out to exert some sort of confrontational attitude towards China. At least on the surface, both sides, the US government and Chinese government on many different occasions emphasize the necessity and the possibility to look for diplomatic solutions to the current difficult situations in the South China Sea. Personally, I'm very glad to see at least Secretary Kerry stick to that kind of principle, and the Chinese side has responded to some extent in a similar way. I hope that is at least a sign that the two sides would meet somewhere in between.
READ MORE: US official 'misspoke' about sending B-1 bombers to Australia amid S. China Sea dispute
RT:China has signed lots of trade and cooperation deals with Russia. Do you see any concern from Washington over this friendship?
ZX: Well, that largely depends on how Washington perceives its own position in the international system particularly in the post-Ukrainian crisis period. If it perceives itself as a declining power, the seemingly closer relations between China and Russia will definitely be read as a rising threat. But I don't think that is really the reality. Neither China, nor Russia are meant to form a genuine - either political or military alliance with each other - and some of their recent actions in military collaboration or increasing economic and financial collaborations were really not directly targeting any third countries, including the United States.
MORE:
The statements, views and opinions expressed in this column are solely those of the author and do not necessarily represent those of RT.