'Not aimed at third country': Russia & China start joint drills at Mediterranean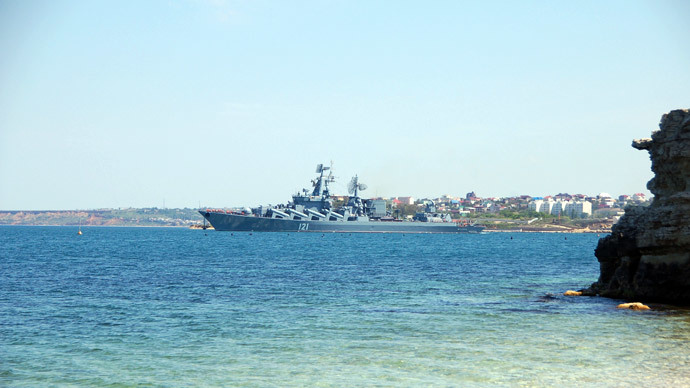 Nine Russian and Chinese warships kicked off joint military exercises dubbed, 'Sea Cooperation - 2015' in the Mediterranean on Sunday, the Russian Defense ministry said.
"The active phase of the exercises will be held in the Mediterranean between May 17 and 21, about 10 warships from the Russian Navy and the People's Liberation Army Navy [of China] will be participating," a statement from the Defense Ministry said.
The flagship of the Crimea-based Russian Black Sea Fleet, guided missile cruiser the 'Moskva', will be the headquarters for the drills, the statement added.
The goal of the Russia-China exercises "is to strengthen mutual understanding between the navies... regarding boosting stability, countering new challenges and threats at sea," Vice-Admiral Aleksandr Fedotenkov, a deputy commander of the Russian Navy, who is leading the exercises from the Russian side, said.
Chinese Navy Deputy Commander-in-Chief, Vice-Admiral Du Czinchen, will be China's commander of the drills.
Russia's Deputy Defense Minister Anatoly Antonov stressed "the war games aren't aimed against any third country and aren't linked to the political situation in the region."
The Chinese Defense Ministry said earlier the joint maneuvers will focus on navigation safety, at-sea replenishment, escort missions and live fire exercises.
Besides the Moskva, Bora-class hover borne guided missile corvette the Samum, Krivak-class missile frigate the Ladny, Project 775 Large Landing Ships (LLS), the Aleksandr Otrakovsky and Aleksandr Shabalin, and Navy Tug MB-31 will be taking part in the exercise from the Russian side.
READ MORE: Moscow, Beijing will seek reconstruction of current world order together - deputy DM
China sent a pair of 4,000-ton Type 54A Jiangkai II frigates – the 'Linyi (574)' and the 'Weifang (547)' as well as a replenishment ship, the 'Wei Shanhu,' to the Mediterranean.
The Russian-Chinese exercise comes at a time when NATO and its allies are holding military drills all over Europe.
Earlier, Russia announced its land forces will take part in a series of joint drills with troops in China, Belarus, India, and Mongolia later this year. The exercises will focus on peacekeeping and antiterrorist activities, the Kremlin said.
With relations between Moscow and the West having deteriorated over the Ukraine crisis, Russia has increased cooperation with its Chinese neighbors, in both economic and military spheres.
Chinese President Xi Jinping was Vladimir Putin's top guest at the Victory Parade on May 9, which was followed by the signing of $25-billion deal to boost Chinese lending to Russian firms and a number of other agreements.
The Chinese authorities have also invited Russian troops to march in a parade scheduled to take place in Beijing this September.
You can share this story on social media: