'Strong link between US drone strikes and rise of suicide terrorism in Pakistan'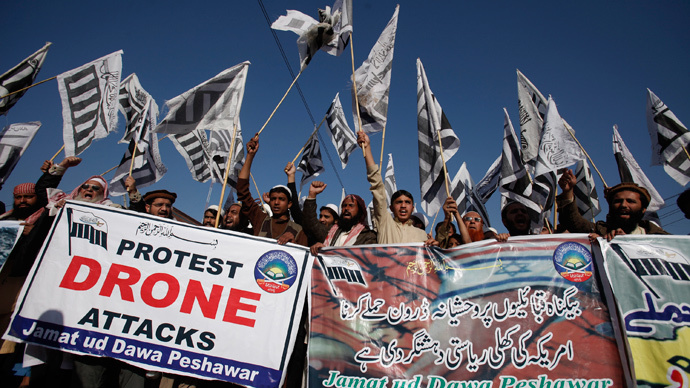 According to official figures the US has attempted to kill 41 militant commanders, and each attempt resulted in the deaths of more than 30 civilians, Dr. Khuram Iqbal, Assistant Professor at the National Defense University, told RT.
It has emerged that US President Barack Obama tightened the rules over the US drone program to cut down the risk of civilian casualties in 2013. Apparently the CIA is allowed to waive the restrictions in Pakistan, even if there was no "imminent threat" to security.
RT:The restrictions on drone strikes do not apply to Pakistan - why would that be? Why is that country such a key focus for US drone warfare?
Dr. Khuram Iqbal: The apology extended by President Obama has not helped but reinforced the militants' narrative that the lives of ordinary Pakistanis being killed in drone strikes do not matter; that the US considers Pakistanis children of a lesser God. I must say that this high scale collateral damage in such incidents has always helped militant organizations to justify their acts of violence and to recruit more individuals. Here I'd like to highlight an interview with the top terrorist leader in Pakistan. He had once remarked that they spent weeks looking for potential suicide bombers but without any success. But as soon as there is a US drone strike a number of young Muslims approach those recruiters to be enlisted as suicide bombers in order to avenge the killing of their fellow Muslim brothers. I would also like to add that my research on evolution of suicide bombings in Pakistan also suggests a very strong link between the US drone strikes and rise of suicide terrorism in Pakistan.
READ MORE: Hostage deaths rekindle concerns over US drone wars
RT:The White House claims drone strikes are vital to the war against terrorism. But do you think the disastrous results in Yemen could force them to re-think this strategy?
KI: I would strongly disagree with that school of thought. As far as US drone strikes in Pakistan are concerned, they are tactically successful but strategically counterproductive. No doubt, these drone strikes have managed to kill high-profile terrorist leaders such as Baitullah Mehsud and Hakimullah Mehsud. But look at the cost. If you look at the official figures collected by independent researchers, attempts to kill 41 militant commanders have resulted in the deaths of estimated 1,200 people. It means that for each militant commander the US has killed more than 30 civilians. So again collateral damage on such a high scale does not bode well for Pakistan's national counter-terrorism policy that seeks to win over the population in conflict regions of the Federally Administered Tribal Areas (FATA).
RT:Are civilian casualties simply inevitable in drone warfare?
KI: It can be certainly avoided because drones are known for their precision. But as far as the US drone strikes in the tribal areas of Pakistan are concerned the US and the CIA have not been paying attention to the civilian casualties and the way it impacts the overall militant landscape of the country.
RT:There are now calls in the US for more oversight of drone strikes. Is that likely to happen?
KI: As far as these strikes are conducted by the US it will not help Pakistan's counter terrorism, because terrorist groups in Pakistan are fighting with an anti-American agenda. They justify their violence against the Pakistani state and society as result of Islamabad's support for the US occupation of Afghanistan. So to undo this perception, the US must stop the drone strikes in the tribal areas of Pakistan and let the Pakistani state deal with these terrorist organizations with all its indigenous resources.
MORE:
The statements, views and opinions expressed in this column are solely those of the author and do not necessarily represent those of RT.