Brand new world: The new Saudi exceptionalism in action in Yemen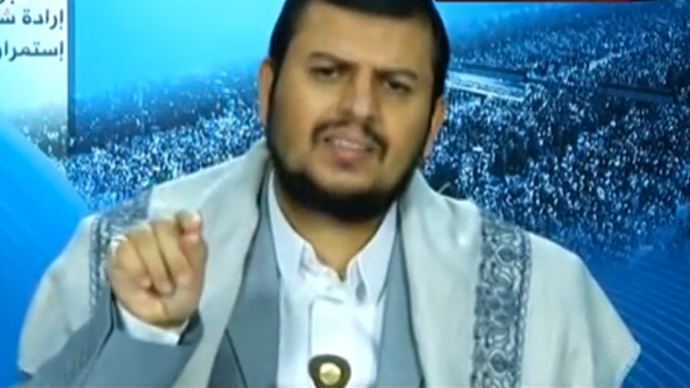 Despite announcing a respite in its bombing campaign against Yemen, Saudi Arabia is digging its heels in, committing to this war more than it bargained for. What's next for the kingdom as the poorest nation in the Peninsula rises against imperialism?
If the United States has long professed to stand the "city above the hill," both the judge and juries of world nations, meddling and at times dictating world policies to the beat of its own self-interest, it appears one of America's allies in the Middle East has taken a page out of Washington's political handbook.
Flying in the face of international law and the very principle of territorial sovereignty Saudi Arabia has waged a war against Yemen, the poorest and most unstable nation in the Arabian Peninsula on account factions within the country did not meet expectations for the region.
Better yet, the Saudis managed to rally around their belligerent narrative the weight of the UN Security Council, cloaking its military aggression with a faux-semblance of legality and international legitimacy.
Saudi Arabia's actions in Yemen ring a loud echo of former US President George W. Bush's maneuvering against Afghanistan in 2001 when the White House by-passed both its Congress and the United Nations in favor of the coalition of the willing set-up.
March 25, 2015 marked the launch of Saudi Arabia's grand war coalition against the Houthis - a militant group organized under the leadership of Sheikh Abdel-Malek Al Houthi, hailing from northern Yemen. For the past three weeks Riyadh rained a deluge of bombs against the impoverished nation, while imposing a strict land and naval blockade on all goods - food and medicine included.
In a strange twist and amid a flurry of conflicting messages from those world powers which found themselves entangled in Yemen's power grab, whether willingly or by association, Riyadh announced on April 21, 2015 that its air campaign had come to an end since its objectives had been achieved.
Just as the kingdom unilaterally declared war on Yemen, it decided to end it - or so it said anyway.
Because if Saudi officials and their allies have yet to be clear on why they started this war in the first place: transitioning Yemen into a democracy, restoring once-resigned-twice-runaway President Abdo Rabbo Mansour Hadi to power, or defending the kingdom's national security; we are none the wiser on the terms of this peace Riyadh is talking about.
When Saudi coalition spokesman Brigadier General Ahmed Al Asiri told reporters that Operation Decisive Storm had concluded, "based on a request by the Yemeni government and President Abd-Rabbu Mansour Hadi," he was quick to note that "sustained air strikes against the Houthis were no longer necessary."
With the conclusion of the air campaign the Saudi spokesman announced the beginning of "Operation Restore Hope," aimed at achieving a "political solution" in Yemen and escalating "anti-terrorist" operations inside Saudi Arabia.
Twenty-four hours into the end of the war and Yemen is still cowering under enemy fire, bombs are still dropping from the sky and cities across Yemen are still burning bright. If anything the transition from Storm to Hope has translated into a surge of violence.
And while politicians continue to rationalize this new war against the ever elusive Shia threat the world has been so fond of loving to hate, civilian casualties are fast adding to Saudi Arabia's war tally. How many more and for how long?
Earlier in April, US Secretary of State John Kerry slammed Iran in an interview with PBS Newshour for its "meddling" within Yemen affairs, accusing Tehran of exporting unrest in the region to promote its brand of politics. And yet it is Saudi Arabia which is bombing Yemen, while President Hassan Rouhani is lobbying for peace.
Just as Oxfam – a British-based charity - cried foul play and war crimes against Saudi Arabia after it bombed one of its food warehouses in Sana'a, Washington pointed an angry finger at Iran for playing dangerous games in the Middle East.
Interestingly and in perfect contradiction with both Washington and Riyadh's narrative, Iran never actually militarily enabled the Houthis of Yemen. This is a myth the kingdom manufactured to justify its intervention and somewhat rationalize its penchant for seeing Shia devils at every corner of the globe.
Experts have many times over expressed skepticism when it comes to the parallels drawn by mainstream media in between the Houthis of Yemen and Lebanon's Hezbollah. If the Houthis have undeniable religious and political ties to Iran, they are no proxy of the Islamic Republic.
In a report for the New York Review of Books this March, Robert Worth wrote, "The Houthis, unlike Hezbollah and other Shia movements, do not take directions from Tehran, and have received relatively small amounts of aid."
This war against Shia Islam and Iran the Saudis are fighting in Yemen is one of their own fabrications. Riyadh is fighting an enemy who was never there to begin with - unless of course the sectarian element of Al Saud's ire is a pretext for a more pragmatic need – power grab.
Regardless of what motivated Saudi Arabia to target Yemen as it did, and no matter the overwhelming international support the kingdom initially found in its strategic allies, the oil super giant is fast losing ground.
Just as Yemen proved a tough nut to crack for the Ottomans several centuries ago, the unruly nation is trying King Salman's patience. One Saudi Prince went as far as to announce Riyadh's defeat in Yemen, claiming the kingdom had been dragged into a war it was never going to win.
In an interview with Fox Channel (Germany) Saudi Prince Talal bin Abdulaziz Al Saud estimated that despite Saudi Arabia's clear military advantage, in that it has been able to commandeer other regional powers to fight its battles while benefiting from US -fed intelligence, bombing Yemen to oblivion has proven ineffective.
If anything it only served to empower al-Qaeda and other terror offshoots in the already unstable nation. Since the beginning of the war al-Qaeda managed to seize control over two military bases and one airport in the south-eastern province of Hadramawt.
The prince moreover argues that Saudi Arabia's grand coalition is only skin deep as inner tensions and deep-seated resentments risk cracking Riyadh's self-projected aura of control. For one, Jordan does not share the kingdom' same paranoia's vis-a-vis Iran, and has already made clear it would favor a rapprochement with Tehran. Waging a semi-proxy war against the one regional power which has actually invested its troops in fighting ISIS militants in both Iraq and Syria might not be the best tactical move for Jordan.
As for the UAE, it is the rise of Turkey and a potential return of the Muslim Brotherhood as political players and a counter-power on the backdrop of the war in Yemen which makes its officials wary of Riyadh's choices in its crusade against Shia Islam and Iran.
And though Saudi Arabia has been shielded so far of all political and media fallout, cloaked in exceptionalism as its government wages an illegal war against a nation which crimes have been to reject a foreign-imposed transition of power and one puppet-president, time might be running out.
Yemen's victory over Saudi imperialism will not necessarily translate on the ground in the rise of the Houthis as victor but rather see Riyadh capitulate to the need for a broad political solution, one which will allow Yemen to decide its fate and future.
In any case and despite what many media and experts have claimed, the Houthis of Yemen never intended to rule over the country. As noted by Ali Al Emad, one of its leaders, "The Houthis have always sought political collaboration. They have always called for a dialogue among Yemen's many tribal and political factions to reach an acceptable consensus which reflects the people's aspirations instead of foreign powers' will."
While explosions echo in Yemen it might be time for the international community to clarify its definition of a nation's right to political self-determination and territorial sovereignty - or is it that justice remains the exceptional right of a powerful few?
Catherine Shakdam for RT.
Catherine Shakdam is a political analyst and commentator for the Middle East with a special emphasis on Yemen and radical movements.
A consultant with Anderson Consulting and leading analyst for the Beirut Center for Middle East Studies, her writings have appeared in MintPress, Foreign Policy Journal, Open-Democracy, the Guardian, the Middle East Monitor, Middle East Eye and many others.
In 2015 her research and analysis on Yemen was used by the UN Security Council in a situation report.
MORE:
The statements, views and opinions expressed in this column are solely those of the author and do not necessarily represent those of RT.