Specter of apartheid in South Africa's violence

Finian Cunningham
is an award-winning journalist. For over 25 years, he worked as a sub-editor and writer for The Mirror, Irish Times, Irish Independent and Britain's Independent, among others.
is an award-winning journalist. For over 25 years, he worked as a sub-editor and writer for The Mirror, Irish Times, Irish Independent and Britain's Independent, among others.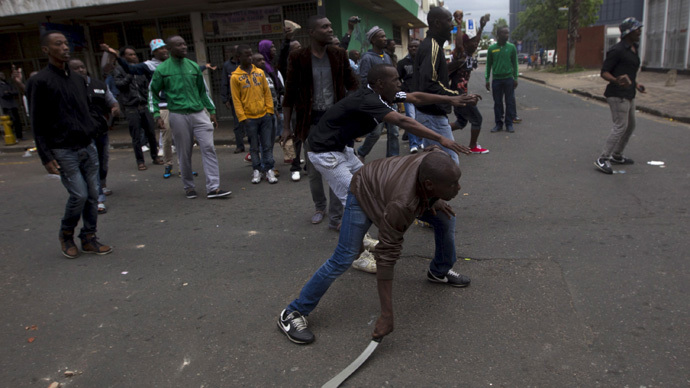 Officially, apartheid in South Africa ended more than 20 years ago. But its continuing legacy is manifested today in structural black poverty. This systemic reality underlies the upsurge in violence towards African migrant workers.
Unfortunately, many black South Africans are taking revenge against fellow Africans, instead of challenging the systemic cause of their enduring poverty.
South Africa, known fondly as the "rainbow nation", has a population of 53 million. Almost 80 per cent of the population is black and most of them are poor - oppressively poor.
Whites, descended from British and Dutch Afrikaner colonialists, comprise only 4.5 million. But it is the white minority that still possesses the bulk of South Africa's immense national wealth.
During the murder trial last year of Oscar Pistorius, the Olympian paraplegic sprinter known as "blade runner", one incidental snapshot from the court hearings was how he and many other South African whites live in luxurious isolation far removed from the mass of the impoverished black population.
In the past week, at least seven people have been killed and scores of others injured in street clashes between black South African nationals and foreign African workers. Riot police squads have had to be deployed to try to restore order.
Small businesses owned by African foreigners have also been targeted, with properties smashed up and torched. Angry mobs have lynched suspected non-nationals in the streets of Durban and Johannesburg.
Thousands of families have fled to makeshift refugee centers, or have made hurried departures from the country.
Such are the tensions and risk of more turmoil across South Africa that President Jacob Zuma cancelled an official trip to Indonesia at the weekend.
Zuma condemned the violence against foreign workers and appealed for calm. The leader of the ruling African National Congress (ANC) made visits to refugee centers in the southern port city of Durban to assure migrant workers of their safety. But Zuma was greeted with jeering and heckling from the anxious crowds who claim the South African authorities are not doing enough to protect them.
One Ethiopian man told the media how he and his friends have ended up boarding themselves into "shelter houses" after suffering harrowing attacks on the streets from rampaging mobs. "It's not safe for us to go outside. We are afraid for our lives," he said with palpable trepidation.
Other migrants from neighboring Zimbabwe, Malawi and Mozambique said they were just quitting the country such is the danger they fear if they remain. One family said their home was broken into by a club-wielding crowd who beat the father senseless in front of his wife and children. "They threatened to kill us and then they stole everything we had," said the distraught mother.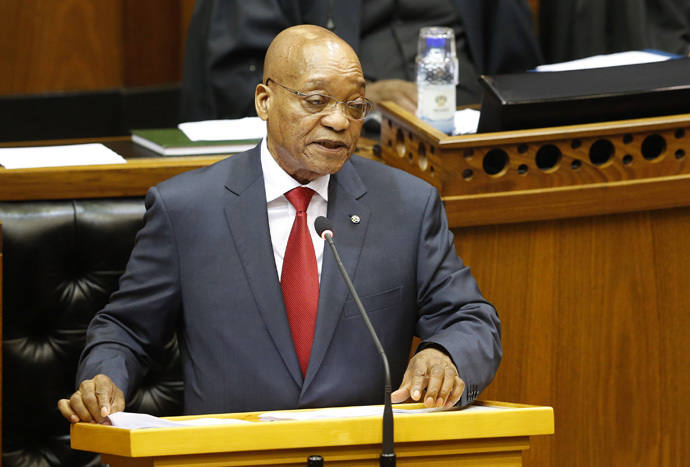 Another migrant worker from Zimbabwe while boarding a bus packed with his fearful countrymen said: "We might be poor in our country but at least we are not at risk of being killed."
Out of the African continent's 54 nations, South Africa is classed as the second richest, behind giant oil exporter Nigeria. It boasts a statistical per capita income of $12,500, which is the stuff of dreams for many Africans, as well as for many native South Africans.
The lure of South Africa's relative wealth has drawn millions of migrants from across the continent, from as far away as Ethiopia, Eritrea and Somalia on the northeast Horn of Africa. For these people, South Africa was considered a safe, alternative bet compared with the treacherous Mediterranean crossing to Europe.
There is estimated to be some five million migrant workers in South Africa - or nearly 10 per cent of the country's total population. This huge influx of foreigners has led to sharp tensions and resentment
among the native black population, who complain that the migrant workers are denying them employment opportunities and housing, and generally compounding their own conditions of poverty.
It is a classic case of xenophobia towards foreigners that is fuelled by widespread economic insecurity, as can be seen elsewhere in the world, from Europe to the US.
In many ways, the resentment felt by South African blacks is understandable.
Despite the country's headline wealth statistics, poverty, unemployment and squalid housing is rife among the majority black population. It is reckoned that a quarter of the population struggle on an income of less than $2 a day. The government's unemployment figure of 25 per cent is challenged by anecdotal accounts that put the actual jobless rate as high as 30-40 per cent.
Millions of black South Africans subsist in sprawling apartheid-era ghettos like Soweto, south of Johannesburg city. Their grievances over chronic slum conditions have intensified since the official end of white-rule apartheid in 1994. For millions of South Africans nothing much has changed to improve their lives of oppressive deprivation that once was attributed to white domination.
Three years ago, in August 2012, 34 striking mine workers were shot dead in what became known as the Marikana massacre, by machine gun toting police officers under the control of the post-apartheid ANC government.
The workers were striking for a pay rise on the paltry wages they receive at the British-owned multinational mining company Lonmin. Lonmin declared its annual revenue for last year at $965 million, largely from South Africa's gold, platinum and other precious metals dug out of the earth by its firm of 28,000 black miners. Nearly 80 other striking workers were wounded in the Marikana incident, which brought back memories of the infamous Sharpeville massacre in 1960 that had been carried out by police under the then ruling white regime.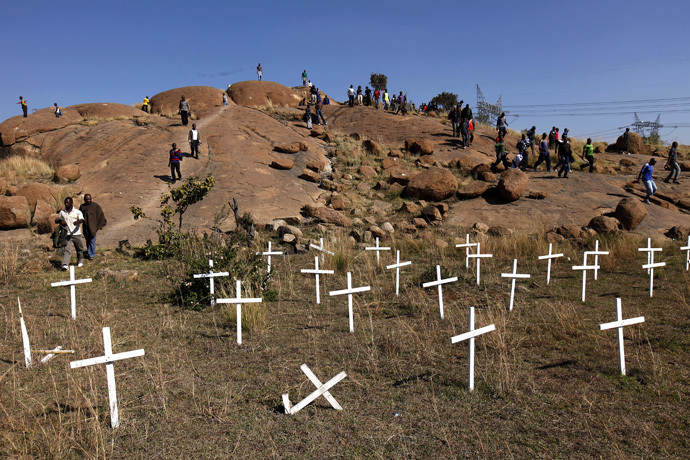 One of the workers who survived the Marikana killings said at the time: "The only thing that has changed since 1994 is the right to vote. The ANC leadership has got rich by being co-opted on to the boards of mining companies. The workers still live in poverty."
ANC luminaries like incumbent President Jacob Zuma and his deputy Cyril Ramaphosa are accused by many ordinary black South Africans of "selling out" on the promise of "black liberation".
It is perceived that the former "revolutionaries" have enriched themselves through corruption and collusion with the wealthy white elite and foreign companies that exploit the country's prodigious mineral and agricultural resources. Ramaphosa, who was formerly a leader of the national mining union, has since gone on to become a board member of foreign-owned mining companies and is believed to have become a multi-millionaire in the process.
It is telling that when President Zuma gave his oration at the memorial service for ANC founder Nelson Mandela at the end of 2013 in front of a packed stadium of mourners and foreign dignitaries, including Barack Obama, his speech was continually booed by the crowds.
That speaks of the contempt that many South African blacks feel towards the ANC leadership.
South Africa's vile system of white rule under racial apartheid came to a formal end in 1994 and was followed by the election of Nelson Mandela, who become the first black president of that country. The joyful occasion was supposed to mark the beginning of black liberation after decades of white colonial domination.
Tragically, what has since emerged is that formal white rule may have ended in South Africa with blacks being constitutionally declared as "equals" and free to vote in elections. However, the socio-economic structure of South Africa's apartheid system continues to persist in the daily experience of millions of blacks.
The apartheid system of segregating wealthy whites from the mass of blacks still exists for all intents and purposes. The only difference appears to be that the de facto white ruling class can now count among their fold a tiny number of opportunist black leaders of the ANC.
This is the real background to the recent surge in violence towards foreign African workers.
It is notable that the anger and frustration among South African blacks is not expressed against white foreigners or nationals. The latter are safe in their super-rich gated communities in Pretoria and Cape Town, while the masses tear themselves apart in far-removed ghettos and townships.
And doubly tragic is that black South Africans are venting their anger now on fellow Africans - many of whom supported the liberation cause of their "black brothers" during the heyday of white apartheid.
To really deal with their appalling poverty and social injustice what South Africans should focus on and organize against is "the system". The system of economic apartheid under the control of foreign capital that the ANC leadership has evidently sold them out to.
For apartheid was never merely or entirely about the racist issue of skin color. Racism is certainly part of the problem. But at root the problem is and always was about exploitation and oppression by a wealthy few against the majority.
The statements, views and opinions expressed in this column are solely those of the author and do not necessarily represent those of RT.