'Totalitarian agenda': UK politician on Elton's 'synthetic' D&G gay row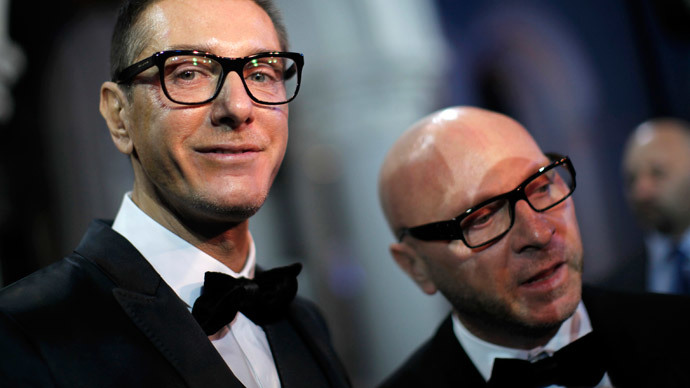 Sir Elton John's appeal for a Dolce&Gabbana boycott over IVF remarks has won a surprisingly large army of supporters. However, Chairman of the English Democrats Robin Tilbrook told RT it's because there's a "new intolerance" in the UK and EU.
A-list celebrities jumped on Dolce&Gabbana after the Italian designers described children born to gay couples through fertility treatment as "synthetic," sparking an angry avalanche of criticism of the fashion duo. John, who has two sons conceived through vitro fertilization, has even called on customers to boycott the popular Italian brand.

"In the UK and in the EU generally there is a new intolerance," Tilbrook told RT. "An intolerance of traditional views, not only about sexuality, but also about national identities. The new elite are not willing to allow any criticism of their views and try to shut down and smear anyone who dares say anything they disapprove of. It isn't only the mass media that all push the same line, but also our schools are required to teach it too! In public places people have actually been arrested for quoting from the Bible. Arrested for alleged 'hate speech'!
So hold a sec.Elton John can have his opinion, @dolcegabbana can't have theirs. Hypocrisy is wonderful, eh? #BoycottEltonJohn#FreeSpeech"

— MarcePavisic (@MarcePCdeUlich) March 17, 2015
"So now our traditional civil liberty of 'Freedom of Expression' is only treated as acceptable if you are seeking to say things that are 'politically correct'," Tilbrook lamented.
D&G shd be deeply ashamed as many thousands of happy families with IVF babies & others free of genetic diseases. Synthetic? Puerile rubbish

— Robert Winston (@ProfRWinston) March 16, 2015
Noting that the mainstream media have covered the story from one angle, mostly backing John, the British politician said that there are "various regulators all of which do enforce the political correctness [PC] agenda as regards the media."

Tilbrook recalled an incident in which a BBC DJ accidentally played a pre-war, original version of an American song which included the then-common 'N word'. The veteran DJ was sacked immediately.

"So the PC enforcement of language extends to rewriting history itself," Tilbrook stated.
#FreeSpeech is not a crime, Elton John. #IVF is an ethical issue, so is #Surrogacy. Let them speak #jesuisdolcegabbana#boycotteltonjohn

— Remarkable Travels (@misstravels) March 16, 2015
"It is a Totalitarian agenda," he explained. "It seeks to determine what can be said and what can't and to claim that it isn't 'legitimate' to say anything non-PC. It even changes fashion so unless you use the latest version you can get caught out even if you are trying to say something PC, as [actor] Benedict Cumberbatch recently discovered."

Cumberbatch had to apologize for referring to black people as "colored" on US television in late January, saying he feels "the complete fool." The actor used the term when discussing the lack of opportunities for black actors on British screens.
Tilbrook meanwhile believes that the fully-fledged attack on D&G is too harsh.

"We have Elton John trying to create some sort of a boycott of Dolce and Gabbana's products, simply because of them expressing, as I say, a simple traditional view," he said. "I don't think that 50 years ago anybody would have thought that what they said was in anyway strange. And the fact of course as they both themselves gay, it is particularly bizarre that we got this kind of row erupting."
People should be able to speak their mind without being attacked by bullies. #boycotteltonjohn#freespeech#toleranceworksbothways

— Madoc Preece (@MadocPreece) March 16, 2015
The fury erupted after Italian magazine Panorama quoted Dolce as criticizing same-sex parenting.

"You are born and you have a father and a mother. Or at least it should be like this, that's why I am not convinced by chemical children, synthetic babies, wombs for rent," Dolce said. He explained that his Sicilian upbringing (Domenico Dolce was born in a small village near Palermo, Sicily) made him quite traditional.

According to longtime partner Stefano Gabbana, they didn't mean to express judgment of other people's choices, but simply believed in freedom of expression.

Tilbrook also told RT that "it is a question of freedom of expression which does after all cut both ways, but both people are entitled to their viewpoint.

"The trouble is that we've got this sort of victimhood culture with political correctness in this country where anybody given half a chance to say that they are a victim in any way, they want to make that out," the English Democrat chair stated.
Apparently D&G think criticism is the same as losing their freedom of speech.. They're like ironic gay Bill O'reillys #BoycottDolceGabbana

— Hal Sparks (@HalSparks) March 17, 2015

British singer, composer and pianist Sir Elton John, 67, was livid when he wrote on his Instagram account on Monday: "How dare you refer to my beautiful children as 'synthetic'. And shame on you for wagging your judgmental little fingers at IVF - a miracle that has allowed legions of loving people, both straight and gay, to fulfill their dream of having children."

"You preach understanding, you preach tolerance and then you attack? Just because someone thinks differently to you?" Gabbana told Corriere della Sera newspaper, referring to John's reaction. Asked if he had spoken to the singer, he replied, "It's useless, this is just an authoritarian way of seeing things: if you agree with me, good, otherwise I'll attack. And I wrote to him, in the comments on Instagram: fascist."