Western media reaction to Nemtsov's murder is 'absolutely outrageous'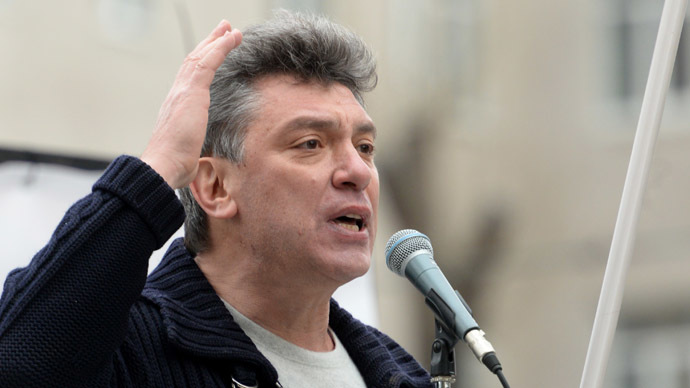 It is up to the police to investigate Nemtsov's murder, not Western journalists who immediately deduced from their crystal ball that the Russian government was linked to death, said Marcus Papadopoulos, the editor of Politics First magazine.
RT:The investigation into the death of Russian opposition figure Boris Nemtsov is still ongoing, but much of the media appears to have made up its mind as to who was behind the killing.Why is that?
Marcus Papadopoulos: First we should express our condolences to the family of Boris Nemtsov. His murder is a despicable, barbaric act and the Moscow police are now investigating it. They are the people who should be investigating it, not Western journalists, who an hour after the tragic murder were able to deduce from their crystal ball that somehow the Russian government was behind it. This is absolutely outrageous that Western journalists are behaving in such a way.
But I think it is inevitable that Western media acts in such a way towards Russia, because at the moment, as a result of the standoff in Ukraine, Western journalists are depicting Russian in a very unflattering way. They are demonizing the Russian government, demonizing President Putin because the West is seeking to build up an unofficial coalition of governments, of countries around the world to target Russia. Because the West is acutely aware that Russia today is actually very strong and it will not bow down to the West as it did during the 1990s.
READ MORE: Thousands mourn slain opposition politician Nemtsov at Moscow march
RT:There have been quite a bit of a reaction from world leaders after this murder. Nemtsov was a deputy PM in the 1990s, but he was a much lesser figure today. Why do you think they felt the need to weigh in so quickly, as they did over his murder?
MP: I think they are trying to politicize a tragic event, which is completely intolerable. I think that with all due respect to the memory of Boris Nemtsov, he was a very marginal figure in Russia. And why do I say that?
Firstly, he lost his seat in the Russian Duma, the lower house of the Russian parliament, in the 2003 parliamentary elections.
Secondly, Boris Nemtsov was an extremely unpopular figure among ordinary Russians. Why? Because he served in the government of (Russia's first president) Boris Yeltsin during the 1990s. And the government of Boris Yeltsin reduced Russia to a pauper state as a result of the reckless policies of Boris Yeltsin and his pro-Western stance.
Millions and millions of ordinary Russians overnight lost their jobs, they lost their savings, they lost their pensions, and many of them lost their homes. Boris Nemtsov was part of that government. So, with all due respect to his memory, he was a very marginal figure in Russian politics.
'Another occasion for West to use its propaganda bullet'
Derek Monroe, reporter for Foreign Policy in Focus, also suggests the murdered politician was a marginal figure in Russia.
"I think generally what's taking place right here is basically elevating the position of Mr. Nemtsov as a prominent critic and opponent of President Putin, when the truth is he was a very marginal political figure in Russia. One with a rather checkered past if you look at his tenure under Yeltsin as well as his role as an economic advisor to the Ukrainian government under Yushchenko. So there's a degree of political provocation that would put the blame on Putin and the Kremlin or some forces associated with that. However, it's all based on speculation propaganda, so I wouldn't really pay any heed to that."
According to Derek Monroe the wise thing to do is to have the investigations roll themselves out and see what comes out at the end instead of speculating who would be to blame, or what the reason for Nemtsov's demise is. However the US media or international media is not interested in who really has to gain from the assassination of Nemtsov, he adds.
READ MORE: Boris Nemtsov: From reformist wonder boy to disgruntled opposition leader
"Definitely Putin and the Kremlin do not have anything to gain and everything to lose if you look at it very cynically or rather geopolitically at this issue. So they [Western media] are really not asking the right questions, however it's just another occasion to use the propaganda bullet against the current administration in the Kremlin to basically further escalate any kind of tensions between east and west."
Monroe doesn't think that this murder will do any damage to Moscow-Kiev relations, although there's definitely going to be a lot of rhetoric particularly as to why Nemtsov had an association with a previous Ukrainian government.
"…in the 2004 revolution he was their economic advisor and we all know how economic policies took place and eventually they culminated in last year's revolution in Kiev. So at this point right now, I think that Nemtsov's demise will not really have any major effect on Russian-Ukrainian relations, unless there are some other different mitigating factors that will come into play where the issue would be escalated with different accusations and different facts, which become known later. But right now there's nothing on the ground that suggests otherwise."
The statements, views and opinions expressed in this column are solely those of the author and do not necessarily represent those of RT.