'Kiev silencing opposition voices'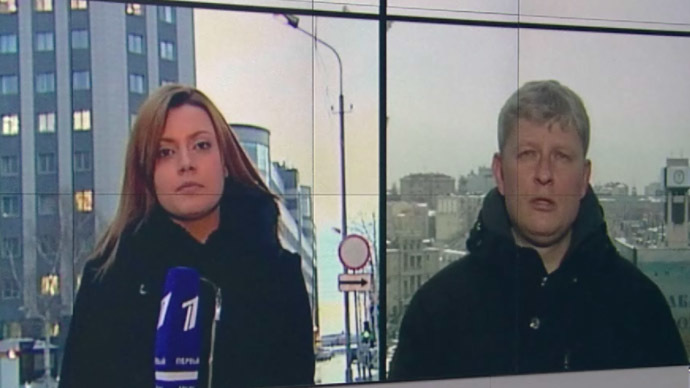 The Ukrainian government wants to get "total information control" and prevent any dissident voices heard by the citizens, Nicolai Petro, from University of Rhode Island told RT.
RT:Radicals detained some Russian journalists, and handed them to the security services, who then deported them without charge or trial. How can this be justified?
Nicolai Petro: It is justified under new Ukrainian legislation, specifically the extraordinary measures to counteract the Russian threat signed by President Poroshenko on February 20. It is an attempt to achieve what would be called here [US] "total information control" preventing the ability of dissident voices - partly in Ukraine - from getting through to Ukrainian citizens.
READ MORE: Russian journalists detained in Kiev as Ukraine steps up censorship
RT:Earlier in February, Ukraine's Security Service, the SBU issued recommendations to strip more than 100 Russian media outlets of accreditation. And now people are being deported. What's happened to freedom of speech?
NP: The question obviously that has been asked by many countries over time is in what context does the military situation permit censorship? The West has developed a lot of precedents on this, and the Western practice has been that censorship can only apply to actions that directly endanger military operations. It is obvious, however, that Ukrainian legislation is going far beyond that to essentially silence Ukrainian opposition voices, which since they have fewer and fewer outlets available to them in Ukraine are turning to Russian sources to get their message out and back into Ukraine.
RT:The Russian Foreign Ministry has called for a response from international organizations. But what kind of reaction are we likely to see?
NP: I think that there will be a very muted response by Western governments because this is an issue they simply would not like to deal with. One can expect a somewhat more robust response from international organizations that deal specifically with censorship issues. For example, I would like to note that Ruslan Kotsaba, Ukrainian journalist who has been detained for refusing to submit to the latest draft has been declared a prisoner of conscience by Amnesty International.
RT:Over the past year we've also seen cases of journalists being threatened, kidnapped and beaten. Are we seeing an all-out war on the media?
NP: There is certainly an attempt by the Ukrainian government to see how far it can go in managing the information space available to Ukrainians. What politicians tend to underestimate is the ability of people to go around them in a modern technological age that we live in to get information from a wide variety of sources. So I think that these attempts are ultimately bound to fail.
The statements, views and opinions expressed in this column are solely those of the author and do not necessarily represent those of RT.