Ukrainian reporter 'charged with high treason' after calls to dodge draft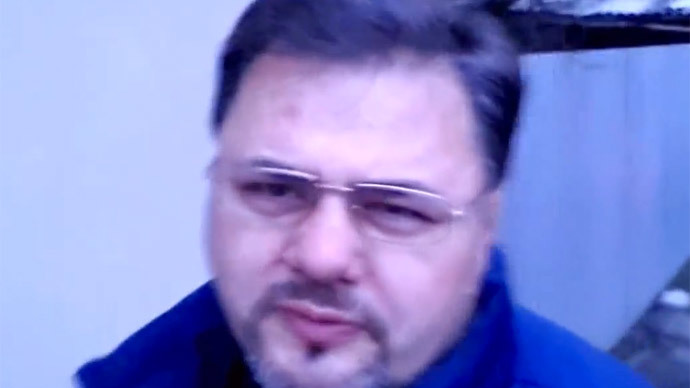 Ruslan Kotsaba, a journalist in western Ukraine, has been detained for 60 days on charges of high treason, according to his family. In a video last month, Kotsaba called on Ukrainian citizens to avoid the military draft and to not kill their compatriots.
Kotsaba is from Ivano-Frankovsk, located in the western part of the country which is loyal to Kiev. He has been accused of treason and espionage, his wife wrote on her Facebook page. She also reported that police searched their house and seized the journalist's personal belongings.
The journalist himself has only admitted to attempting to wreck the draft.
"I find it easier to serve in prison two to five years, than going to the civil war, to kill or assist in killing my compatriots who live in the east," he said in a video released on January 17. "Even if they think different and believe that the Kiev government is not worthy to be obeyed."
READ MORE: Ukrainian parliament passes law allowing army deserters to be shot
"I refuse to be drafted and call on everyone who is called up to refuse," he said. He added that although he is unwilling to fight in the civil war, he is ready to serve in the army if Ukraine is forced to defend itself against another country.
A court in Ivano-Frankovsk originally detained Kotsaba for 36 hours, but later issued a new ruling, fearing the journalist could have intentions to leave the country. Authorities said they feared Kotsaba would flee to the Donetsk or Lugansk People's Republics.
According to Firtka news agency, Kotsaba has the right to appeal within five days. The journalist will appeal for house arrest because he has small children and some of his relatives are ill.
Силён парень Коцаба после суда: Я призываю всех поверить мне, что на Востоке продолжается братоубийственная война" pic.twitter.com/hMdmG6St7z

— barhonda (@barhonda7) 9 февраля 2015
The Ukrainian intelligence service has accused Kotsaba of not only draft disruption, but also for giving interviews to Russian media. The maximum punishment for treason is 15 years in prison.
The Ukrainian government is working to hush anti-mobilization protests. Authorities in Mariupol, eastern Ukraine, have promised to detain anyone who attends meetings calling against the draft.
Local members of parliament have also prepared a bill which would impose criminal responsibility on those who publicly oppose and call for disruption of the draft.
However, a considerable number of people have refused to show up at enlistment offices, and some have even left the country. Over 7,000 people were already facing criminal charges for evading military service by the end of January.
The Ukrainian government has imposed a temporary restriction on leaving the country for men bound to military service.
Вчера. Артёмовск(Украина). Митинг против мобилизации, с требованием прекратить бомбить Горловку. И такое есть. pic.twitter.com/X38Ye51dwB

— Denton (@pandenik) 2 февраля 2015
The military draft started in January 2015 and is expected to see about 100,000 people joining the army in three stages throughout the year. Women will also be eligible, according to the new law. The main aim of the mobilization is said to be a replacement for those on the frontline in eastern Ukraine, who were recruited last year.
READ MORE: Potential conscripts evade draft, flee country amid escalation in E. Ukraine
The civil war in Ukraine has so far taken the lives of more than 5,000 civilians.
You can share this story on social media: