Police snooping: 'Journalist sources are sacrosanct, only court may allow access'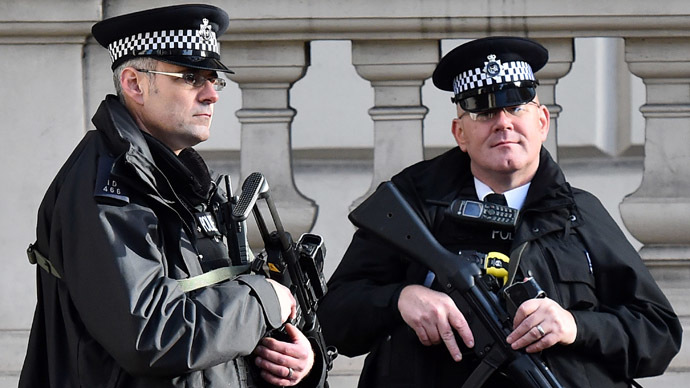 The Police should only have access to journalist's sources and phone records in exceptional circumstances and with prior approval of a court, Bob Satchwell, Executive Director of Society of Editors, told RT, commenting on investigation law changes.
UK Home Secretary Theresa May is supporting changes to investigatory powers legislation (RIPA) aimed at monitoring terrorist activities which may give police access to phone records and emails of journalists and other people.
READ MORE: 'Snoopers' Charter' essential to counter terror threat – Home Secretary
RT:Did you have any incidents when police or other authorities actually abuse the Regulation of Investigatory Powers Act?
Bob Satchwell: Well, we've had several incidents when the police abused one piece of legislation which was originally mainly designed to counter terrorism and serious crime: drugs and people trafficking and so on. And it has been used for far less serious crime, and in particular the police got access to the phone records of a journalist, which meant that they could then discover or uncover the source of a journalist's story. And obviously journalist's sources are sacrosanct, even the courts recognize that it's very important that journalists should be able to work with their sources without their sources being revealed. And that's why there is a huge problem at the moment: the government recognizes that the guidance to the police and security services needs to be updated. But we believe that it's not going far enough, and if the police or the security services want to access journalist's phone records and indeed other professionals in certain privileged positions, they should go and seek the permission of a court to access that information.
READ MORE: London police spend millions snooping on journalists, FoI request reveals
RT:Are you saying that the police shouldn't abuse this piece of legislation?
BS: We are actually saying that they don't go far enough. The problem is that this piece of legislation which as I say was intended really for terrorism, to deal with terrorism and other the serious crime. When legislation is not framed precisely enough it means that then the police particularly will use it for other purposes. And in certain cases they've used it to identify a journalist's sources. It was never intended for that purpose. And we believe that if ever the police or other authorities need to do it, for instance, for terrorism, they should seek the approval of a judge in a court who would be able to weigh up the public interest and the need to do it. It should only be done in very rare cases and only with prior approval by a court.
RT:But what about last week's terror attacks in Paris?
BS: Well I think you've got to take it that away from what happened in Paris last week. I think that was a very special case and then obviously there maybe occasions when there is a need for urgency. But in fact in a situation where lives areat risk and where there is a very serious terrorist case going on, they would get very fast approval by a court anyway. But if it was left to exceptional circumstances and if the police or other authorities recognized they should do only in very rare circumstances, they have got to be able to recognize that the public interest in looking at a journalist's phone records should only be overridden in extreme cases.
The statements, views and opinions expressed in this column are solely those of the author and do not necessarily represent those of RT.