Syrian 'guests' in 'camp sites'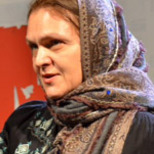 Nadezhda Kevorkova has worked at RT since 2010, before which she was a special correspondent for 'Novaya gazeta,' 'Nezavisimaya gazeta,' and 'Gazeta.' Kevorkova has also worked extensively in Russian mass-media. As a war correspondent, she covered the Arab Spring, military and religious conflicts, and the anti-globalization movement. She has worked as a reporter in Egypt, Sudan, Palestine, Jordan, Lebanon, Syria, Iraq, Iran, Pakistan, Azerbaijan, Ukraine, Hungary, Greece, Turkey, Cuba, and in the republics of the North Caucasus, Tatarstan, and in the Far East. In 2001, after an invitation from US State Department, Kevorkova visited a number of states, including Alaska. As a correspondent of 'Gazeta' she reported from Indian settlements in the US. She covered the 'Gaza Freedom Flotilla' in 2008, 2010 and 2011; she also visited Gaza several times during the blockade. In 2010, Kevorkova was nominated for the 'International Women of Courage' award.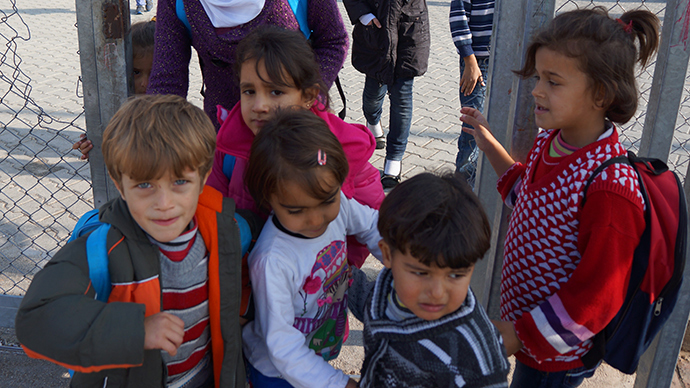 Officially, Turkey doesn't host any refugee camps or refugees, but in reality it is facing two million Syrians inside its territory and a war right on its border.
Tesnim, 11, ran away from Idlib along with her parents, grandparents and 12 siblings. They were forced into exile after the home was continuously bombed. They spent many days trying to reach the Turkish border.
Girls and boys in the Nizip camp in the Gaziantep Province study in different classes. Starting from a certain age, all girls here wear hijabs, some are seen in niqabs. Younger girls are easy to strike a conversation with but five minutes into their memories, tears are all over their eyes.
Tesnim can't give a rational explanation for her outburst. She is supposed to forget the fear. Still, she's choking on tears. Her friends Fatima, 11, and Shaima, 12, say they'll tell their stories in a calm manner but it's hard for these war children to stick to their promise. They all want to go back. But even the children realize how hard their dream is.
Refugee vs. Guest
You have to begin with definitions. Formally, Turkey doesn't recognize it has any Syrian refugees – they are called 'guests'. Elsewhere, refugees have the right to settle in camps with autonomous rule and no access to national law enforcement. They have legal protection by the UN, the right to freedom of movement and return. Unlike refugees, 'guests' in Turkey don't enjoy that international status. They do get benefits and food, medical assistance and training. So, formally, they don't have any official status but they are still a factor in Turkish politics.
There are around 1.5 to 1.8 million Syrians in Turkey, according to varying reports. Some even put the figure as high as 2 million. Twenty-two camps are home to some 220,000 people, the rest find accommodation on their own, with huge support from the government. There are towns on the border where the number of refugees now equals the local population.
Turkey has spent $4.5 billion on guests from the neighboring state. The aid from the UN and the EU worth $250 million is a drop in the bucket, and so Turkey has to shoulder this burden alone.
Syrians are treated like brothers. I talked to many of them coming from different camps and elsewhere. The government spends $80 on each Syrian refugee, excluding numerous bonuses and handouts.
The refugee flow is not growing but there is rotation among them, with some going home and newcomers coming over to replace them. That's what both the camp dwellers and the Turkish officials tell us.
Guests and Politics
It's perfectly clear that the issue of Syrian refugees is not only humanitarian in nature, but the discussions concerning it are always full of hints and half-truths.
A local official in Gaziantep says negotiations are under way, and American instructors are ready to train the rebels, but the Turkish side demands the airspace over Syria be closed first. In other words, Turkey is in no rush to unconditionally give the Americans the opportunity to influence the situation in Syria.
The Syrian issue was moved to the back burner a year ago when the US decided not to start a military intervention, ostensibly because the chemical weapons were used against civilians. Whether those chemical weapons really existed and who they was used against is still a mystery.
Since then some efforts have been made from time to time, but all in vain.
According to the barely-there information in media and cagey confirmation from the Turkish authorities, European envoys Mogherini and de Mistura visited the refugee camp in Gaziantep, where for some reason they met with the Syrian opposition, even though all the negotiators are in Istanbul and not in the camps. Again, the Turkish authorities put forward closing Syrian air space as their main condition, which, in their opinion, is indispensable to resolving the situation.
Lives in the Wave of the Middle East History
Radia Hassan, 53, ran away from Aleppo together with her husband, three daughters, and three sons, the oldest of them, 33. All of them, including her nine grandchildren, have become refugees.
Her husband used to work as a house painter, but he is unable to work now because of a heart condition.
- We left when the bombing began. We stayed at a different Turkish camp for four months, and we've been living here for two and a half years altogether, says Radia.
Unlike the children, she is able to explain exactly what happened:
- None of my family members had the means to build their own house for decades. We had to rent a place, and lived poorly. Of course people were unhappy with their living and with politics. Consequently, we found ourselves being bombed, and so we had to flee to survive.
Like most elderly, she doesn't belong to a party or an ideology. A wave of history cast them to a strange land where people like them don't have a chance of starting a new life, except for maybe their children and grandchildren.
Anaam Batumi, a widow from Idlib, lost her husband in the bombing. None of her three sons had been to war. Her family lost all of their belongings. She's been living here for almost a year. She uses a wheelchair due to her leg condition. While at the camp, she does craft and teaches young girls, along with other widows.
The Circassian family also ran away from the bombing. When Nahmon Ismail, the father, realized he was speaking to a Russian journalist he cunningly and openly asked me to tell Putin that the Circassians from Syria were waiting for Russia to take them over to the Caucasus.
- Putin should come over and take us to the Caucasus. We are the children of Russia and we want to be in Russia, says Nahmon Ismail. He explains that Dagestan and Chechnya are his homeland. His ancestors fled from that region a century and a half ago, after the Caucasian War.
Another Circassian family is concerned with the more local issues. Their children got some part-time jobs in the city but they don't always get paid for their work.
Young guys of 14 or 15 are certain about their political views.
- Russia supports Assad, right? And who is Assad? We don't see him as our president. Had they been our brothers they wouldn't have bombed us, they explain, and their parents share their opinion.
These guys are still too young to join the armed opposition but they are set to fight.
- Are you ready to fight against Assad? I asked the teenagers.
- Inshallah, they replied.
However they don't know yet which group to fight for. Their parents support the Free Syrian Army, but these kids are at a crossroads – there are way too many armed groups in Syria now.
I am joined by other groups of teenagers:
- We are for the IS. The Islamic State is really winning. They are the only ones fighting not against Muslims but against kafirs. While you believe the propaganda we know the real state of things. Assad holds on to Iran and Hezbollah and gets help from them; whereas we choose Turkey and Syria, those who are for freedom of Syrians. Putin shouldn't be helping Assad. But we have no hatred for Russia; we stand for our country, they explain calmly and reasonably, with no signs of hostility.
Another group of young people, whose mustache is already showing, are willing to fight Assad any moment, despite still being school students and having no experience of handling guns. They come from Aleppo.
- We do not recognize the IS or the al-Nusra Front. We only recognize the Free Syrian Army and the opposition. None of our family members have fought, but we will. This is the only way we can regain our homeland, they believe.
The gray haired, bearded Mohammed and his family came to the camp from Aleppo. His house and his store were ruined. He doesn't care who is fighting for what group, and who is right or wrong. He doesn't like being a dependent. He sees no future for himself neither in Turkey nor back home. He wants to find refuge in any European country, take his family there, and forget the past like a nightmare. He hasn't had any help in this matter so far.
A woman is sitting on the threshold of her container. She's decorated it with plants and curtains to make it look more like a home. Her husband is trying to make some money as a construction site worker.
- They make us do all the hard work but they don't pay. He's worked at this one site for a month and wasn't given his money. He found another job, and the same thing happened, she says sadly.
- We didn't run from terror. We escaped when the bombing just started. We thought we were leaving for a short time, but it didn't work out that way, comments the woman.
A pro-Assad Syrian woman heard these brave statements of the refugees and decided to speak up as well. She's married to a Turk, and her life turned out much better than for most of refugees.
- My family supports Assad. We just fled from the war. There are quite a number of loyalists here at the camp and in the city. Many people understand that Assad is a hostage to circumstances, rather than a monster who bombs his own citizens. Many of them understand the complexity of the situation but not all know how to express it, she explains.
The camp has a school, a first-aid station, a store, and a sports ground, as well as a mosque. Most of Syrian refugees are believers who come to pray. The mosque's imams, also the locals, have been elected rather than appointed. They are well respected. But they stay away from political disputes.
Near the mosque I met a guy who became a refugee because he was called up for military service in the government forces, and he didn't want to join them. He doesn't want to become a guerilla either – he thinks the war is not his calling. He doesn't believe the Syrian conflict can be resolved by hostilities. But he doesn't see a political settlement either.
- They keep asking, who do you support in this war? And who should I support? Both the IS and the al-Nusra Front have been bred by the Assad regime and emerged from the chaos that Syria's been turned into. The Free Syrian Army was the only one actually fighting against Assad, and where is it now?, says the frustrated young man.
Most of container homes have TV antennas, and most people watch Syrian TV channels. They are concerned with what's going on at home, how their relatives are, and when they would be able to return. During the three years of the war they've heard numerous reports of international conferences, talks, and the final settlement of the conflict, but nothing's changed. Their homes kept turning into ruins, and people were either killed, or became refugees. One wouldn't argue that no other country extended such a welcome to them like Turkey did; although Syrians find it hard to live away from home in a country where even the water tastes differently.
- We trust Erdogan only. As long as Erdogan is in office we have his support, says a wounded veteran. He is in a wheelchair. He is a hero, and the kids surround him. He willingly has his photos taken, being unafraid to show his face. As little as two years ago, veterans asked not to take their pictures. Back then, the victory seemed near. But now all of them – those for and against Assad alike – realize that it's not about him. Whether they live to see the day when they can return home is a matter that's beyond political forecasts and battlefields of this strange war.
- We will return, Inshallah, says the young man smiling broadly.
But what kind of Syria will they return to, and when?
The statements, views and opinions expressed in this column are solely those of the author and do not necessarily represent those of RT.