Thousands of Ukrainian Jews flee to Israel 'because of war, not anti-Semitism'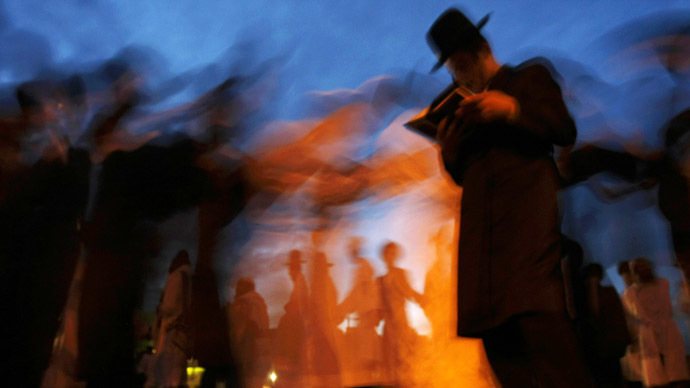 For the first time since WWII there is an issue of Jewish refugees, but this time people are fleeing not due to anti-Semitism, but because of the fighting in Eastern Ukraine, Yechiel Eckstein of the International Fellowship of Christians and Jews told RT.
RT:There are reports of hundreds of Ukrainian Jews arriving in Israel fleeing unrest and uncertainty in Ukraine. How would you describe what's going on?
Yechiel Eckstein: What is happening is that the first time since World War II we have the concept of Jewish refugees - Jews who had to leave their home, flee their home especially from Donetsk and Lugansk, and Mariupol, people who experienced bombings… not anti- Semitism but part of the war that is going on in Eastern Ukraine. Many of them had to simply leave even without a winter coat because they were sure that they would come back in a few weeks, or a month or two.
So what we did, the International Fellowship of Christians and Jews, where most of our donors are Christians, we set up refugee camps for these Jews to flee to. Those who could get out, we've cared for them for the past six months since around June. We are talking about a few thousand people. What I realized was that these people, and what they realized is, they are not going back to their homes so quickly. The war is not over; it doesn't look like it is going to be over so quickly. Even if it were over, their homes are probably destroyed, their jobs are not available anymore, and they are not rooted.
These are people who generally were middle class people with a job, with a home with a car. All of the sudden uprooted, fleeing and having no place to go. What I believe [and] many of us believe is that there is no such thing as a "Jewish refugee" today as long as there is a state of Israel that is able, willing, and wanting to help them to immigrate to Israel. There is always a place for Jews to go and to flee.
Some of the people who fled Eastern Ukraine have settled in Kiev, in Dnepropetrovsk, in Odessa, [and] in other cities in Ukraine. We decided to put out an alert to the Jewish communities saying: "We are chartering a plane on December 22, and it's a plane with 226 seats, and those who want to come to Israel, to move, we will help you not only immigrate but we'll help you with money and with conditions so that you can get your feet on the ground, children to go to school, job for the parents, etc."
What happened was we had over 500 people who wanted to come and so we arranged for a second flight by the fellowship in a few days, and we intent to have flights all next year as long as there are those who seek to come to Israel. We will continue to make that possible. We are not a government agency, we are NGO (Non-governmental organization), and most of the funds are coming interestingly enough from Christians who seek to help Israel and the Jewish people. The people of Israel embrace them, many are coming.
RT:Why mostly these people are fleeing?
YA: We had one woman in the Jewish community and her child who were simply out in a playground and a mortar landed and killed them. And a Jewish community is a somewhat closed community, they hear about things from one another, they go to the Synagogue. We have many of the businessmen. A few that I met, who one evening were accosted by someone and said: "Ok, your business now belongs to us. If you want to live, you need to leave by morning." And so you have middle class businessman who loses his business and flees with his family to nowhere... And of course we set up refugee camps for them. So it is not anti-Semitism that is driving them away, it is simply that you have regular civilian people that are in a war zone, and they are frightened, and so they are fleeing.
The statements, views and opinions expressed in this column are solely those of the author and do not necessarily represent those of RT.