'French govt is trying to make a big deal over recent attacks'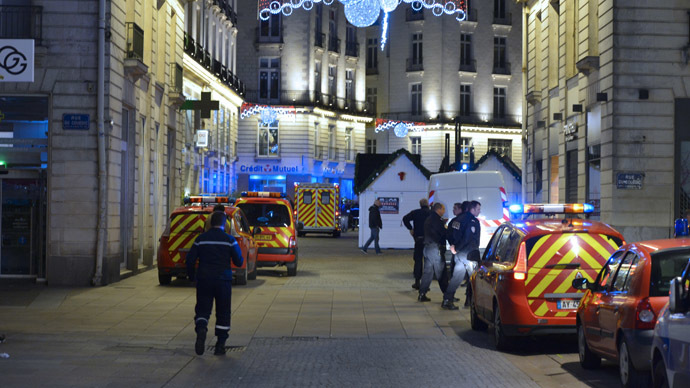 French and Canadian politicians are making hay out of the recent attacks on civilians in the two countries as it serves their interests: a frightened population is one that supports the government in power, author and columnist Eric Margolis told RT.
At least ten people were injured Monday in Nantes, France, when a van driver drove into a Christmas market crowd. This incident was a second such attack in the country in two days. The first happened in Dijon when a mentally unstable man shouting 'Allah Akbar' drove into a crowd of pedestrians. The Nantes attack happened the day after President Hollande called for vigilance and warned against panic.
The two accidents with drivers followed the attack that took place on December 21, when a knife-wielding man stormed a police station, stabbing three officers before being shot.
READ MORE:10 injured as man drives van into Christmas fair in Nantes, France
RT:It's not clear whether there was a religious motive, but three days and three attacks. Is this a pattern or simply a coincidence?
Raza Kazim from Islamic Human Rights Commission of growing Islamophobia in France: "There has been a long-standing slide into rising anti-Muslim hatred that is spread across Europe. The fact is that media is trying to link the ethnicities and the religion of people to specific crimes that have been committed. It has always been problematic."

Eric Margolis: I think it's more a coincidence than a pattern. The French police have not uncovered any kind of conspiracy. They are still pretty much saying that these are individual acts by mentally deficient, crazed people and not a plot. Even though the government is trying to make a big deal, make hay out of these attacks for its own political reasons, they don't seem to be a pattern yet.
RT:There are dead and injured people. Is there an effective way of preventing such attacks?
EM: No, I don't think so. What is known to psychologists is that Christmas time is a time of great stress. Interestingly, two times of the highest death rates for men are Christmas and their birthdays. They are under a great deal of stress and tension, so most people, particularly people who are socially marginalized, who live alone and Christmas brings out all their problems. It's not unusual to have people committing outrages at this time of year.
RT:The French Prime Minister has said France has never faced a greater danger from terrorism. What could we expect the government to do in this situation?
Raza Kazim from Islamic Human Rights Commission of growing Islamophobia in France: "What needs to be recognized is what actually is going on in terms of how the authorities, how the media and the government establishment in itself is trying to treat Muslim minorities, how they are dealing with them and how they are talking about them."

EM: Government should do nothing. There is nothing that government can really do; these are random acts, totally unpredictable. A man walked into police station in Central France, stabbed three policemen for no good reason. These guys, drivers, made the same attacks… They are not even members of any kind of militant Middle Eastern group, they were just loners. Canada just had the same thing, they had an attack by a demented man and the government of Canada made a big deal about it by calling for more defense and security spending, which is just nonsense. It's good for the politicians - the frightened populace is one that supports the government in power.
RT:The anti-immigration sentiment is quite strong in France. What affect will these attacks have, do you think?
EM: That will certainly increase anti-immigrant sentiment which is boiling now and has been over the years. In an interview with Jean-Marie Le Pen a decade ago, he had a line "immigration equals invasion," and so a lot of French feel that. President Hollande in France, his popularity rose up 1.2 points after this attack and the French right-wing, the National Front, is calling for much stricter controls on immigration, and most Frenchmen support them.
The statements, views and opinions expressed in this column are solely those of the author and do not necessarily represent those of RT.