'Assange case - a witch-hunt by Swedish govt pressed by US'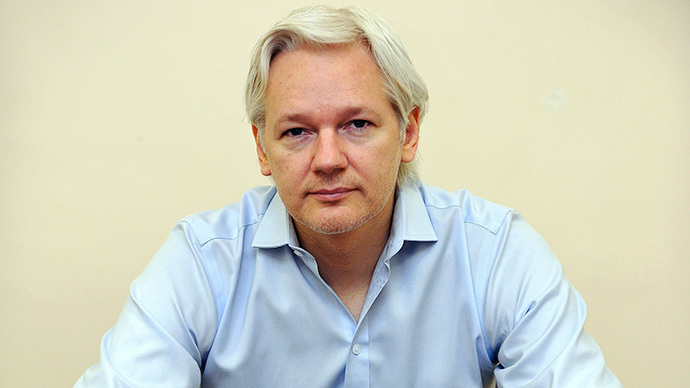 The US, the UK, and Sweden feel threatened by the WikiLeaks data release in 2010, so they work in tandem to keep Julian Assange locked up in London in fear of being sent to the US to face a grand jury, social campaigner Clark Stoeckley told RT.
It is four years since WikiLeaks founder Julian Assange was accused of rape and sexual assault and two years since he fled into Ecuador's embassy in London.
RT:It's been four years since Julian Assange was first charged, and he had an appeal denied last month in Sweden. What's the next step for him now, in your opinion?
Clark Stoeckley: He has gone to several human rights groups around the world to appeal to the Swedish government to have this case dropped because Assange has not been charged with any crime. Today is four years that he has been either under house arrest or in the Ecuadorian embassy. This could have been resolved a long time ago if the Swedish government had decided to come to England to question Assange, to have an STD test done. As we have seen, the two women involved in Sweden have not claimed to have been raped and neither of them has really pursued this. It has been a kind of witch-hunt by the Swedish government with believed pressure from the US government.
Essentially what is going on there, you have three countries – the US, the UK and Sweden – who are a kind of the worst warmongers in the world, and they are all three somewhat threatened by what Manning released in 2010 and WikiLeaks published, especially the Iraq and Afghanistan war logs. These things showed that governments of those countries were in fact committing war crimes in the Middle East, and so they have worked in tandem to keep Assange in London in the fear that if Assange is extradited to Sweden he'll be sent to the US to face a secret grand jury that has been going on ever since those releases in 2010. It's hard to say what the options are, but I feel that the chess match is being played out to the point where the Swedish government has to be held accountable now because you have got the Mayor of London who doesn't want to continue policing the Ecuadorian embassy which is costing them over $15,000 a day for absolutely no good reason whatsoever. It's also making these countries looking absolutely bad internationally because they are breaking the law and extradition treaties, they are not granting Julian asylum or access to get asylum in the physical country of Ecuador. I think a lot of options have been played out, but I'm not sure exactly what Julian's law team has for the next course of action.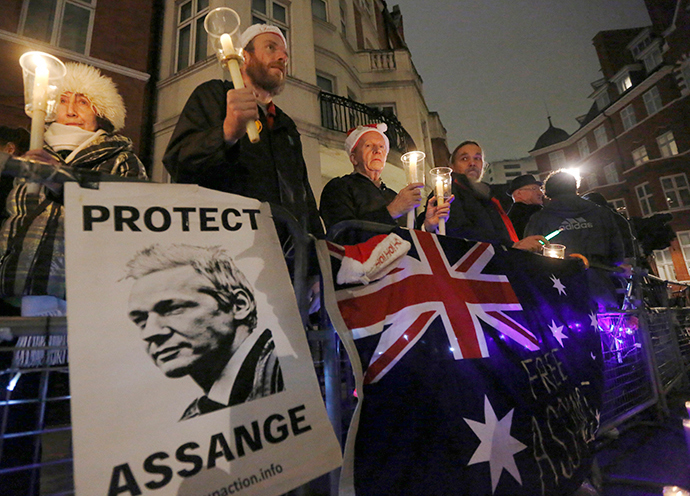 RT:Website govwaste.co.uk shows exactly what waiting for Assange to leave Ecuador's embassy is costing taxpayers. Right now the figure is £8 million and counting. Will that spending go on indefinitely? And is it worth it?
CS: It's certainly not worth it. I believe that the taxpayers in the UK have to wonder why they are being burdened with this. It seems like a complete waste of money when obviously they could be using that to fight crime. And essentially that is what WikiLeaks does – it exposes crimes. WikiLeaks is the truth teller, and the fact that we are going after not just whistleblowers but also the people who publish leaks or information that shines a light on corruption is absolutely absurd. It's absurd that Julian is still four years without charge, essentially a prisoner. Chelsea Manning is facing 35 years in jail; Jeremy Hammond is facing ten years in jail. So you look at that and at the fact that we have got police officers in the US like Daren Wilson and Eric Gardner's killer with no indictment whatsoever. The justice in the US right now is really weird and the fact that the Obama Administration has gone after so many whistleblowers as well as having FBI raids and subpoenas of these journalistic organizations as well, it's very frightful. I think we are living at the time when justice is definitely not being seen on the streets and also in the internet. We need some major changes, and it's not going to change until we make it possible for whistleblowers to expose the truth when our government and corporations are doing wrong.
Julian #Assange now been detained for four years without charge http://t.co/ZuN4ldrnSipic.twitter.com/9lQfIrxjjp

— WikiLeaks (@wikileaks) December 8, 2014
RT:Do you think there's any chance Assange will eventually stand trial? And if so can he get a fair one in either Sweden or the US?
CS: I don't think there are any grounds for an actual trial in Sweden because it doesn't seem like anyone is pressing charges. It seems like it was a political bent by a prosecutor and some other politicians during the time of an election. As far as what is going on in the US, I'm sure they would like to get Assange back to the US. There has been secret grand jury going on since 2011 and it's very obvious that the US government wants to shut WikiLeaks down in any possible way. Pretty much everyone who has worked for WikiLeaks feels uncomfortable or won't come to the US whatsoever because of this. The US has not said that they would not prosecute Assange; they haven't said they would try not to prosecute anyone from WikiLeaks or extradite them for that matter. We didn't get this agreement from the US; we also didn't get this agreement from Sweden. Assange was willing to comply with the Swedish government for over three and a half years now in a way that would have allowed this worry about being extradited to the US being completely removed from the table, but they weren't willing to allow that. They were trying to play another game – a political game - with their geopolitical partners, the ones that they have vested interest in the military-industrial complex, being in the Middle East and making sure that their weapons are being used.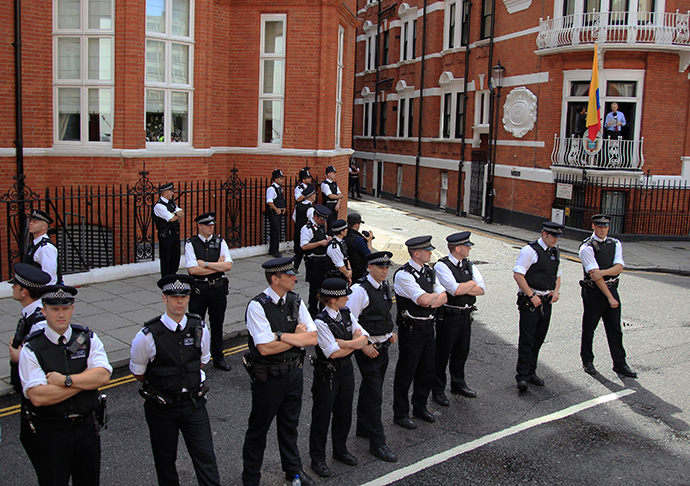 The US holds its fist and has control over its allies in Europe, essentially telling them that "You are going to play our game and Assange is whom we want." Until there is some kind of guarantee Assange will not be brought to the US, he'll continue to be in the Ecuadoran embassy, and that's a travesty of justice worldwide not just for human rights, but especially for journalists and anyone who is trying to report the truth. It seems like it's across the board, the truth is trying to be swept under the carpet.
RT:Do you think the verdict against Bradley Manning and this case against Assange could discourage others from following their example?
CS: I hope no one will be discouraged to blow a whistle when they see a wrongdoing or corruption within a government or corporation that they are working for. I hope that in the past five years or so that people have learned new ways of delivering information to the public. And we saw that with Snowden, he learned a lot of what to do and what not to do from Chelsea Manning and other whistleblowers. I hope no one is discouraged by this, I hope that we always learn how to do it better, how to make sure that our whistleblowers are protected in the future not only from having to move to another country but to make sure that their jobs are still there and they can continue to work. One thing that we have seen with Julian is that his work has been severed a little bit because he doesn't have freedom and mobility to travel to different countries, to organize, put together and collaborate with other journalists. They have tried to cut him off at the knees. Likely he is continuing to fight the good fight but certainly the damage had been done by this whole process. I hope for the day that he has freedom and can get out. I'd also like to see him compensated by both the UK and the Swedish governments for this because there is a complete lack of any kind of judicial precedent. It has obviously very political in nature and it has no real resonance within the legal and human rights communities.
The statements, views and opinions expressed in this column are solely those of the author and do not necessarily represent those of RT.