'China to avoid dangerous maritime route thanks to gas deal with Russia'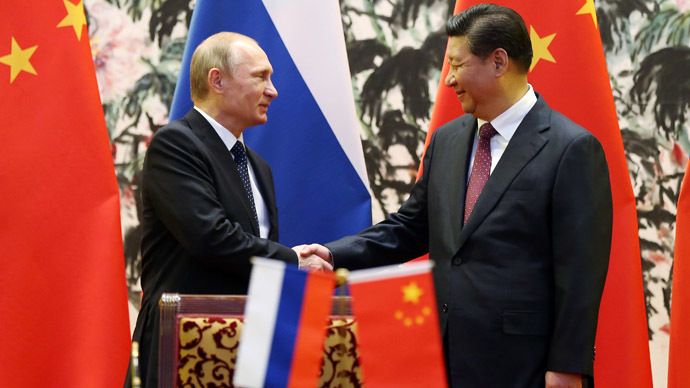 Most of China's energy resources are imported via the Pacific, and is threatened by the US military presence. The gas deal with Russia allows China to minimize the risks, China-based journalist Brendan O'Reilly told RT.
Lin Shaowen from China Radio International on the China-Russia gas deal: "It's a deal coming at the time of need. When China is looking for more sources of energy, Russia is looking for stable long-term market that is reliable. We both have reached a deal that will last for decades. So it's certainly good news for the two economies."
Russia and China have agreed a second gas deal, the so-called western route. President Vladimir Putin and Chinese leader Xi Jinping signed a memorandum of understanding at the Asia-Pacific summit in Beijing. The deal is expected to be signed next year and secure a yearly supply of 30 billion cubic meters of gas to China.
READ MORE:Putin, Xi Jinping sign mega gas deal on second gas supply route
RT: Russia and China are inching towards their second huge gas deal. How big is this agreement? What does this deal mean for Russia, China and the rest of the world?
Brendan O'Reilly: For Russia and China obviously there is a lot of mutual interest involved in this deal. Russia has tremendous reserves of natural gas and other energy resources, and China needs this natural gas to fuel its economy which is still going quite robustly.
RT: Why is China looking to Russia, not Europe?
Lin Shaowen from China Radio International on the China-Russia gas deal: "China and the US are also good partners. China is keen to do business with the US; there is a lot of mutual dependency towards each other as in the case of China and Russia. So we are the partners with those countries that can do business with us, whether it has been Russia, the US or other countries, as long as it benefits both economies."
BO:One of the most attractive things about Russian gas for the Chinese is the fact that it can be transported overland. Most of China's energy resources are imported via sea through the Pacific, and this route is a little bit threatened by the American military presence in the Pacific. And of course there are a lot of territorial disputes right now between China and Japan and various other countries in the East China Sea and in the South China Sea. Basically, by strengthening energy ties with Russia China can avoid the most dangerous maritime route.
RT: Europe has nothing to worry about as there is enough gas to supply both East and West, right?
BO: In theory yes, but obviously Russia stands to benefit from this development of China very much because right now the vast majority of Russian gas is being exported to Europe, so Russia having a second large buyer improves the situation of demand for Russian gas by creating more demand in the East.
The statements, views and opinions expressed in this column are solely those of the author and do not necessarily represent those of RT.