​'UK should leave EU to control immigration within country"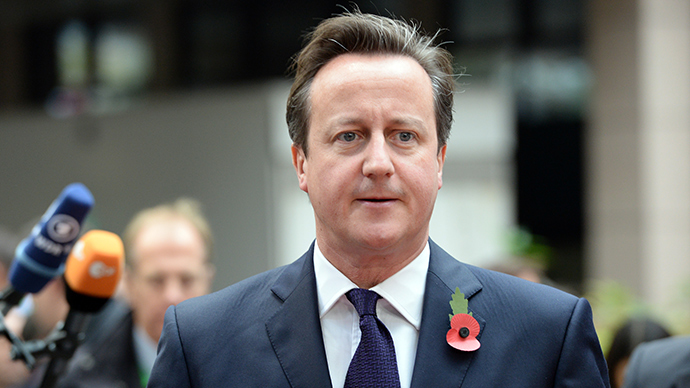 The only way Britain can have its own migration policy and control immigration from the EU is to exit the bloc, Robert Oulds, Chair of the Bruges Group think tank, told RT.
RT:A newpollhas found that 56 percent of Britons want to stay in the EU. Why does British Prime Minister David Cameron need to hold a referendum if the outcome looks pretty clear?
Robert Oulds: There have been other opinion polls that showed that most people want to leave the European Union. That is a very volatile subject where people often have different points of view. But there is something very intriguing within the poll that shows that very few are happy with Britain's current terms of EU membership. The British people do want a change in Britain's terms of membership with the EU. They are not happy with how Brussels runs the UK. They certainly are not happy about [open borders with other members]. Within this poll the headline was showing that at the moment most people are supporting membership. But underneath that most people are very upset with the policies that EU is forcing upon Britain.
RT:How serious are the Tories about leaving the UK? Or is it more a campaign promise as UKIP are gaining support?
RO: The current Conservative leadership and Prime Minister David Cameron want to keep Britain within the EU but want to change the terms of the UK's membership. However, at the Bruges Group we feel that would be impossible to significantly change Britain's terms of membership with the EU, would be almost impossible to achieve…It is not a mechanism by which Britain can cease the EU control over this country. He wants to keep us in the talks about changing the relationship. There are people within the Conservative Party and of course and even some within the Labour Party, and definitely those amongst the UKIP that do actually want Britain to be out of the EU. And these voices are gaining ground. David Cameron, who is naturally pro-EU, naturally wants to keep balance in the EU, has been forced to give way and now talks about reforming or renegotiating the EU, and of course he has been made to offer the pledge of having a referendum on our membership in 2017. So there is a great deal of pressure, a lot of which comes from his own backbenchers. Some within the Cabinet, where there are a number of euro skeptics, and of course the threat posed by UKIP which is an existing threat and it is really costing the Conservative Party votes at this moment in time.
George Eaton, political editor of the New Statesman, on EU referendum in the UK: "Support for EU membership has reason because David Cameron made it very clear that he believes Britain can get a better deal from Europe by renegotiating its membership and that would take a place before the referendum."
RT:How justified are the fears of the incoming President of the European Commission Jean-Claude Juncker, that if the UK were to curb migration from other EU countries "other freedoms would fall" too?
RO: He said that it is going to be impossible for Britain to curb migration. It is a fundamental principal of the EU membership when there are open borders to other EU states, and there is a free movement of persons. It is one of the fundamental freedoms of the EU. And there is nothing in law that Britain can do to stop that. There can be a few safe-guarding actions and the removal of individuals who would pose a threat. But to impose a policy of having work permits or points immigration system to other EU states will be struck down by the European Court of Justice, which is the most powerful court within the EU and has the right and often does interfere in member states' policies. It can strike down the laws of member states. So as thing stands at the moment, David Cameron can talk about restricting immigration, but he can't do it while Britain remains a member of the EU. And he really does need to understand that. If he doesn't already it is quite surprising. He doesn't really need to recognize that Britain's EU membership is incompatible with controlling our own borders.
RT:In your opinion, is the right of free moment within the UK really fair towards British citizens and does the current migration change economic situation in the union somehow?
RO: Some people would argue that it is not fair that in Britain we've had to take on a bulk of migrants from countries such as Poland where there is a lower standard of living and people have come here in many cases to work. But often they would lower the rate of the income spectrum. And there are British people who should be the government's first responsibility would have found themselves either out of work or having the wages decreased as a result of the extra competition that comes from Eastern Europe. There is a clear evidence to show that the wages of those at the lower end of the income spectrum in the UK have had their wages reduced as a direct result of immigration. That is the time when there has been some inflation and there is a cost of living crisis within the UK which does need to be addressed…But at the moment we are in the EU and cannot have policies which suit British people because of course the EU rules against that. Because you have to treat all other EU citizens equally giving them the same entitlement and benefits.
George Eaton, political editor of the New Statesman, on EU referendum in the UK: "Had [David Cameron] not promised the EU referendum, he would have been removed by now because for many of his backbenchers that is the most important issue – they feel it's appalling that Britain hasn't had a referendum on this since 1975."
And there is a case of many people who are receiving child benefit for children who live in Eastern Europe at this moment and this is a time when Britain has a growing budget deficit. We have a growing debt and a growing deficit. British public finances are out of control and immigration is not helping. Of course we also need to remember that in Eastern Europe losing the best and the brightest people to come to the UK to often work in service industries and low paid jobs, in coffee shops or on building sites…They could be doing a lot better and they could be in their own countries rebuilding their countries' economies and contributing more. I saw the Bulgarian Ambassador who voiced concerns about a brain-drain from Bulgaria to the UK.
It is not in the interests of those countries in Eastern Europe to lose the best and the brightest people to the UK to work and servicing the streets in low paid jobs when of course they could be at home doing really meaningful work, things they have been educated for at public expense... Free movement of people across the EU does not benefit Eastern Europe, doesn't benefit the lower income people in the UK or another states, they have their wages decreased as a result of migration. All that it helps is really big corporations that want to take advantages of cheap labor. And that is not a kind of economy which we should be building.
RT:Juncker is echoing Barroso's sentiments. What are the chances that Cameron will be able to get special treatment for the UK from the new Commission?
RO: Absolutely zero. He has no chance of being able to get special treatment on immigration. Britain wants to control immigration from the EU. The only way it can do that by exiting the EU and having its own immigration policy. It doesn't have to be anti-immigrant but what it should be is policy which is made by people that have been made elected within the UK and for the interests of the UK.
The statements, views and opinions expressed in this column are solely those of the author and do not necessarily represent those of RT.