​'Australia is target for IS as a Western state'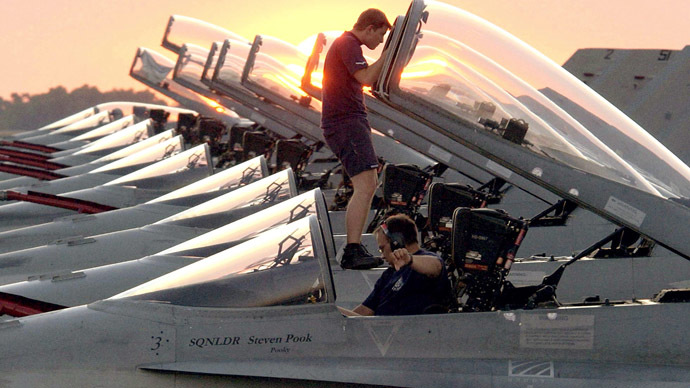 As a Western country Australia is automatically a target of terrorism and the fact that it is sending troops and committing to the war in Iraq doesn't make much of a difference, Shahram Akbarzadeh, Research Professor, Deakin University told RT.
The Australian cabinet has approved the deployment of its military forces to Iraq to confront the ISIS terrorist group.
READ MORE: Australians return to Iraq to confront IS militants on ground
In Mid-September Canberra deployed 600 military personnel and aircraft to the al-Minhad Air Base in Dubai (UAE) to be used in the US-led war against the Islamic State.
RT:Australians decided to return to Iraq to confront ISIS. In your opinion will their attempts be effective?
Shahram Akbarzadeh: I seriously doubt any contribution that Australia makes to the efforts to fight ISIS is really going to make any meaningful difference to the fight against ISIS. Australian involvement is very much a "talking" participation, and it is more aimed at consolidating and demonstrating Australia's commitment to the United States than to Iraq.
RT:What kind of relations do Australia and the US have?
SA: Australia has been on the side of the US from the very beginning. Following 9/11, the Australian prime minister was in Washington DC, in the US, visiting, and that made a lasting impression on the Australian prime minister at the time. And ever since, Australia has been quite committed to the US agenda in the Middle East. Australia supported the invasion in Afghanistan; Australia was very much involved in the operation in Iraq in 2003. The same pattern is being continued currently.
RT:What kind of threat does IS pose to Australia?
SA: In a way, all Western states can be a target of terrorism. What was uncovered is not necessarily masterminded by the Islamic State. IS doesn't have a very defined rigid organization. It is very much a loose network of connections. People were inspired by the ISIS message and ISIS goal. The fact that Australia is now sending troops and committing to the war in Iraq against ISIS - yes, you could say that Australia is more of a target. But I don't think that would have made much of a difference. Australia is a Western country and as a result is automatically a target.
The statements, views and opinions expressed in this column are solely those of the author and do not necessarily represent those of RT.