'Modi's India center of multipolar world - this threatens US hegemony'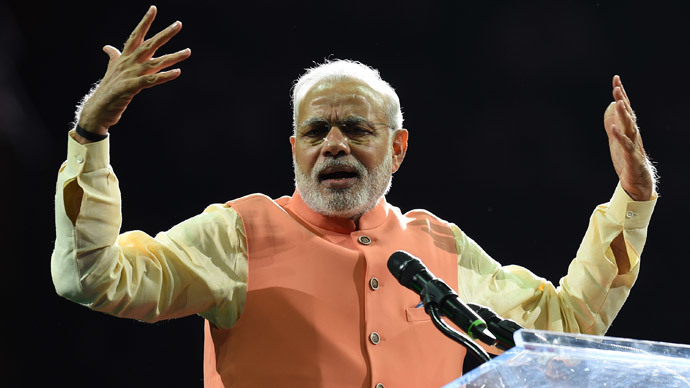 Washington's hegemonic position is being threatened by a new global movement that is fast becoming reality, with the BRICS group being a very important component of creating a truly multipolar world, Don DeBar, of CPR News, told RT.
On Sept. 26, Indian Prime Minister Narendra Modi arrived in the US for his first official visit after a nine-year visa ban over allegations that he failed to stop anti-Muslim rioting when he was Chief Minister of Gujarat. In 2005, he was denied entry to the US under a 1998 law barring entry to foreigners who have committed "particularly severe violations of religious freedom."
As part of his five-day trip, Modi addressed the UN General Assembly. He will also meet with the CEOs of 17 multinationals, including Google, Boeing, IBM, PepsiCo and MasterCard, and a have private dinner with US President Barack Obama. Modi's visit promises to be extremely important for the future development of Indian-US relations.
Modi, in an Op-Ed in the Wall Street Journal, called the United States India's "natural global partner."
However, the trip was overshadowed by a lawsuit from a human rights group that is attempting to hold him ultimately responsible for the 2002 massacre of Muslims in Gujarat. He is accused of standing by, or even encouraging, sectarian violence in Gujarat in 2002, which left over 1,000 people killed.
RT:This weekend PM Modi spoke at the UN General Assembly in New York. But had he not been elected, he wouldn't even be able to set foot in the US, because his visa was revoked in 2005 over the handling of Muslim riots in India. So why now is he seen as such a key partner by US officials?
Don DeBar: It's not a secret, particularly for people who have been listening at the UN over the past week – there has been a great deal of discussion about it, perhaps more than ever. It's not a secret that there is a new global construct coming into being and very important component of creating that multipolar world is the BRICS group of countries [Brazil, Russia, India, China and South Africa].
The US sees its hegemonic position, its position as the unitary pole of global power, eroding in front of it. It is attacking at various levels the structure that is emerging – again, BRICS is a central part of it. We have links with the various integration groupings in Latin America – CELAC, the Alba countries, UNASUR. We see the groups that are forming around some of the old Soviet Republics, the ties between Russia and China that are growing exponentially and practically, Chinese investment in Africa, African unity movements – all of this on display over the past months with the BRICS conference in Brazil over the summer.
India is literally at the center of the BRICS countries, and is raising demands at the UN, one of the themes Prime Minister Modi mentioned – many people mentioned it – but he brought it up specifically: India has a billion people and no permanent seat at the Security Council. The entire structure of global governance is feeling a huge push from this new center of gravity forming, and attacking India is one of the ways that the US is using to try to stop this from coming to being.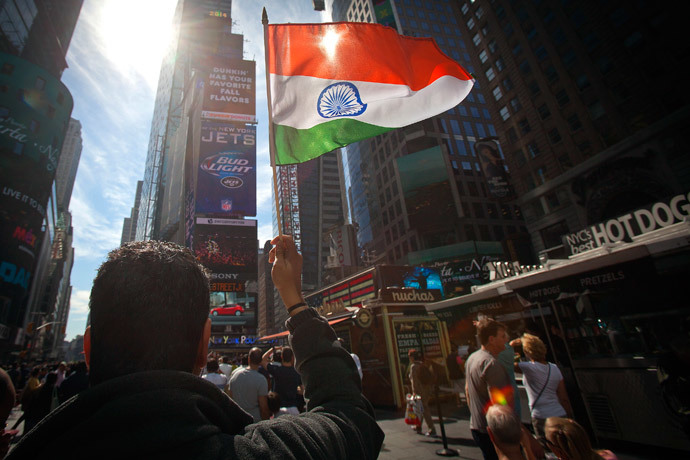 RT:Modi was slapped with a lawsuit over his alleged role in those deadly religious riots as soon as he arrived in the US. That doesn't happen with world leaders visiting international summits often. How big a blow is this for Modi?
DD: The biggest blow is to US credibility across the world. This is a huge diplomatic faux pas. You don't serve process in somebody's lawsuit on a head of state when they are visiting the UN, no less to come together for the General Assembly. Honestly, if I was Modi, and the world could thank God that I'm not, if I had that time at the UN I would have been reading a resolution, proposing an entirely new order, excluding the US, because of this kind of behavior. That's not what happened – he was much more diplomatic than that.
I don't even think that he mentioned his own situation within this, other than by a collateral reference to the need for waking it round the world. The US really gets a black eye in the eyes of the world community because it's a terribly undiplomatic practice.
RT:There's talk about an attempted upgrade in India-US relations. Will the coming meeting between Modi and Obama be more about politics or economics?
DD: They kicked him in the face when he entered in the US and then said, "Come on, let's have lunch." Then they will discuss, I guess, there will be an attempt to providing diktat from the US government, or whoever will be sent as a power and will be talking to Modi, saying, "Look, that is what you are going to do – or else."
I think Modi has already shown us or told us what he plans to do – he is looking for more integration of the global economy on a multipolar, multilateral level. He is actually pursuing that in operating within a framework that he is committed to. That is going to happen much deeply and broadly than before.
He was in Brazil at the conference of the BRICS countries when the new financial structures were announced, for example, that may ultimately replace the IMF and the World Bank. They are certainly now in competition. I think he has shown which way he is going to go in advance – we have got this little political ploy in New York.
RT:What tools Washington is more likely to use in dealing with Modi?
DD: Their primary tool is the drone: they have lawyers and drones, not much else, because they don't utilize the tools they do have. The US is a great economic power but unfortunately, in terms of their economy, it is mostly at war with itself: the oligarchy is at war with the vast numbers working people here, the middle class has been under attack for 40-50 years to the point of almost non-existence, and it has remained, although heavily indebted to the 1 percent.
So if the US were using those tools, diplomatic tools rather than the kind of behavior they have just exhibited, political tools around the country, around the world, then the US would be very competitive. We have much to offer the world, but all we are offering is military adventures, diktat and exploitative economic relationships. And of course the world doesn't have to buy that, it isn't buying it anymore.
The statements, views and opinions expressed in this column are solely those of the author and do not necessarily represent those of RT.
The statements, views and opinions expressed in this column are solely those of the author and do not necessarily represent those of RT.
You can share this story on social media: