Turkey playing wily diplomatic game with IS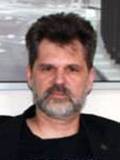 Can Erimtan
Dr. Can Erimtan is an independent scholar residing in İstanbul, with a wide interest in the politics, history and culture of the Balkans and the Greater Middle East. He attended the VUB in Brussels and did his graduate work at the universities of Essex and Oxford. In Oxford, Erimtan was a member of Lady Margaret Hall and he obtained his doctorate in Modern History in 2002. His publications include the book "Ottomans Looking West?" as well as numerous scholarly articles. In the period 2010-11, he wrote op-eds for Today's Zaman and in the further course of 2011 he also published a number of pieces in Hürriyet Daily News. In 2013, he was the Turkey Editor of the İstanbul Gazette. He is on Twitter at @theerimtanangle
Dr. Can Erimtan is an independent scholar residing in İstanbul, with a wide interest in the politics, history and culture of the Balkans and the Greater Middle East. He attended the VUB in Brussels and did his graduate work at the universities of Essex and Oxford. In Oxford, Erimtan was a member of Lady Margaret Hall and he obtained his doctorate in Modern History in 2002. His publications include the book "Ottomans Looking West?" as well as numerous scholarly articles. In the period 2010-11, he wrote op-eds for Today's Zaman and in the further course of 2011 he also published a number of pieces in Hürriyet Daily News. In 2013, he was the Turkey Editor of the İstanbul Gazette. He is on Twitter at @theerimtanangle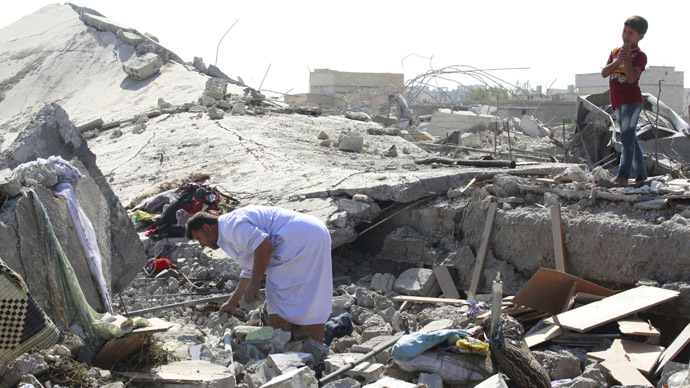 As IS forces waged a campaign of fear sending thousands of Kurds fleeing into Turkey, Ankara managed to "free" its hostages held by the group in Iraq. Allegedly they were exchanged for Islamist prisoners. Does this indicate a Turkey's new ISIS policy?
Borders are meant to protect a sovereign state against outside threats while keeping its citizens safe and sound inside, but sometimes external threats force citizens to cross borders into the lands of another state in order to reach a modicum of safety and secure their own lives.
Turkey's present-day borders were established in the Treaty of Lausanne (1923) in the aftermath of the end of World War I (1914-18) and the dissolution and abolition of the Ottoman Empire (1922), and have only become subject to one important change since then. Namely, the addition of the territory of Hatay to the south, which had been part of the Ottoman Empire but was excluded from the territories of the Republic of Turkey. In 1925, the area became part of the French mandate of Syria but in 1939 joined Turkey following a popular referendum.
Turkey's borders have since remained unchanged and their quasi-sacrosanct status has become a matter of Turkish pride and Kemalist principle. And, even now that the nation has entered its post-Kemalist phase and has been ruled by the openly Islamic AKP (or Justice and Development Party) for the past decade, Turkey's borders are a topic beyond discussion or consideration. In fact, the whole of the Middle East has borderlines going back to the machinations of World War I, particularly the Sykes-Picot agreement of 1916. The ambitions for independence currently fostered by the KRG in northern Iraq and particularly, the emergence of the terror group formerly known as ISIS, but now calling itself simply the Islamic State (IS) and occupying wide swaths of Iraq and Syria, have thrown the continuing validity of this status quo post bellum up in the air.
IS attacks Rojava
Turkey's recently appointed Prime Minister, the wily Ahmed Davutoglu, took his second trip across his nation's borders to visit the neighboring Turkic nation of Azerbaijan on 19 September. His first foreign foray had been to the Turkish Republic of Northern Cyprus, as is customary for newly-appointed Turkish PM's. While abroad, other Turkish border crossings were also active.
The area in the north-east of Syria and just south of Turkish territories is a multi-ethnic mosaic with a Kurdish majority, and the PYD (or the Kurdish Democratic Union Party) had established an autonomous region called Rojava, meaning the West or sunset in Kurdish, as it corresponds to the westernmost regions occupied by Kurds spread out across Syria, Turkey, Iraq, and Iran. The Islamic State attacked the region, leading to the exodus of numerous frightened Kurds across the border into Turkey.
In Azerbaijan, the wily Davutoglu immediately reacted to the situation saying "as has been the case previously, we will have taken in, and will continue to do so, our brothers from Syria or any other place facing death and seeing Anatolia as a place of refuge [and] who have come to our borders, without any ethnic or sectarian discrimination. These entries have now commenced."
Even though Turkey is really rather apprehensive about Rojava, Davutoglu appears to act in a humanitarian, if not humanist, fashion, but still underlines his (and by extension, Turkey's) commitment to the principle of Islamic solidarity - after all, the Koran states that "believers are indeed brothers" (Surat Al-Hujurat 49:10). Turkey's reservations regarding Rojava are obviously connected to its own Kurdish Issue,(1) and the terrorist PKK's open cooperation with the PYD - as such, even public displays of pictures of the imprisoned PKK leader Abdullah Öçalan are ubiquitous across Rojava. The PKK has been a thorn in Turkey's side since 1984 and on the US terrorist list since 1997; and, now somewhat adhering to a truce while the AKP-initiated peace process continues.
From 60,000 to 130,000 refugees
Friday's IS onslaught started on 16 September, and in response PYD forces evacuated at least 100 villages on the Syrian side of the border - an evacuation that led toan influx of 60,000 refugees into Turkish territory by September 19, when PM Davutoglu generously opened Turkey's arms.
IS has "destroyed every place they have gone to," one of refugees, a 34-year old farmer Lokman Isa told Reuters. "We saw what they did in Iraq, in Sinjar, and we fled in fear."
Thus, the propaganda campaign waged by the terror group proves very effective, even forcing Kurds to flee into the territory of Turkey - a state that has been fighting its own Kurdish insurgency for decades. Caliph Ibrahim and his fighters inspired such horror that by 22 September the number of Kurdish refugees had risen to 130,000, according to Deputy PM Numan Kurtulmus.
IS is still advancing, trying to take the town of Ayn al-Arab (called Kobani in Kurdish), close to the Turkish border.
An official of Turkey's emergencies directorate AFAD indicated that the "border is open, but only at one place at Mursitpınar, for better organization of crossings," adding that a "single point has been opened for displaced Syrians, so that we can do identity control and give first aid [and] vaccinate people if necessary."
These Kurdish exiles have now been added to the "registered 847,000 Syrian refugees" already staying in Turkey, having fled the earlier violence of Syria's not-so civil war.
Given that the US and its allies have earlier conducted successful air campaigns against the IS in Iraq, the fact that Obama's "Coalition of the Willing" appears unmoved by the Kurds' plight is somewhat puzzling. The US Ambassador to the UN Samantha Powers declared on ABC's This Week program that "we will not do the airstrikes alone if the president decides to do the airstrikes." And this leaves the frightened Kurds with no option but to flee into Turkey. The erstwhile EU ambassador and head of delegation to Turkey and currently, visiting scholar at Carnegie Europe Marc Pierini used twitter to express his approval of Turkey's willingness to accept Kurdish refugees, while also stressing that the wider international community should also act: "Good that #Turkey just opened its border to #Syrian Kurds fleeing #ISIS in the Kobani/Aïn Al-Arab region. Intl attention urgently needed."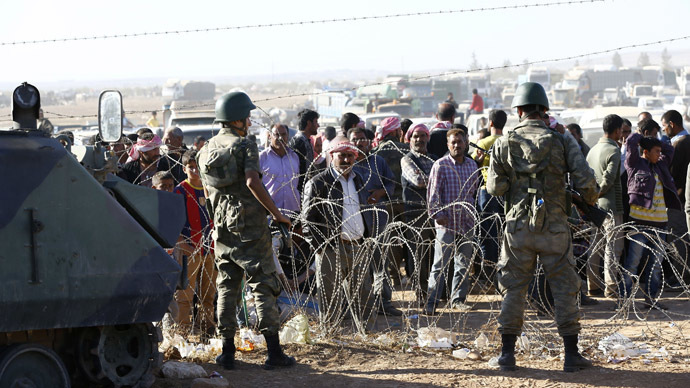 Turkish hostages 'liberated'
While, Kurds were streaming into Turkey by their droves over the weekend, another Turkish border crossing also made headlines. On Saturday, Turkish security sources told Reuters that the 46 Turkish citizens captured by the IS in Mosul had been "liberated" and crossed the border in the town of Tel Abyad, corresponding to the Turkish town of Akcakale.
The wily PM immediately returned home and told the media: "I wish from God that all our days in future will be as good as this one and we will never experience such sadness ever again."
After the Turkish hostages - among them the consul-general, diplomats' children and even Special Forces soldiers - were seized, the IS moved their location about eight times. In all, they had to endure 101 days in captivity, and while they were not subjected to any kind of ill-treatment, the Turks were forced to eat rice and lentil soup for every meal every day.
The PM as well as President Erdogan praised Turkey's National Intelligence Organization (MIT) for having succeeded in performing a delicate "covert rescue operation," freeing the hostages unharmed. In fact, the President stated the following, indicating that he had now really relinquished his hold over the Turkish government and stopped micro-managing Turkish affairs: "I thank the prime minister and his colleagues for the pre-planned, carefully calculated and secretly-conducted operation throughout the night." The PM told reporters that the rescue operation was carried out "through MIT's own methods" and that the Turkish authorities had been constantly aware of the hostages' whereabouts, and that the "liberation" had taken place without "any armed confrontation", but by means of negotiation and other methods of persuasion carried out between MIT's Presidency of External Operations (acronymized as DOP, in Turkish) and the Islamic State's Foreign Ministry. As a result, it seems by implication, the Republic or Turkey has thereby de facto recognized the Islamic State as a sovereign entity, as a sovereign state really.
Additionally, the official story, as conveyed by the pro-government newspaper Yeni Safak, indicates that, while the whole affair was carried out solely by Turkey's National Intelligence Organization, Arab tribes were also instrumental in the rescue. The official line also holds that MIT had earlier come close to rescuing the hostages on six separate occasions, but that security concerns had thwarted these attempts. The Turkish government is also firm in stating that "no ransom" was paid and that no "conditions" or other kinds of "provisions' were made to accommodate the Islamic State.
Heralding a new Turkish ISIS Policy?
But according to tweets by the self-proclaimed "Media expert on Islamic groups" Saad al Aqidy, (2) the Turkish hostages, as well as the three non-Turkish captives, were freed "on the order of the Caliph", and following the AKP-led government's assurances regarding "#Turkish non-participation in the war" against the Islamic State. And even the pro-government Yeni Safak's Abdulkadir Selvi indicates that the President declared that a certain "exchange" had taken place, that Turkey might have released a number of its Islamist prisoners in exchange for the consular hostages. While the Dicle News Agency (DIHA), operating in Turkish, Kurdish and English, posted recently that "citizens of Rojava [have] told [us] that shipment[s] of tank, ammunition and fighters with a train in Kilis-Ceylanpınar Line to gangs of ISIS who are attacking at Kobane Canton [have been taking place] since 15 September," arguably in exchange for the Turkish hostages, freed on the 20th.
Very good news: 46 Turkish hostages have been released (not rescued) unharmed. Next question: how far will #Turkey modify its ISIS policy?

— Marc Pierini (@MarcPierini1) September 20, 2014
Still, President Erdogan hails the return of the hostages to Turkey as a "diplomatic victory," a victory boding well for the administration led by PM Davutoglu, his hand-picked successor. Now that the hostage crisis has been resolved, will Turkey "modify its ISIS policy?" tweeted Carnegie Europe's Pierini.
Turkey is now hosting about one million refugees from Syria's not-so civil war, while the Islamic State is threatening to undo the "borders of Sykes-Picot",(3) and as a result, it seems that Turkey can ill-afford any foreign adventures at the moment. Turkey is now also now trying to accommodate its own Kurdish population with the ongoing peace process, and maintain its commercial ties to northern Iraq's KRG. The appearance of the IS on its southern flank is a serious disruption that the AKP is arguably trying to minimize by means of pursuing a peaceful foreign policy meant to secure its borders, arguably somewhat in line with Ataturk's famous dictum of "Peace at Home, Peace Abroad," albeit that Turkey's near-abroad in Iraq and Syria is currently in the throes of a bloody war.
Early this week anti-ISIS coalition began bombing terrorist positions in Syria.
The statements, views and opinions expressed in this column are solely those of the author and do not necessarily represent those of RT.