'No Muslim organization supports ISIS, but US & UK do'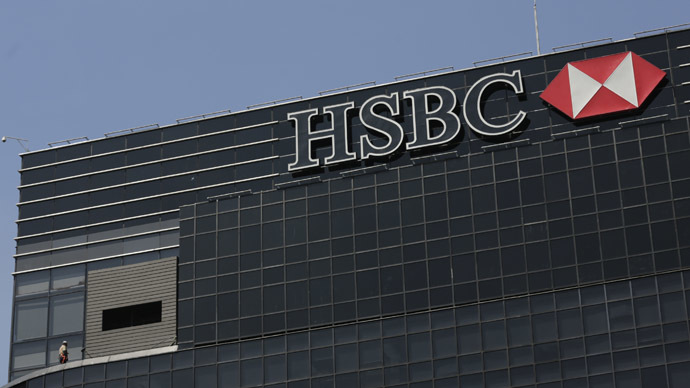 It was the West that armed and financed ISIS and it is "outrageous" to blame Muslims for supporting extremists and close their bank accounts when they've done nothing wrong, Massoud Shadjareh from the Islamic Human Rights Commission, told RT.
Earlier in September, some US banks closed dozens of accounts without any explanation. Letters were sent to business owners, nonprofits, and students across the country, most of who turned out to be Muslims. Muslim civil rights group accused the banks of racist policies, and complained to the US Justice Department.
Recently in the UK, HSBC closed the account of the Finsbury Park Mosque in North London, which is known for the radical cleric Abu Hamza preaching there in the 1990s and 2000s. After a mass rally on September 19, HSBC admitted that its decision to cancel the account came after it was hit with a huge fine for allowing terrorists and drug cartels to launder cash through its accounts.
RT:HSBC closed the account of the Finsbury Park Mosque without any clear explanation. Indeed, it just announced that the mosque no longer fitted its "risk appetite," and it "will need to make alternative banking arrangements" as HSBC is not "prepared to open another account" for it. How can you explain this?
Massoud Shadjareh: There's no way of explaining that. This is a jargon that banks use when they don't really want to explain themselves. The reality is that we are seeing more and more Muslims and Muslim organizations being targeted in this way by banks. And privately they say that they feel under pressure by the US, and a number of organizations and groups are being put on a sort of black-list. This is really outrageous because removing bank accounts and denying bank account to organizations or individuals is almost like forcing them to go out of existence. As you know, we don't even remove bank accounts of murderers and criminals. Now we are seeing this is systematically happening to people who have never done anything wrong, they have not even been accused of any wrongdoing. They have just found themselves in this situation without any right to redress.
RT:For the past couple of years we can witness growing Islamophobia, the sense which is now fueled by a general belief that all Muslims support the Islamic State. What's your opinion on this?
MS: In the last 15-20 years the Muslim community has been systematically associated with wrongdoings of anybody and everybody, and no matter how much the Muslim community articulates the dissatisfaction with these acts of terrorism or indeed with ISIS. I cannot think of any Muslim organization which supports ISIS. As a matter of fact, those who support ISIS in Syria were the US and British government, not the Muslim community. The Muslim community did not arm them and finance them – it was the British government, Western governments and the US, in particular. So this is really outrageous: having done all this, now all the blame comes on Muslim organizations, the Muslim community and the mosque. This is really what is the result of Islamophobia playing out.
RT:HSBC is accused of discrimination and fueling Islamophobia since it is not the first "attack" by this bank on Muslims. At the same time we see no response from the government. Why is there such a selective approach towards the Muslim community? And does it mean that governments pursue a discrimination policy against Muslims, acting through banks?
MS: The banks like HSBC - and indeed there are other banks are involved in this - they just want to play it safe, they see no pressure on them. So they just go ahead and close the bank accounts of these individuals and organizations, knowing that there is nothing holding them accountable for their action. In a real democracy, we really cannot allow banks or any other institutions to behave like this. If institutions that take this sort of action, they need to be answerable and they need to explain themselves, they cannot hide behind jargon that is being dished out by them currently.
RT:What kind of solution do you see? Who must be responsible for solving this problem?
MS: I think the financial ombudsman really needs to tackle this, they have failed to do so in past. We have had cases which we took against some banks and it took three years before people could get their money back when there was no reason whatsoever, and they could never give any reason to the ombudsman or to ourselves. So I actually think that there has to be a procedure put in place that the banks before doing such a thing need to explain themselves and need to prove the case before putting people in this sort of dilemma.
The statements, views and opinions expressed in this column are solely those of the author and do not necessarily represent those of RT.