Homecoming: Crimean Tatars speak about living and voting on the peninsula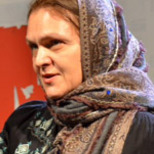 Nadezhda Kevorkova has worked at RT since 2010, before which she was a special correspondent for 'Novaya gazeta,' 'Nezavisimaya gazeta,' and 'Gazeta.' Kevorkova has also worked extensively in Russian mass-media. As a war correspondent, she covered the Arab Spring, military and religious conflicts, and the anti-globalization movement. She has worked as a reporter in Egypt, Sudan, Palestine, Jordan, Lebanon, Syria, Iraq, Iran, Pakistan, Azerbaijan, Ukraine, Hungary, Greece, Turkey, Cuba, and in the republics of the North Caucasus, Tatarstan, and in the Far East. In 2001, after an invitation from US State Department, Kevorkova visited a number of states, including Alaska. As a correspondent of 'Gazeta' she reported from Indian settlements in the US. She covered the 'Gaza Freedom Flotilla' in 2008, 2010 and 2011; she also visited Gaza several times during the blockade. In 2010, Kevorkova was nominated for the 'International Women of Courage' award.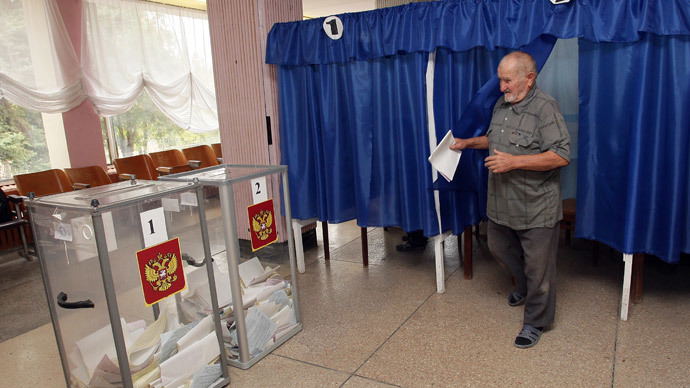 The biggest question of the Sept. 14 local elections in Russia has been whether Crimean Tatars would vote. This has been the first time Crimea voted as a Russian territory.
The reason Crimean Tatars play such a central role in Crimean politics today is because of their complicated history. They are the only ethnic group in the former Soviet Union that has not been rehabilitated after they were branded en masse as traitors and collaborators during World War II.
The fact that Vladimir Putin personally called the long-time Mejlis chairman Mustafa Dzhemilev, a former dissident who spent many years in the GULAG, on the eve of the independence referendum also highlighted the important status of Crimean Tatars.
Crimean Tatars boycotted the referendum in March. Today, they are divided as to whether they should take part in the elections.
The Crimean Tatars have lived on the peninsula since the early Middle Ages. In 1783, Crimea was annexed by Russia, and the Crimean Khanate ceased to exist. In 1941-44, Crimea was occupied by German troops. In May 1944, Crimean Tatars were deported to the Central Asia for "collaboration with German fascists," despite the fact that numerous Tatars fought on the Soviet side on the front and as partisans. Up until 1989, Tatars were not allowed to return to Crimea or buy homes or get a job on the peninsula.

The Crimean Tatars were never rehabilitated by the Soviet Union. Their homes were not handed back to them. When Crimea was part of Ukraine, the Mejlis was never recognized as a political organization.

To this day, more than 120,000 Crimean Tatars still have not returned from Central Asia.
Long-time Mejlis leader Mustafa Dzhemilev (who resigned from his post in November 2013) and the current leader, Refat Chubarov, urged the people to boycott the elections to emphasize that Crimea is not a legitimate part of Russia. Both have been banned from entering Crimea.
Other Tatar politicians, prominent figures and activists, however, encouraged people to go to the polling stations and vote for their candidates in order for Crimean Tatars to be properly represented in local self-government bodies.
Whom will Crimean Tatars listen to? Mustafa Dzhemilev, their long-time leader, the man who spent his life fighting for their rights, the man who spent 16 years in prison for his activism? Or the new generation of politicians who think that for the first time in the past 300 years Tatars have an opportunity to be represented in local government in Crimea?
I have to say that with the people I got a chance to talk to in the past few days it was about 50-50. Those who won't vote usually just say, "I'm going to be working that day," while those who will are more willing to talk about their reasons. Those who won't are confident that none of their relatives and friends will vote; those who will are also certain that their families will vote with them.
Officially, Crimean Tatars account for about 10 percent of Crimea's 2.4 million population. Crimean Tatars say that they have 300,000 people and that Sevastopol is a separate entity and its residents should not be included in the count, which leaves the population of Crimea at 1.9 million. Thus, if the turnout is high, they will get their first chance ever to be represented in local government.
Who will represent the people if the people don't vote?
Remzi Kafadar, 32, is a deputy of the town council in Chistenkoye, in the Simferopol District. Forty-two percent of his voters are Crimean Tatars.
"I will vote myself, and I will bring others with me. Many people will vote," Remzi says.
Kafadar is a rare name, so all the Kafadars in the area are Remzi's relatives. Remzi's grandfather is 94. He remembers the mass deportation of Tatars in 1944. He, too, will vote.
"I trust Putin," Remzi says straight away. "I think he will make sure Crimean Tatars can live comfortably on their lands."
Remzi and his family returned to Crimea from Uzbekistan in 2000. I ask him if he regrets coming back.
"Why would I regret it?" he says. "I've returned to my homeland!"
Since his return, Remzi has gained a degree in economics, built a house, organized a halal butcher's for producing beef and lamb, got married and become a member of the village council.
"Among my family members, I'm the only one working in politics," he says. In 2012, he also got elected member of the local Mejlis – the council of representatives of the Crimean Tatar People.
"Mustafa Dzhemilev and the Mejlis leaders do not trust Russia," Remzi says. "They are talking about high politics. But look: there are 7,500 Crimean Tatars registered in our region, but actually there are over 11,000 Tatars living here. I was a council member when Yanukovych was president, and they would give us so little money for people's needs! People were indignant at the fact that they were not building roads or gas, water and electricity supply systems." Remzi believes that Russia will improve the situation.
The council members don't get any money for their work. So far, Remzi has been paying electricity bills for 143 homes.
"It's all my fault. I promised people that we'll have electricity. But our village is already 23 years old, but there's no lighting even on the highway. I spent days and nights at the Crimean energy company (Krymenergo), but I failed. First, Ukraine' laws kept changing, then they told me to collect about 100,000 hryvnas to pay for an expensive cable. But people don't have enough money for that. So I decided it's cheaper for me to pay the electricity bills."
He hires workers to clean the highway and he buys a lime-based whitewash for trees.
"We whitewash trees every spring. There are about 200 trees on the highway. The tradition to whitewash trees dates back to the Soviet era – this is done for drivers to see the edge of the road."
Remzi has three daughters. The eldest goes to the village school.
There are classes where all the subjects are taught in the Crimean Tartar language. In some classes children study their native language three times a week. Remzi doesn't know if they teach in the Ukrainian language at their school.
Near Chistenkoye, there are two plots of land taken over by squatters. One plot has 200 smaller lots, another one has 315 lots. People have already built their homes and even a mosque on the first plot. As for the second one, there are only 35 homes so far.
"Since 2005, the officials in Kiev are not doing anything to settle this issue, they are not legalizing the land. How are people supposed to live there? Central Asia migrants keep coming, but don't get any land. One time, in 2013, 100 lots were allocated to those who had been waiting for nine years. That's it. First, Kiev says they don't have land in Crimea, though there is a lot of land, then they say they have no funds for the master plan," Remzi says.
Sometimes people take over even waste landfills. Remzi remembers how people were clearing away piles of trash and loading it onto dump trucks. They have cleared the land with their own hands. But the authorities refuse to legalize even these waste lands.
Of course, there is an alternative – people could buy private land.
"But who can pay so much? Private owners sell 10 hectares of land for $20,000, sometimes even $50,000. Where do you get so much money?" Remzi asks.
When his family was leaving Uzbekistan, they sold houses for $5,000 – that was their start-up capital. He could buy four concrete walls for that amount, he says.
"Russians also take over land lots, but not too often. This problem concerns everyone," Remzi says.
He goes on to say what Crimean Tatars expect from Russia in the first place:
The takeovers need to be legalized, official papers should be issued to people for the land plots and residences, we also need to give them access to social benefits. Until they have papers they are not entitled to any benefits such as retirement allowance for the elderly or primary and secondary education for children. They can't even have their blood tests done in a lab. Remzi's main occupation for now is issuing the permanent residency registration to the villagers.
"Do you have all this in Russia, too?" he asks all of a sudden. By "all this" he refers to all the problems faced by his people in their entirety.
"The Milli Mejlis is boycotting the election. So what should the people do? They have come back after a period of migrant life. Who will represent the people if the people don't vote? My people's attitude is the right one. We have returned home. And we think that being uninvolved staying at home is not the answer, especially since even these homes aren't legalized. What's to be gained by this approach? We believe that Russia can help us. President Putin has signed the law on rehabilitation of the deported nations, hasn't he?"
Remzi points out that previously, the then-Ukrainian President Leonid Kuchma vetoed this law, while Putin endorsed it.
"There was only one deputy representing Crimean Tatars in the Verkhovna Rada of Ukraine composed of 450 deputies – Mustafa Dzhemilev; and only 5 Crimean Tatar deputies out of 100 in the Verkhovna Rada of Crimea. In my village, the administrative staff consisted of 18 people on payroll, and none of them were of Crimean Tatar background."
For now, Remzi prefers not to think about the future representation of his people in the Russia State Duma.
"Our village council used to consist of 30 deputies, 7 of them were Tatars. Now, according to the Russian law, we are to have a total of 10 deputies. A total of 34 candidates are running, 7 of them representing Tatars. These 7 are all nonpartisan candidates. We'll see how it plays out."
Remzi also says that the head of the village council is now to be elected by the deputies. "So, all the future decision-making will depend on election turnout. It all depends on us."
Crimea settlement quota: 5,000 people. Where are we going?
Zeinur Yakubov, founder of the fortress museum in Yevpatoria, has decided not to vote and has no enthusiasm for the elections.
Zeinur, too, is a member of the Milli Mejlis. He came back from Central Asia in 1989 and lives now in the Saky district of Crimea. Zeinur is 57, and has always been politically active.
"I have always voted. Ukraine gave us some benefits. A total of 1,000 Tatars have come back since February. There was a simplified procedure for citizenship application in place earlier. Now, it's been already seven months, and yet there's been no change in the people's status. Also, Crimea now is assigned a settlement quota – 5,000 people per year. And that's it. But we have over 100,000 people waiting to come back home. Where are we going? No plan or program has been presented since March. Federal Migration Service officials have arrived at larger cities and towns, they live in hotels on the state payroll and are busy issuing Russian passports. But it would make more sense to have them in each village. How, for instance, are the elderly villagers supposed to make it to town to obtain the documents?" Zeinur says bitterly.
An engineer by education, he worked in construction on a collective farm during Soviet times. After the end of the Soviet Union, he took up a trade, and tried his hand at the pharmacy business and car sales. Unlike many businessmen of a similar background, he didn't waste his capital on luxuries. Instead, he and his friends from Central Asia decided to make a contribution into preserving the legacy of his people.
"We are a group of five: three Crimean Tatars, one Korean and one Ukrainian who identifies himself a as Russian. The latter two are from Moscow, by the way. And we together decided to do a reconstruction of the old city gate for the settlement which has been here, where the present-day Yevpatoria is, since the 15th century. It was called Kezlev. Do you know that most people in Crimea think that the history of Crimea starts at the end of the 18th century – the time of the Russian conquest? As if prior to that, there was nothing here…" Zeinur shakes his head sadly.
The old city gate was destroyed in 1959, but Zeinur and his team hired archeologists who dug up the foundations. After that, they hired architects who reconstructed the tower according to its original design.
Since 2005, the restored fortification tower houses the museum of Crimean Tatar heritage, and a coffee shop. It became the starting point of a Crimean Tatar renaissance movement. Right next to it, a Crimean Tatar-styled hotel and a restaurant were built which offer services for Crimean Tatar family festivities and holidays and traditional food. Zeinur's idea is to attract the flow of tourists, not only to offer the usual attractions of a seaside resort, but also tourism with cultural and historical value – to offer a taste of the old Crimean Tatar lifestyle.
"And now the people are getting worried – what next? Will they lose their business? The new Crimean authorities have already taken away the market places and the transportation services," says Zeinur.
"Everything happens by the will of Allah. We don't know how long this situation will last. What we must do is to keep our dignity. If what you do serves not just a small group of people, but the whole nation, you will keep your conscience clean and clear before Allah", says Zeinur.
He is not enthusiastic about the elections, and predicts a 20-30 percent turnout among Tatars.
"Those who do decide to vote will go against the ruling of the Mejlis. Interestingly enough, although our Mejlis was not registered as an organization by the Ukrainian authorities, it boasted exceptional self-organization, better than election systems in the most advanced countries. We ran elections for our national parliament, the Kurultay, and for the Mejlis, without any orders or assistance from the state," says Zeinur.
He thinks Crimean Tatars should not take part in the vote to add legitimacy to the elections, regardless of the promises given by the new authorities.
"Whatever people do to us, Allah will always show us the way," adds Zeinur.
We're the indigenous people of Crimea, we don't care who is in power at the moment
Enver Saliev, 67, is a builder with a PhD. He is now in charge of the utilities system of the city of Alushta.
"I will cast by ballot, and my children and my wife will go, too. We have the patriarchate. How do you feel about the patriarchate?" smiles Enver. "Staying away from elections is to remove oneself from the scene while our mission is to preserve our dignity and keep the nation united."
He was born in exile, in Uzbekistan's Namangan Region. He knows the Crimean Tatar, Tajik and Uzbek languages. Enver helped build six research accelerators in Uzbekistan. And, importantly, he was never a member of the Communist Party.
"It used to be a secret, but it's OK to say it out loud now," he said.
"The Soviet authorities acted as if there were no Crimean Tatars at all – despite the fact that, for example, my father served in Budyonny's cavalry units since 1939, and then took part in the war against Finland and the Bessarabia campaign. He served in the infantry in World War II. But when he returned home, his family had disappeared. They were exiled, they told him. And so my father went to the Siberian city of Chita, where he dug coal for the country for seven years. All his brothers were killed during the war against Nazis, while their families were deported from Crimea as 'accomplices of the German fascists.'"
His native village of Cherkeskermen no longer exists. After the deportation of Crimean Tatars, the new settlers found 2 kilos of gold in one of the houses, and spurred by the gold rush, broke down all the homes rock by rock. After the collapse of the Soviet Union, the land was handed over to Cossacks to breed horses.
In 1985, together with his family, Enver moved to Novorossiysk – they were not allowed to return to Crimea. Despite his impressive career profile, all he could find was the position of an engineer at a local brewery. In 1987, he moved to Crimea but the authorities didn't let Tatars settle anywhere near the sea. And so Enver bought a home in Simferopol, where he has been living ever since, rebuilding Crimea's utilities system.
"I had to find a trick to buy a home – nobody would agree to sell me a house back then. Between 1988 and 1995, Tatars rushed from all over the Soviet Union to Crimea. They had no place to live. We put up as many people as we could while they searched for a home or some shelter. My wife and I would spend weeks sleeping in a car with our house full of fellow Tatars. That was true of every family in those days," he recalls.
Enver Saliev has a long-lasting friendship with academicians Velikhov and Paton.
Here's what he thinks of the change in Crimea's status: "It happened already. We were not given a chance to decide or doubt. It does not really matter who is in power. We are the indigenous people of Crimea and we must maintain order here," he said.
The statements, views and opinions expressed in this column are solely those of the author and do not necessarily represent those of RT.