Day 2: Stunning scenery, military secrecy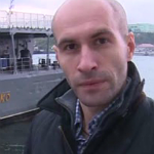 Murad Gazdiev, RT correspondent who has reported from a number of hot spots around the globe, including from the Syria-Turkish border, Yemen and Eastern Ukraine. He has also covered major international events, including Davos and the St. Petersburg economic forums, and even made a tour of duty with the crew of the Russian destroyer class Admiral Levchenko as it carried a military unit from the core base of Russia's Northern Fleet in Severomorsk to an unused former-Soviet base in the White Sea.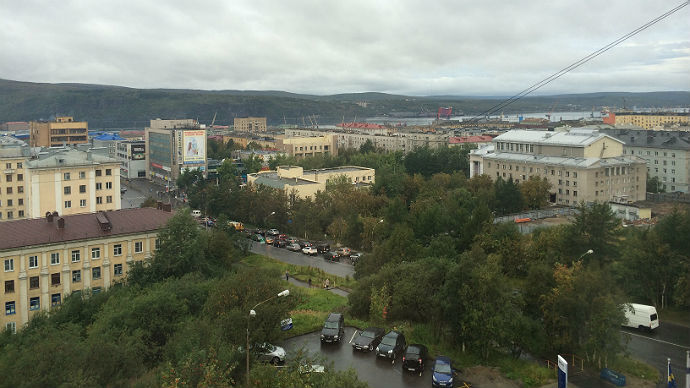 We're now abroad the Admiral Levchenko – a destroyer of the Russian Northern Fleet… and what a day it's been!
We got a call to be in the hotel lobby at 10 am. As expected, a military truck turned into the parking lot exactly on time.
Our military point man, Evgeniy, turned out to be quite friendly and cheerfully answered our questions. We had a lot.
The first order of business was to get to the city of Severomorsk, the headquarters of Russia's Northern Fleet.
After we were all certified to go into the open sea, Evgeniy strongly advised us to hit the shops while we had a few hours; our journey would be relatively short by their standards, but the onboard store would be shut.
So we did – and right about cleared out the confectionary shelves at a nearby supermarket. Tea – check, sugar – check, toilet paper – check. We were set.
We still had an hour to kill, so we took the time to take a bunch of pictures near the base… who knows if we'll be back here?
The base itself was breathtaking. Bear in mind – I've never been close to any big military facility, so the view was especially amazing.
From giant military ships to small trawlers, the docks seemed overcrowded. There were several ships also anchored in the bay.
Eventually, a small boat picked us up and ferried us to the Admiral Levchenko… the destroyer we would be quartered on.
We got a LOT of stares as we were sent to our quarters. I get the feeling sailors are not so used to seeing civilians on a military ship.
For now, we've been told to hunker down, unpack and only leave our cabin if we needed to use the toilet (we only have a sink).
Tomorrow, we hoist anchor and set sail. For now, though: sleep.
The statements, views and opinions expressed in this column are solely those of the author and do not necessarily represent those of RT.