​What does CETA, the 'Wayne Gretzky of trade deals,' hold for Europe?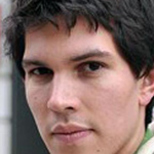 Mark Bergfeld is a writer and activist based in Cologne, Germany and London, UK. He was a leading participant in the UK student movement in 2010. He holds a BA in Philosophy, Politics and Economics and a MA in Sociology from the University of Essex, as well as a MRes in Business and Management from Queen Mary College, London. He regularly writes for magazines and websites such as AJE, The Nation, Jacobin Magazine and others. He is the editor of the e-book "Portugal, 40 years after the Revolution". His writings can be found at mdbergfeld.com. Twitter @mdbergfeld
Published time: 19 Aug, 2014 10:30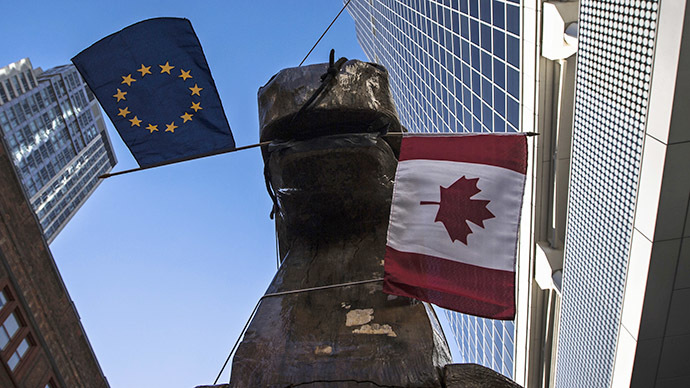 A couple of weeks ago the German newspaper Süddeutsche Zeitung claimed that Germany was refusing to sign off the Comprehensive and Economic Trade Agreement (CETA).
The simple reason being the Investor-State Dispute Settlement (ISDS) regulation which I have written about here.
In the days that would follow, the story was widely reported in the German and Canadian press. After all, it seemed credible. German Economy Minister Siegmar Gabriel had raised personal concerns over TTIP time again. And, why would Chancellor Angela Merkel not strengthen her hand in the TTIP negotiations by playing hardball with Canada?
However, Minister Gabriel's opinion does not count for much. And Merkel is no Hugo Chavéz. The 521-pages of the CETA document should discard any doubts that Germany is being held hostage by the evil empire, or its Northern neighbor. Its export machine hopes to profit from ISDS provision in the future.
But so far this wager has caused German citizens more harm than good. Taxpayers had to pay reparations to the Swedish energy company Vattenfall after the government was sued for phasing out its unpopular nuclear energy program.
In Canada, the story is much the same. The Canadian mining company Lone Star Pine sued the government for $250 million after the federal state of Quebec banned fracking. They were able to do so under NAFTA's investor protection clause, using their American subsidiary.
At first glance, it seems absurd that two recent victims of ISDS provision would agree to such an abuse of the justice and legal system. Its outcomes are neither popular with voters nor in the interests of governments seeking reelection. This is about forcing eastern and southern EU member states to play according to the rules of international capital and finance. The following examples highlight this.
In the Polish village of Żurawlów, local farmers, inhabitants and activists forced Chevron and its employees to pack their bags after 400 days of protests against shale gas drilling. Ewa Sufin-Jacquemart writes that: "Chevron's vehicles left the village in a rather weird way. Secretly, at 4 am. As the main road was blocked by the farmers, the employees of the company had to drive by the houses of the inhabitants. They jumped out in pajamas to take photos of this cowardly escape."
Most recently, Chevron also was forced to leave Romania after mass protests took place. If CETA were to be ratified, the American company could use its Canadian subsidiary to sue Poland and Romania for losses incurred.
In Chalkidiki, northern Greece, a subsidiary of the Canadian company Eldorado Gold has been battling a citizen's initiative since 2011. Protesters claim that the gold mine would destroy the local forest and contaminate the ground water. Yet, Greek courts have consistently ruled in the company's favor. As protests have delayed the start of the mining operation until 2015, ISDS regulation would grant Eldorado Gold compensation in front of a secret tribunal.
The so-called"Wayne Gretzky of trade deals" would not only give Canadian companies preferential treatment in Europe. It would allow American companies to slide through the backdoor by using its subsidiaries. Moreover, it elevates these companies to the same legal status as sovereign states. Hence, CETA is by no means TTIP's smaller or less important brother. In fact, it is the blueprint for TTIP.
As much as Siegmar Gabriel laments that ISDS regulation would override environmental and labor regulation, it is worth reminding ourselves that Germany first introduced investor protection mechanisms into bilateral trade deals. Last week's ARD leak of the CETA document should discard any doubts that Germany would perhaps move independently against the Commission. It is too late for that. With the Lisbon Treaty of 2009, Germany surrendered its negotiation power of bilateral trade agreements to the European Commission.
And the Commission is using its powers, shoving CETA down people's throats. The document is set to be ratified on September 25. With little more than a month to go, negotiators have deliberately left no time for public consultation.
A public consultation is no panacea. More than 150,000 submissions to the TTIP consultation might have overwhelmed bureaucrats in Brussels but it will not have rocked the boat, as the final text of CETA shows. They are nothing more than PR stunts to calm the policy wonks, well-meaning technocrats and disenfranchised local politicians.
With public pressure mounting it is unlikely that CETA will survive the long march through European institutions. The secrecy surrounding the negotiations has inadvertently helped the critics. It is clear that the European Commission has overstepped the mark with this document. TTIP and CETA have created a European-wide debate, and are most likely to create the European public that politicians once so desperately wished for.
The problem is: They have a mind of their own.
The statements, views and opinions expressed in this column are solely those of the author and do not necessarily represent those of RT.