Between Scylla and Charybdis: Rouhani's one year in office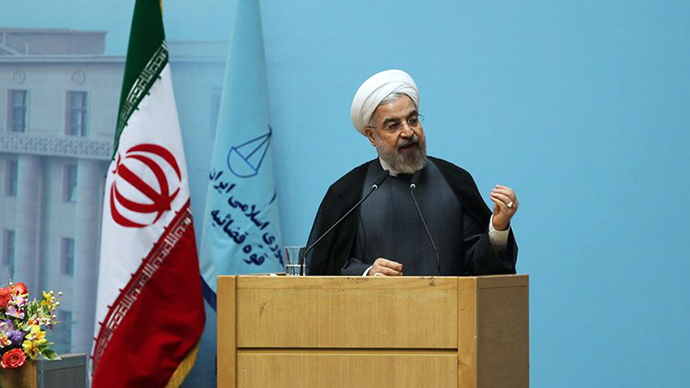 Almost a year ago Iranians went to the polls to choose the seventh President of the Islamic Republic of Iran.
In June 2013 Hassan Rouhani won the presidential elections with 51 percent of the votes. He owes this tremendous victory to his election campaign based at liberal and reformist ideas, promising a better life for Iranians. President Rouhani received a country in a bad condition, though the situation wasn't as critical as in Iraq or Afghanistan. Nevertheless, Iran was suffering from economic recession and multiple sanctions, massive human rights abuses, corruption, total control of the mass media and civil society, spreading extremism. Rouhani promised to improve the situation in all spheres and even set some deadlines, however, after a year in office there is still much to be desired.
How it is, to be a President of Iran
In fact, Iran's Constitution allows only limited authority to the President of the country. Indeed, it has no control over the army, intelligence, police, and cannot make decisions on key foreign policy issues. The real center of power in Iranian politics is the Office of the Supreme Leader, Ayatollah Ali Khamenei, who has the final political, military and religious say. In other words, the President has no real power in terms of proclaiming reforms. But that is not the main challenge for a moderate President Rouhani.
His election has significantly changed the political scene in Iran. For the last 8 years all branches of power were controlled by Islamists, moreover, many institutions and cooperation schemes were based on the rules dictated by those in power. It is rather logical that appearance of a more liberal head of the state has ruined the game of Islamists and caused a lot of discontent. From the very beginning of his rule radical elements tried to undermine all his efforts, in particular, Islamists condemned Rouhani of betraying the principles of Islamic revolution. It's worth mentioning that Islamists do have real levers of influence, for instance control over several newspapers and radio stations, which provides them with opportunity to propagate anti-governmental ideas. And the idea that Rouhani betrayed national interests of Iran and Islamic values, that he created more danger to the country than before, did in fact find support among the traditional groups of Iran's population. The radicals have even searched for an alliance with moderate conservatives in order to crush the advocates of reform. At the same time Hassan Rouhani faced incredible pressure from those who seek more liberties and reforms both in internal and foreign policy.
Scylla of domestic issues
After first six months of Rouhani's rule Iran's economy has made some small improvements. Inflation came down to 35 percent from 42 percent in December 2013, the national currency was stabilized, and Iran's stock exchange has been setting records. The increased volume of exports to China, Japan and India in particular helped to stabilize the Iranian economy. In January 2014 Iranian oil exports hit new highs just months after the US consented to billions of dollars in economic sanctions relief under the interim nuclear deal. According to the data from the International Energy Agency, exports of Iranian crude oil jumped to 1.32 million barrels up from December's record of 1.06 million barrels. Currently Iran has around 30 million barrels of crude oil stored on tankers, including 6 million barrels in vessels off China. Besides China and Japan, South Korea and India are other countries to become top importers of Iranian crude oil.
The World Bank projects that Iran's GDP is expected to grow by 1% in 2014 after a recession in 2012 and 2013. The Iranian economy is further projected to grow by 1.8% in 2015 and another 2% in 2016, according to the report. On the whole, the easing of sanctions does really have a positive impact on the Iranian economy, driving it out of isolation and malfunction.
Hassan Rouhani made some steps to improve the internal situation as well. He showed himself as a pragmatic politician with liberal understanding of citizens' rights and freedoms within Islam, and appeared to believe that Islam is compatible with a modern democracy. For example, Iran has ratified the two main human rights treaties (i.e., the International Covenant on Civil and Political Rights and the International Covenant on Economic, Social and Cultural Rights). President Rouhani also called for national reconciliation, less government control, more international trade, stronger role for academic and professional communities.
Nevertheless, the situation with human rights on the ground isn't that cheerful. On June 3—almost two weeks prior to Election Day—President Rouhani released a 10-point statement entitled "Rights of Ethnic Groups, Religions, and Islamic Sects". However, he has not delivered on his campaign promises of strengthening civil liberties for religious minorities which suffer from constant discrimination and abuses. Physical attacks, harassment, torture, detention, arrests and imprisonment without trial are a classic practice in Iran. Besides, the number of political prisoners is appalling. The most critical situation remains with rights of the sex minorities and rights of women. For instance, according to the criminal law adult same-sex sexual acts are punishable by death, while women are considered to be inferior to men and have only half the rights. What is important to note is that on the campaign trail Rouhani pledged to create a Ministry of Women's Affairs, aimed at upholding and supplementing existing constitutional guarantees for women, including equal opportunity in work and education, as well as full access to state services.
Furthermore, social media networks like Facebook and Twitter continue to be blocked, whereas Iran State TV which has a monopoly on visual and audio media in Iran still has an important role in censorship and propaganda of the Iranian regime against its opponents. Freedom of assembly is rather limited as well – only groups, associations, and assemblies loyal to the government and its religious ideology are given permission to operate. The electoral system has a lot of shortcomings, which was noted even by President Rouhani himself. In fact, for the last three decades elections in Iran have been filled with allegations of rigged voting, intimidation and threats against candidates, and many critics of Rouhani claim that 2013 presidential elections were not an exclusion of the rule.
Charybdis of the international arena
For the first nine months in power the administration of Rouhani was focused on lifting sanctions from Iran and putting an end to its isolation. The Iranian Ministry of Foreign Affairs played the leading role in this, organizing meetings and visits to neighboring states and leading world countries, trying to revive relations with the US, widening and deepening cooperation with Russia and China, positioning Iran as a reliable broker in regional conflicts and showing its willingness to reach an agreement on the nuclear issue. As the result of the November 24 interim agreement ("Joint Plan of Action" or JPA) that halts the expansion of Iran's nuclear program in exchange for temporary and modest sanctions relief, many countries turned back to political and economic cooperation with Iran, while its image was significantly improved.
Due to this agreement, the Islamic Republic received an unstoppable parade of people, mainly European politicians and business representatives, visiting it. Just in the first two weeks of the year, Iran welcomed more delegations from Europe than in all of 2013. In addition, the launch of the P5+1 talks with further compromises made by Iran regarding the inspection of its nuclear sites, decreasing the enrichment levels and number of centrifuges proved Rouhani's aspirations to make the world believe in Iran's peaceful nuclear ambitions. The final agreement hasn't been reached but Iranian nuclear issue has ever seen such a breakthrough.
Another important achievement of Rouhani's government is the enhancement of US-Iranian relations. In late September 2013 a ground-breaking phone conversation between Obama and Rouhani took place, marking the first contact in more than 30 years between the leaders of the two countries. The warming of relations between the two states also played a role in nuclear negotiations, pushing Washington to compromises. The most recent indicator of the new level of US-Iranian contacts is presented by US State Secretary John Kerry's statement about US readiness to ask Tehran for help in tackling ISIS in Iraq.
On May 7 Iranian Minister of Foreign Affairs Javad Zarif issued an op-ed explaining Iranian foreign policy. This piece turned out to be highly informative and expertly written, giving an insight look into Tehran's strategies and prerogatives. Javad Zarif starts his essay by mentioning basic principles of the Iranian post-revolutionary foreign policy, which are "based on a number of cherished ideals and objectives embedded in the country's constitution. These include the preservation of Iran's independence, territorial integrity, and national security and the achievement of long-term, sustainable national development. Beyond its borders, Iran seeks to enhance its regional and global stature; to promote its ideals, including Islamic democracy; to expand its bilateral and multilateral relations, particularly with neighbouring Muslim-majority countries and nonaligned states; to reduce tension and manage disagreements with other states; to foster peace and security at both the regional and the international levels through positive engagement; and to promote international understanding through dialogue and cultural interaction."
As regards the current world order, Zarif said that Iran will "expand and deepen its bilateral and multilateral relations through meaningful engagement," whereas "multilateralism will play a central role in Iran's external relations". At the same time Tehran's rhetoric seems to be a bit controversial in comparison with its attempts to improve relations with the US and Middle East states. Javad Zarif wrote in his piece that Iran's top priority is "to diffuse and ultimately defeat the international anti-Iranian campaign, spearheaded by Israel and its American benefactors, who seek to 'securitize' Iran – that is, to delegitimize the Islamic Republic by portraying it as a threat to the global order." He also stated that Iran will continue to support the oppressed people across the world, especially in Palestine, and "will continue its principled rejection of Zionist encroachments in the Muslim world."
Talking about Iranian nuclear plans, Tehran has still been claiming that it has no interest in creation of nuclear weapons. In the May 7 op-ed Zarif confirms this idea once again.
"Iran has no interest in nuclear weapons and is convinced that such weapons would not enhance its security. Iran does not have the means to engage in nuclear deterrence - directly or through proxies - against its adversaries. Furthermore, the Iranian government believes that even a perception that Iran is seeking nuclear weapons is detrimental to the country's security and to its regional role, since attempts by Iran to gain strategic superiority in the Persian Gulf would inevitably provoke responses that would diminish Iran's conventional military advantage. Therefore, the on-going negotiations over the nuclear issue face no insurmountable barriers," he wrote.
In general, much has been done to bring Iran back to the international arena, regain trust of international partners and raise the volume of investments and exports.
This leaves us with quite dubious results of the first year of Rouhani as the president. Some of the promises were indeed fulfilled and Iranians admit that the life became much better (read: less control). The economic indices have improved due to the alleviation of sanctions; businesses are coming back to the country bringing investments and infrastructure. However, guarantees of human rights and freedoms, protection of both religious and sexual minorities are still in the to-do list. President Hassan Rouhani faces incredible pressure from the radical Islamists and those who demand more progressive reforms. Whether Rouhani will be able to find the golden mean and meet the expectations of the people would be clear in one year's time. Though if the Rouhani government doesn't achieve the removal of all sanctions by July 20 as it initially claimed, its chances to stay in power will be quite feeble.
Irina Sukhoparova, RT
The statements, views and opinions expressed in this column are solely those of the author and do not necessarily represent those of RT.