Can a coup repair Thailand's toxic democracy?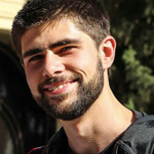 Nile Bowie is an independent writer and current affairs commentator based in Singapore. Originally from New York City, he has lived in the Asia-Pacific region for nearly a decade and was previously a columnist with the Malaysian Reserve newspaper, in addition to working actively in non-governmental organisations and creative industries. He can be reached at nilebowie@gmail.com.
Published time: 27 May, 2014 10:52
Edited time: 27 May, 2014 10:53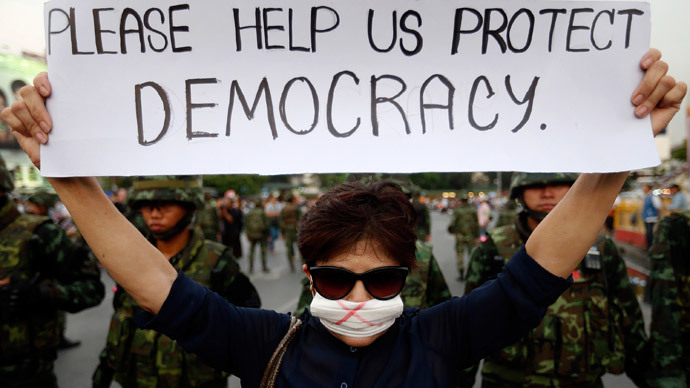 After months on the sidelines of the country's grinding political crisis, Thailand's military boldly intervened and declared a coup, dissolving the senate and the lower house of parliament, and suspending the constitution.
Under the name of the National Council for Peace and Order (NCPO), the junta has taken full control of the country, detaining key political figures, protest leaders, and academics; they have assumed total control of all lawmaking powers.
In a move to suppress dissent and any potential opposition to the coup, the military has banned critical reportage of their takeover across the airwaves and newspapers. Demonstrations both against and in support of the coup have sprung up around Bangkok, while the military has issued an ultimatum threatening protestors with lengthy jail sentences if they continue rallying.
Thailand's ailing monarch, King Bhumibol Adulyadej, has endorsed the military takeover, formalizing coup leader General Prayuth Chan-ocha as the head of government. The military takeover came in response to over six months of protests and counter-protests between the country's rival political factions, which prompted outbreaks of violence and seizures of public buildings.
General Prayuth justified the coup by highlighting the need to prevent factional infighting and violence on a wide scale, urging the restoration of order as the country teeters on the brink of recession, after prolonged political frictions battered the economy. The junta will now establish an interim constitution, legislative and reform committees. Thailand's political crisis is complex, and the issue of royal succession is a fundamental dynamic to the multidimensional power struggle unfolding.
Voice of the rural poor
The rural poor in the north and northeast – the mainstay of the red shirt movement associated with the United Front for Democracy Against Dictatorship (UDD) protest group – support factions aligned to former PM Thaksin Shinawatra, the polarizing billionaire telecomm tycoon currently living in exile in Dubai to evade criminal charges in Thailand for corruption during his time in office.
Since he was ousted in a military coup in 2006, parties aligned to him have consistently won elections, allowing him to de-facto govern Thailand from abroad through proxy politicians. While Thaksin's tenure was marred with heavy-handedness, nepotism, and neoliberal privatizations, his populist policies improved access to healthcare, microloans, and education, making him a champion of the rural poor.
Thaksin's faction is widely regarded as being the only political force that has empowered the rural poor, although his traditionally loyal base has eroded under his sister's prime ministerial rule. Yingluck Shinawatra, recently ousted by judicial means, oversaw a populist rice price-support scheme that indebted farmers and left them unpaid, reducing grassroots support for both the UDD and her Peua Thai party.
The People's Democratic Reform Committee (PDRC) is commanded by opposition leader Suthep Thaugsuban and supported by elite royalists, the military leadership, judiciary and aristocracy, as well as middle-class residents of Bangkok. PDRC has led the anti-government charge and demanded the resignation of the then-incumbent Pheu Thai party, with support from traditionalist and royalist elites who want to permanently neutralize Thaksin's grip on politics.
The military took a non-interventionist approach throughout the recent impasse, and General Prayuth previously ruled out the military's involvement, insisting that a coup would deepen tensions between rival protest groups. Thailand's military then reversed course and declared martial law, ostensibly to pre-empt the eruption of violent clashes.
Military-grade arms allegedly linked to the UDD were captured by the armed forces after invoking martial law, indicating that the military decided to act on the basis of intelligence that pro-Thaksin insurgents planned to carry out violent attacks to protest the ouster of Yingluck Shinawatra. Red-shirt militias have a shadowy history of carrying out shootings and grenade attacks against detractors.
General Prayuth attempted to facilitate crisis talks with all parties, but promptly abandoned his meditator position on the second day of martial law to declare a coup. The military has since detained over a hundred key political actors, including former army and police officials thought to be assisting and arming insurgent forces linked to Thaksin.
According to the plan
The calculated execution of the military takeover indicates that Thailand's coup makers undoubtedly planned their actions well in advance to muzzle potential provocateurs and nullify the UDD's capacity to respond with force. If the junta had not intervened, perhaps an escalation involving shootings and armed street battles between PDRC and UDD supporters could have unfolded in the absence of firm structures of authority.
There are undoubtedly those who feel that the military over-played the threat of destabilizing street violence, and see this coup as an affront to democracy and the latest manifestation of the military's long standing legacy of meddling in politics. Whether or not one supports the government of the day, those who feel that unelected judges and generals continually disregard their votes have sincere and legitimate grievances.
It should be noted, however, that the near-daily altercations by rival groups has been thwarted and destabilizing protest camps have been removed since the coup was declared, helping improve security in Bangkok, where at least 28 people have been killed and more than 700 injured since November.
Democracy can only function if politicians and institutions respect the rule of law. Thaksin refuses to renounce his political ambitions, even while red shirt militants aligned to his faction sow terror and kill civilians. Suthep irresponsibly brought Bangkok to a standstill for months, and encouraged protestors to occupy state buildings and break the law. A warrant for Suthep's arrest was not enforced because institutions also have a stake in this power struggle.
Thailand's power hungry politicians and institutions are just as guilty as the military for creating an undemocratic status quo. Their willingness to recklessly use the masses as a political instrument and hold the nation hostage is the ultimate display of contempt for the electorate they are supposed to serve.
Until these political and institutional deficiencies are corrected, there can be no easing of polarization between those who are ready to suspend democratic formalities to uproot a democratically elected leadership, and those who want their votes to be respected.
Many view the military as providing an off-ramp to the ongoing impasse, but expecting it to deliver the country from economic stagnation and political ruin is far too optimistic. There is no indication of how long military rule might last, but some analysts predict that the junta will run the country for one to two years and usher in a new constitution.
Thailand's generals are also positioning themselves for the eventual demise of ailing 86-year-old King Bhumibol Adulyadej, the country's all-powerful monarch. 61-year-old crown prince Prince Maha Vajiralongkorn – who many privately regard to be opulent, eccentric, and unqualified to lead – is said to be an ally of Thaksin.
The junta would want to avoid any possible Thaksin-Vajiralongkorn partnership, and it is said to favor the accession of Princess Maha Chakri Sirindhorn, the king's highly respected second daughter. Maintaining total control of the parliament would allow the junta to influence the succession process, effectively making them kingmakers.
Several countries, including the United States, have condemned the coup and called for early elections. Washington has traditionally had a warm relationship with the Thaksin clan, but also maintains close military relations with Thailand's armed forces. The Pentagon has canceled a joint military training exercise in response to the coup, and other formal cancellations and postponements may be on the way.
As demonstrated by its ethically-flexible handling of post-coup scenarios elsewhere, the Obama administration is not going to penalize the junta in any meaningful way if it risks losing influence in Bangkok, especially in the midst of an attempt to deepen its strategic foothold in the Asia-Pacific.
None of the parties involved are willing to compromise; there is too much wealth and power at stake. Thaksin's lawyer has hinted that his faction will lobby for Western support to create a government-in-exile in neighboring Cambodia. Parties aligned to Thaksin consistently win at the ballot box, so the junta is likely preparing the groundwork for a sustained period of military rule. The levels of repression and political posturing to follow are anyone's guess.
The statements, views and opinions expressed in this column are solely those of the author and do not necessarily represent those of RT.