SA farmers jailed after forcing man into coffin & threatening to burn him (GRAPHIC VIDEO)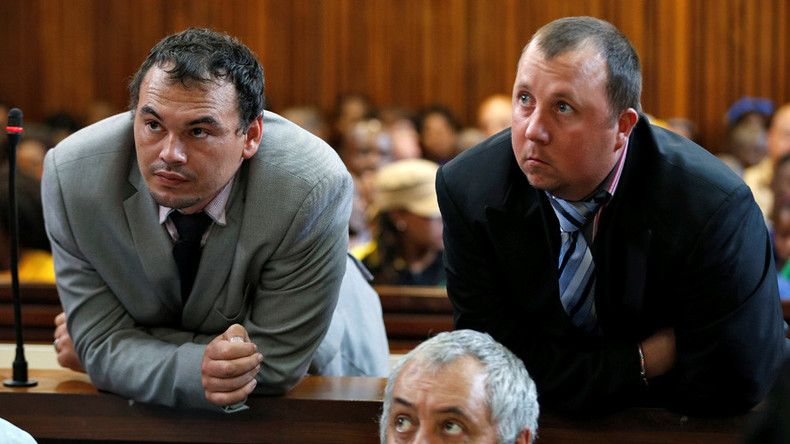 Two white South African farmers found guilty of assault, attempted murder and kidnapping for forcing a black man into a coffin and threatening to set it alight have both been sentenced to more than 10 years behind bars.
Theo Jackson and Willem Oosthuizen were arrested and charged last year after a graphic video clip of the attack surfaced. In the footage, the victim Victor Mlotshwa can be seen pleading for his life as he is forced into a coffin by two men and stamped on.
READ MORE: SA court shown footage of man forced into coffin
The pair were sentenced in Middelburg Magistrate's Court, Mpumalanga province, on Friday. Oosthuizen was given a total of 16 years behind bars with five years suspended, reported Times Live. Meanwhile, Jackson is set to spend at least 14 years in prison for his role in the crime.
The men had denied assaulting and holding Mlotshwa against his will, and argued during the trial that the laborer had stolen copper from a farm. During the case, Mlotshwa told the court that Oosthuizen threatened to shoot him if he tried to run away. "I was scared, shivering and crying. I was under the impression that they wanted to kill me,"Mlotshwa said.
READ MORE: 'I'm tired of eating human flesh': South African cops probe 'cannibalism' conspiracy
Reacting to the sentence, Lonia Mlotshwa, the mother of the victim, said she was satisfied with the sentence. "I cannot forgive them because they failed to have mercy on my child when they forced him into the coffin," Mlotshwa said, reports News 24. "I am very happy [with the sentencing]. As a mother, I am satisfied… I would not have my child today [if they had succeeded]."