SA court shown footage of man forced into coffin
Published time: 4 Aug, 2017 16:58
Edited time: 5 Aug, 2017 17:25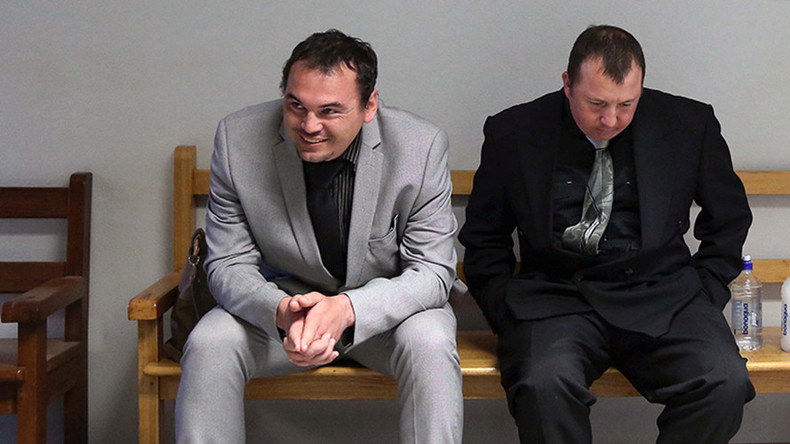 A South African court was shown an extended version of a horrifying video in which two white farmers apparently forced a black laborer into a coffin and threatened to burn him alive.
Willem Oosthuizen and Theo Martins Jackson were arrested in late 2016 after a 20-second clip of the incident, in which they appear to force Victor Mlotshwa into a coffin before threatening to douse him with petrol, was widely circulated on social media.
The pair pleaded 'not guilty' to a raft of charges, including attempted murder, when their trial began on July 31. On Wednesday, the court was shown a new two-minute long version of the video in which the victim can be heard begging for his life, according to Times Live.
"Why shouldn't we when you are killing our farm?" one of the accused allegedly replies.
Prosecutor Robert Molokane told the court that he had received the disturbing footage from Theo Jackson on Monday, who reportedly recorded the video so the victim could not accuse the pair of assault later.
One of the farmers is seen pushing Mlotshwa inside the coffin and closing the lid on his head before stamping on it.
"Accused number two (Jackson) opened the coffin and told me to get into it. Accused number one (Oosthuizen) told me he would shoot me if I ran away," Mlotshwa told the packed courtroom on Wednesday.
"I was so scared, shivering and crying. I was under the impression that they wanted to kill me," he added.
The farmers face charges of assault, attempted murder, kidnapping and defeating the ends of justice. The case is expected to continue until August 10.
RT.com has reached out to South Africa's National Prosecuting Authority for the footage but has yet to receive a response.