Meet Woody Allen, at Cannes!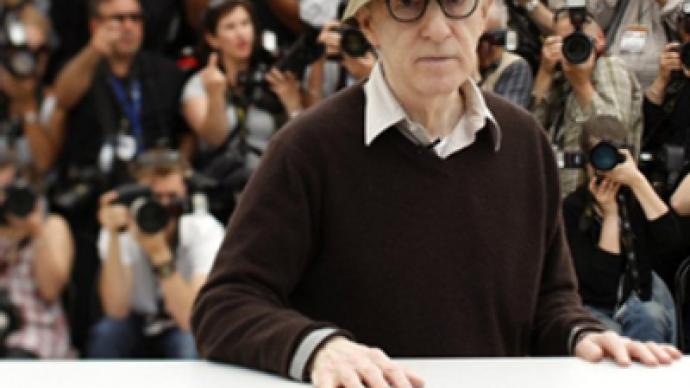 "The wizard of wit," one of the world's most renowned filmmakers - Woody Allen - has showed off his latest masterpiece at the Cannes Film Festival.
"You Will Meet A Tall Dark Stranger," starring Antonio Banderas, Josh Brolin, Anthony Hopkins, Naomi Watts, Emma Jones and Lucy Punch, has generated the biggest buzz on the French Riviera, with the film glitterati queuing up to get to the world premiere of the comedy.
Allen's press conference itself was a master class in irony and brilliance.
Staying true to himself, the ageless 74-year-old filmmaker has always been a conjurer, mixing common sense with a sense of humor, to the point where it turns explosive and very close to what American comedian Groucho Marx described as the "reason gone mad."
The Cannes fest regular – the indefatigable genius behind "Husbands and Wives", "Hannah and Her Sisters" and "Annie Hall," to name just a few out of more than 40 films he's made – was asked all sorts of things, from his attitude toward death to his favorite films (Allen revealed that he prefers Asian, Mexican and European films to American productions).
"You Will Meet A Tall Dark Stranger" – the film's title is taken from a prediction of a charlatan fortune teller guiding one of the characters – revolves around family relations focusing on a pair of married couples who are lost, funny, looking for new relations and finding nothing they've expected. Absurdity and authenticity go hand in hand, peppered by delusions and Allen's trademark sarcasm.
Describing Allen's style, Oscar-nominee Josh Brolin said "he creates an electricity on the set where anything can happen."
Allen reiterated that the trick in directing films is "just" to be a good hirer.
"Hire the right people!", he said. "If you hire Emma, Josh, Lucy, Naomi and Anthony you can't go that wrong."
"A joke is a very serious thing," Winston Churchill was once quoted as saying. Allen has taken the art of irony way down to a more serious level. Just ask him any question and prepare for a scoop. Example:
"My relation with death remains the same: I'm strongly against it!", Allen told the press conference, constantly making all those present – including his larger-than-life – burst into laughter.
Or: "There's no advantage in getting older, nothing good happens. It's a bad business. I advise you not to do it."
Still, like Brolin's character says, "you will meet the same tall, dark stranger that we all eventually meet."
As Woody suggests, we better do it with laughter.
Valeria Paikova, RT, Cannes
You can share this story on social media: