Israeli health official addresses claims of forced contraceptions for Ethiopians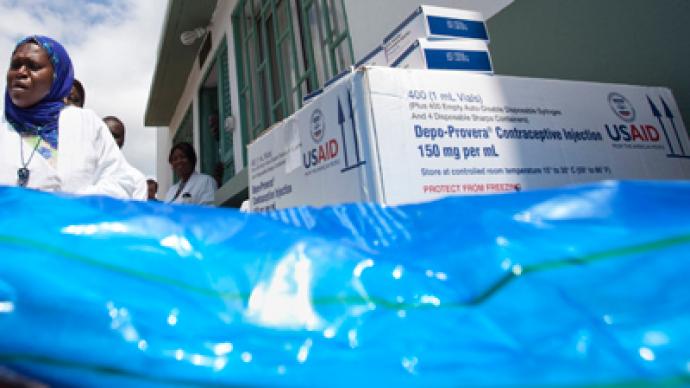 Israel's health ministry has admitted to injecting Ethiopian Jewish women on their way to Israel with a birth control drug. It follows increasing publicity to the claim that it was administered without patient consent in a population control bid.
The official acknowledgement came on Sunday with the publication of a letter written by Ron Gamzu, the director general of the Israeli Health Ministry, in response to comments made by the Association for Civil Rights in Israel (ACRI). The letter, published in Haaretz, ordered several organizations treating Ethiopian immigrants to immediately cease administering Depo-Provera injections to them.The Israeli government had previously denied that it was administering the contraceptive drugs in a deliberate attempt to cut the birth rate among poor black immigrants.Gamzu's letter stated that gynecologists currently treating Ethiopian women at Health Ministry-associated clinics should not renew prescriptions for the drug if there was a possibility that the patient did not understand "the ramifications of the treatment," and to procure translators from now on if needed.In a letter to Gamzu, ACRI had accused Israeli authorities of "a paternalistic, haughty and racist attitude" that limits the freedom of Ethiopian immigrants to choose their birth control method.The ministry's response did not indicate whether there were explicit policy guidelines or clarify how long government-funded health facilities have been administering the drug to the Ethiopian women, or to how many.Medical staff made Ethiopian women take the contraceptive at Israeli-linked transit centers in their home country that prepare them for immigration to Israel, according to last month's report by Israel Educational Television. Officials at such centers allegedly threatened to deny an unspecified number of applicants entry into Israel if they refused to be injected.       The issue was first raised almost five years ago, when investigative journalist Gal Gabbay interviewed 35 Ethiopian women who had immigrated to Israel, in an attempt to discover why birth rates in the community had fallen dramatically. The birth rate among Ethiopian Jews in Israel has declined by 50 per cent over the past ten years. The television investigation broadcast testimony where immigrants claimed that they had been forced to receive the injection while waiting in transit camps in Ethiopia. Medical staff"told us they are inoculations. We took it every three months. We said we didn't want to," one of these women is quoted as saying in the interview.Depo-Provera is thought to be a highly effective and long-lasting contraceptive, and is to be injected every three months. The drug's side effects include menstrual irregularities, abdominal pain, weight changes, headaches, depression, hair loss, nervousness and skin blemishes. About 100,000 Ethiopians have moved to Israel since the 1980s, but many Israelis doubt the authenticity of their Jewishness. Ethiopian immigrants often complain of discrimination in jobs, education and other areas.
You can share this story on social media: