Cellar sell-off: French budget crisis sees Elysee wines up for grabs
Published time: 2 May, 2013 09:47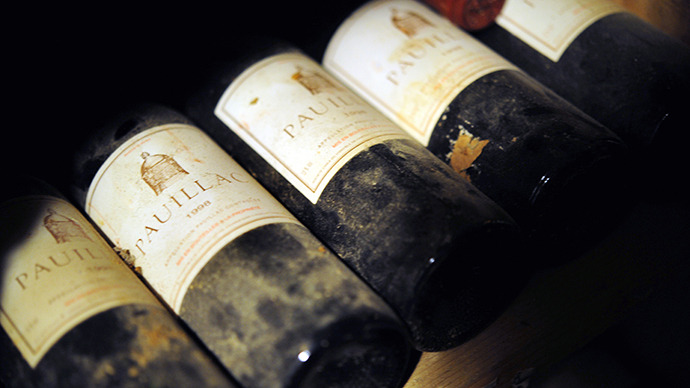 A French national treasure – wines from the presidential cellar – is to be put up for sale. Over a thousand bottles are expected to fetch up to $330,000. Proceeds will be reinvested in "more modest wines" and the excess returned to the state budget.
According to auctioneers Drouot, the wines represent a tenth of the presidential cellar, which boasts an impressive collection of 12,000 bottles. Their estimated value spans from $20 to $2,800 for top lots like the sought-after Petrus 1990.

"These are wines that have figured at the presidential table for dinners or receptions," a Drouot spokesperson told Reuters, adding that some of them have once "participated in events linked to the history of the Fifth Republic."

Unlike his predecessor, Nicolas Sarkozy, socialist François Hollande has chosen to promote himself as 'Mr. Normal', modestly cutting down the presidential fleet of cars as well as ministerial salaries.

As a rule, the crème de la crème bottles are served to heads of states and royalty. The wines put up for sale are said to be no longer sufficient to ensure an official reception. All bottles are complemented by a small label indicating the source.

The one-off selection, prepared by the head sommelier of the palace, Virginia Routis, will go under the hammer on May 30 and 31, in Paris. 
Among the headliners of the sale are the wines of Burgundy and the Bordeaux vineyards.

Rumors have it there's another wine gem in the French capital, the one at the Ministry of Foreign Affairs. However, its 6,000 bottles aren't expected to be auctioned off in the near future.
It's not the first wine auction of such high caliber held in times of the global economic crisis. In 2006, Paris Mayor Bertrand Delanoë put up for sale 5,000 bottles from the city cellar. Wines fetched to the city nearly a million euro.

Earlier this year, 54 bottles from the cellar of the British government were sold at Christie's for nearly 950,000 euro.

In 2011, France set a record for its wine and spirits exports with more than 10 billion euro, a 10.5 per cent annual increase, according to the Federation of Wine and Spirits Exporters. With a surplus of 8.6 billion euro, wine and spirits proved to be the second-largest contributor to France's trade balance after the aerospace industry and ahead of the perfume and cosmetics sector, AFP reported. Among the largest importers of French wine and spirits are the US, the UK and China.