Eyeing the 'dots': Domain name explosion to revolutionize web surfing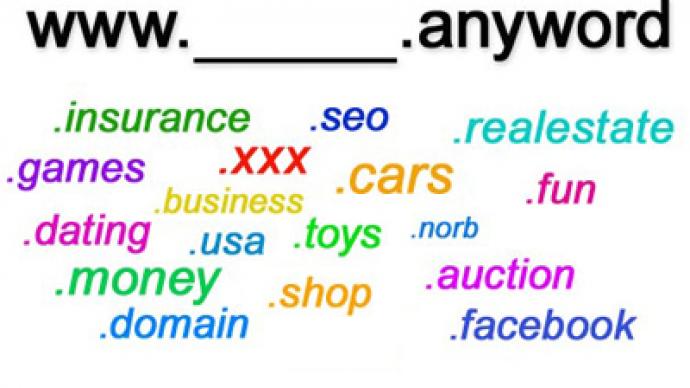 Looking for a piece of .sex, .sucks, or even .lol? The battle for web domain suffixes is on as internet giants such as Amazon and Google duke it out to control internet traffic in the "post-dot.com" world.
While the web has long been surfed on a wave of .coms, .govs, and .orgs, scores of companies are currently bidding for rights to the internet domain names of the future.Some 2,000 new web suffixes ranging from .ads to .zappos were unveiled Wednesday by the non-profit organization that regulates domain names, the Internet Corporation for Assigned Names and Numbers (ICANN), the Washington Post reports.Google topped the list of applicants, seeking to register 101 names at a cost of $18.7 million dollars. If successful, it will own the rights to .mom, .dad and .kid.Amazon is staking a claim to 76 names, including .book and .movie, and of course, .amazon. If successful, no other website will be able to operate within those domains without first receiving Amazon's permission.Other companies have kept things simple. Apple, for example, only sent for the highly original .apple.ICANN has long sought to expand the world of domain names since it was founded in 1998. In the previous decade, the group was responsible for adding .travel and .info to the worldwide web.Presently, 22 top-level domain suffixes exist alongside 250 country-level domains, including .uk and .ru.ICANN's bidding system first opened in January with all applicants having to show they have a legitimate claim to the suffix, as well as their current finances.As of Wednesday, the public will have 60 days to comb through the proposals looking for trademark violations or offensive content.In the case of .book, which both Google and Amazon are vying for, ICANN will prompt the applicants to work out an arrangement. If they cannot come to an agreement, an auction will be held, with the suffix going to the highest bidder.The most contentious suffix could be .app, which was sought by 13 applicants. Surprisingly enough, .sucks was not all that bad for the three applicants currently contesting the apparently not-so-sucky suffix.After a lengthy review process, ICANN expects the first new address to light up the web next year.However, old habits die hard and a slew of new suffixes could complicate browsing, keeping users away from the new domains.But the real issue may be full-scale domination of internet commerce by web giants."It would be wrong on so many levels for Amazon to acquire either the '.book' or '.author' top-level domains," Paul Aiken of the Author's Guild told the Post. "Their ambitions to extend their monopoly in bookselling have long been abundantly clear, and with their cash, their technical knowledge, this could be yet another way in which they've extended their control over the book market. This really makes no sense."If Aiken's warning proves true, the suffix craze that will soon revolutionize web navigation could send many small-scale internet entrepreneurs right to .suck.