Amazon benefits from antitrust case against Apple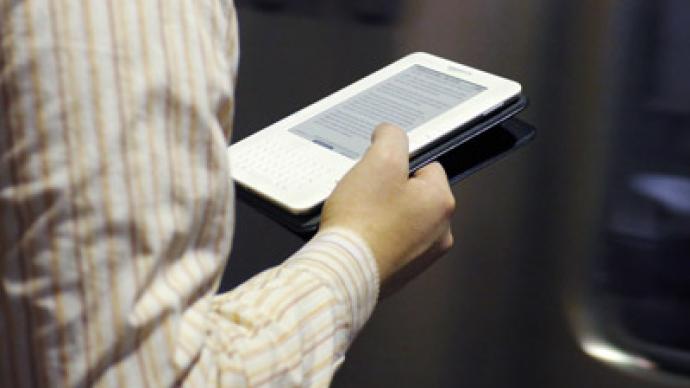 Amazon Inc is further strengthening its position in the e-book market as it announced plan to cut e-books' prices, while Apple and five publishers fight charges over price fixing plot.
The announcement came soon after the US Department of Justice accused Apple of colluding with the five publishers including HarperCollins, Simon & Schuster , Hachette Book Group, Macmillan and Penguin to drive up prices.The alleged conspiracy took place in 2010 when Apple was launching the iPad and was struggling for market share as the e-books market was dominated by Amazon and its Kindle digital reader.The prosecution claims Apple proposed the so called "agency model" of pricing to publishers. It means publishers were able to set their own prices and receive 70% of the retail price, while Apple took a 30% commission, but under the agreement the publishers weren't allowed to sell books cheaper to Apple's rivals.The model is opposite to the "wholesale pricing" used by Amazon, where the retailer and not the publisher sets prices.Thereby the price of many best-selling digital books surged by $3-5 up to $12.99 or $14.99 at that time, according to the lawsuit. The scheme cost the US consumers up to $200 million, the Justice Department claims. Apple along with Macmillan and Penguin publishers denied any wrongdoing. While Hachette and HarperCollins settled an agreement with Amazon, allowing it to resume discounting books. They also agreed to pay $51 million compensation to consumers who bought e-books for higher prices.Though e-book fans would be satisfied with the unexpected discounts and pay back, publishers and booksellers argue the antitrust suit will bring advantage to Amazon, making it a real monopoly. Amazon already dominates the industry and holds 60% of the market. "The terms the DOJ demanded were too onerous," said John Sargent, CEO of Macmillan. "After careful consideration, we came to the conclusion that the terms could have allowed Amazon to recover the monopoly position it had been building before our switch to the agency model." Publishers and booksellers fear Amazon will soon be able to dictate pricing policy as it easily beats rivals with discounts. They are also concerned that a price gap between the physical books and cheaper e-books from Amazon will grow and it would bring loses and eventually force them out of the business.Meanwhile recently Amazon also launched an application that allows users to make purchases in its online store, catching up with Apple Inc. and Google Inc.
You can share this story on social media: