We triggered financial crisis – Al Qaeda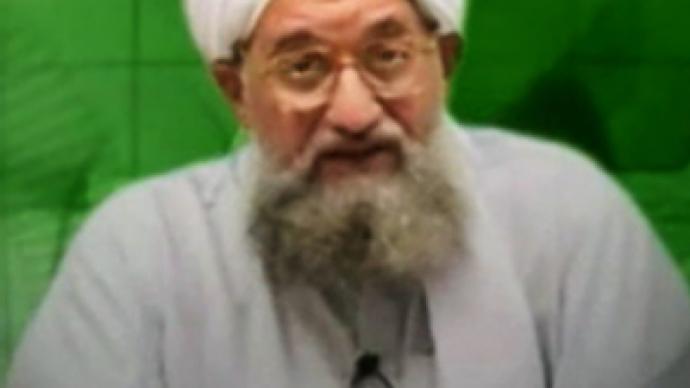 Al-Qaeda is indirectly responsible for the financial crisis, one of the terrorist group's leaders has said in a video posted on the internet. According to Reuters, Ayman al-Zawahiri said American taxpayers were paying the price for the U.S. military campa
Al Qaeda's second-in-command and the founder of the Egyptian Islamic Jihad said:
"The ones shouldering the burden are taxpayers, whose money was spent to rescue senior capitalists and to protect the fraudulent interest-based system from collapse."
In the video posted on Islamist websites, al-Zawahiri described the crisis one of "the series of American economic hemorrhages after the strikes of September 11".
Bin Laden's number two added that these "will continue as long as the foolish American policy of wading in Muslim blood continues."
In the 80-minute long video, the Egyptian militant also claimed that the US military action against al-Qaeda-backed tribal regions of northern Pakistan would see no success even though more troops are being sent to neighbouring Afghanistan.
"I challenge you [George Bush], if you are really a man, to send the entire American army to Pakistan and the tribal regions for it to end up in hell," al-Zawahiri said.
In another video, which was released on November 19, Al-Qaeda's deputy leader branded U.S. President-elect Barack Obama a 'house negro'. An insult meant to underline Obama is a black man doing the bidding of whites.
He also criticised his foreign policy and especially Obama's plans to send more troops to Afghanistan.
"Be aware that the dogs of Afghanistan have found the flesh of your soldiers to be delicious, so send thousands after thousands to them," he said.
The 57-year-old is suspected of helping organise the 1997 massacre of 67 foreign tourists at Luxor and was indicted by the US in connection with the 1998 bombings of American embassies in East Africa. The US has promised a $US 25 million reward for Bin Laden's most senior lieutenant.
You can share this story on social media: