Obama, foreign affairs and the Axis of Evil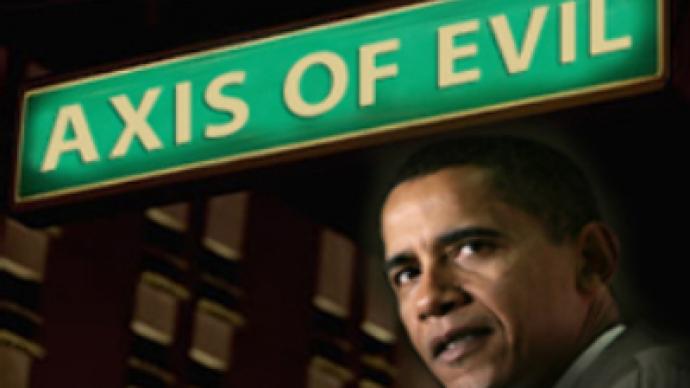 Barack Obama's election victory will herald a new era for international relations across the world. Alexey Sazonov examines what changes are in store.
In the face of a global economic crisis and concerns over more countries attaining nuclear weapons, Obama's election as President of the U.S. is a victory for the world. Over Obama's 21 month campaign he repeatedly said that he would take the country in a new direction in terms of its foreign and domestic policy.
With the backing of a largely democratic Senate and House, he will be able to implement the changes that he feels are necessary with fairly minimal resistance. The most notable changes in Washington's approach will be with regard to countries that George W. Bush dubbed the "Axis of Evil."
By the "Axis of Evil" Bush meant Iraq, Iran, and North Korea, claiming that those countries were prone to helping terrorists and potential sellers of nuclear technologies to terrorist organisations such as Al-Qaeda and Hezbollah. Iraq is no longer a threat to the United States' national security, which leaves North Korea, Syria and Iran to be dealt with.
Barack Obama, throughout his race to the White House, said that he will meet with leaders of Iran, Syria, Venezuela, Cuba, and North Korea to resolve issues diplomatically. Nevertheless, Obama also stressed that military options will still be on the table, but as a last resort.
Middle-Eastern Promises
Iran and Syria can breathe a little easier now that Obama has taken office, because he is advocating U.S. military withdrawal from Iraq. Iran has been nervous about the U.S. military presence on their borders ever since the invasion of Iraq began. Obama's promise to sit down with Mahmoud Ahmadinejad and talk about Iran's nuclear programme will also allow Tehran to voice its side of the issue and to reach a possible solution diplomatically.
Syria knows that the U.S. presence in the region draws terrorists to their country to use as a safe haven and for smuggling operations into Iraq. The added tensions due to U.S. military operations in Syria late in October are not something that Damascus wants to continue. Obama will bring hope to Syria to voice their concerns and to diplomatically resolve issues surrounding the U.S. army being on its territory.
As for American interest in the Middle East, Obama brings the promise of actually making progress with regard to Syrian and Iranian nuclear programmes. Joe Biden, the new Vice President, said: "Sanctions can provide leverage for negotiations."
The Bush administration tried to pressure Iran to shutdown its uranium enrichment programme by imposing sanctions and refusing to sit down and talk unless Tehran completely gave in to Washington's demands. Obama is promising to keep those sanctions, but also to sit down and understand Iran's side of the issue, so they can eventually come to an agreement.
North Korea
The North Korean nuclear programme has been one of the main concerns of the Bush administration's foreign policy in Asia. Both Obama and McCain agree that North Korea's nuclear potential is the biggest threat to security in Asia. Obama, as the new President, wants to use "aggressive diplomacy" to handle the North Korean nuclear build up. Obama's view of the North Korean nuclear potential is that it is one of the "biggest proliferation challenges we currently face." Hard sanctions don't seem to be doing much to an already isolated country. Obama's promise to use diplomacy with Pyongyang may bring new progress to getting North Korea to shut down its nuclear facilities.
The Caribbean
Cuba and Venezuela are also important issues that Obama will have to face as the new President. Obama promised to "immediately allow unlimited family travel and remittances to the island." For many Cuban-Americans this is an important issue, for it is very difficult for Cubans living in the United States to visit friends and family. Obama's promise brings hope to Cuba of lifting the embargo. It does not mean that Washington will stop criticising Havana's human right's violations and lack of essential civilian freedoms.
Although Venezuela has been very critical of almost every decision made by Washington under the Bush administration, Hugo Chavez has said: "Hopefully with Obama, we will enter a new phase." Throughout the closing stages of the campaign for the White House, Venezuela's leader has been supportive of Obama's election. With Obama, Venezuela will be able to talk on "equal and respectful terms."
Israel
Obama supports "U.S. efforts to provide aid directly to the Palestinian people by bypassing any Hamas-led government that refuses to renounce violence and recognise Israel's right to exist." Nevertheless, Tel Aviv is not supportive of Obama's promises to talk to leaders of Syria and Iran. These countries do not recognise Israel's right to exist, and Tel Aviv wants hard-line sanctions to be imposed on Damascus and Tehran until leaders of the two countries recognise them and stop threatening to wipe Israel off the map.
Europe and Russia
Western Europe has been largely supportive of Obama's candidacy as he is perceived as being more diplomatic than McCain. Eastern Europe, on the other hand, favours tougher foreign policies with regard to its main concern – Russia.
For Western Europe, the economy is an essential issue. The U.S. economy's welfare directly affects the European markets. U.S. polls indicated that Americans are more concerned about the economy than any other issue. Obama's promise to "chart a better course to build a new economy" is seen as a promise of a better European economy.
In the Eastern European countries Russia's growing power is of primary concern. Citizens of the post-Soviet states view the U.S. as the only country capable of countering Russia's power. McCain's hard-line policies suited the tastes of the Baltic States and other countries bordering Russia better.
The Conclusion
Obama, as the U.S. President-elect, brings hope of change to both allies and foes. Washington, under the Bush administration, has been battling hard against Iran's nuclear program, Syria's support of terrorists, Iraqi insurgency, Russia's growing power, and keeping the sanctions on Venezuela and Cuba alive. As has been evident, with-us-or-against-us policies of the Bush administration haven't brought much success.
Obama is willing to take a step in a new direction and actually talk to the leaders of countries who President Bush called the "Axis of Evil". He is willing to try a new approach to accomplish his foreign policy goals.
Alexey Sazonov for RT
You can share this story on social media: