Riot police fire water cannon at protester in wheelchair at Taksim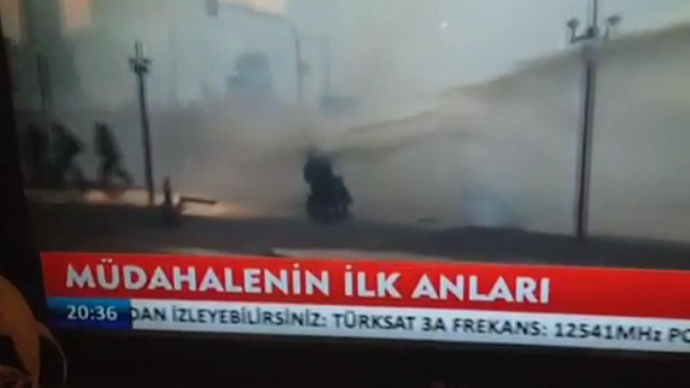 A wheechair-user waving a flag was among those directly targeted by water cannon bursts by Turkish riot police in Taksim Square. The police have reacted fiercely to thousands of protesters, who tried to push them out of the landmark Istanbul protest site.
A protester confined to a wheelchair was amid a group of protesters apparently moving away from riot police vehicles, when he was hit by a huge burst of water from a police water canon, footage by ITV has shown.

The man kept waving his flag and gestured towards the police, but remained rooted to the spot until the burst ceased. He then activated his electric wheelchair, which nearly turned over in the process, and slowly moved away through the thick cloud of smoke, vapor and tear gas.
Thousands of protesters tried to reclaim Taksim Square on Tuesday night, mocking the police and calling them to leave. Some engaged in direct confrontation, launching fireworks, throwing stones, and lighting fires. A van standing on the square was set alight in the process.
Police fired back, bombarding the crowds with tear gas, and pushing them in the narrow streets with water canon. Scores of flag and flare-wielding protesters had to flee the square, some leaving for Gezi Park, where some tear gas was also reportedly fired.

Protestors seem to be evacuating Taksim Sq as more gas is thrown by police. Many in #OccupyGezi Park. #direngeziparki twitter.com/luckytran/stat…

— Lucky Tran (@luckytran) June 11, 2013
Despite an initial pledge by the Istanbul Governor Mutlu that "Gezi Park and Taksim will not be touched," the protesters were forced out of the square and not let back in, while the protesters staying in the park were sporadically showered by tear gas canisters.
Gezi Parki is affected by all the tear gas floating around #Taksim. ow.ly/1Xjnt2#OccupyGezi

— Your Anonymous News (@YourAnonsNews) June 11, 2013
The Governor then said the police will continue operations in Taksim "day and night" until the "marginal elements" on the square are "cleared" in a brief TV announcement. Turkish Prime Minister Erdogan also praised the troops for removing the "rags" as he branded the revolutionary symbols.
RT @igualitarista: surreal image of an army of police crossing the battlefield they made out of #Taksim. twitter.com/Igualitarista/…#OccupyGezi

— natalie solidarity (@constantnatalie) June 11, 2013
You can share this story on social media: