Freedom of press under pressure: UK to launch media regulator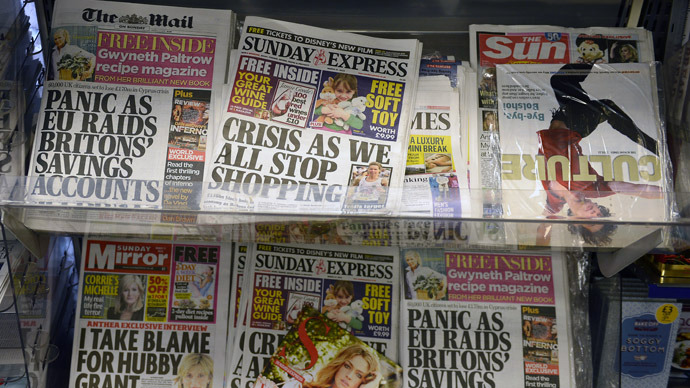 British MPs have reached a deal to establish a new press watchdog in the UK, despite fears voiced by Conservative Party leader Prime Minister David Cameron that it could jeopardize freedom of the press in the country.
MPs have reportedly reached a last-minute compromise over new press regulations.  It has allegedly been agreed that the press watchdog will have the authority to levy six-figure fines of up to $1.5 million, as well as require newspapers to print apologies when necessary.

Negotiators initially disagreed on the terms of the proposed watchdog, which would protect individuals from malicious newspaper reporters. While all agreed that the press cannot be trusted to govern itself, many insisted – the Prime Minister among them – that if regulation of the press is necessary, it should be without political involvement.

Cameron argued that enshrining media restrictions could erode the concept of the free press:  "The idea of a law, a great, big, all-singing, all-dancing media law ... would have been bad for press freedom, bad for individual freedom," the Conservative Party leader was quoted as saying.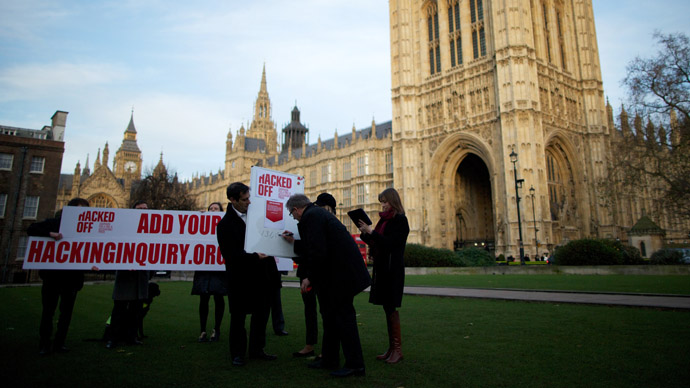 He proposed to protect victims of unruly newspapers through a royal charter, an executive document that does not require a vote in Parliament.

Opposition Labour Party leader Ed Miliband urged lawmakers to "stand up for the victims" of press abuse by formalizing the new press regulations into law.

Harry Potter author J.K. Rowling, whose privacy has been repeatedly violated by the media, said she and other victims "have been hung out to dry" by the government.

Talks reportedly continued through the night on March 18, with Cameron allegedly failing to rally support for his regulatory scheme. It was reported he was forced to compromise and accept the opposition parties' terms, some of which he had earlier described as "bad for press freedom," in order to avoid an inevitable defeat in the House of Commons.

"After five-and-a-half hours of talks in Ed Miliband's office which ended at 2:30am, we are confident we have the basis of an agreement around our royal charter entrenched in statute," a senior Labour source told the Daily Mail.

The heated debate over media regulation in the UK was triggered by Lord Justice Leveson's inquiry into press ethics, following revelations of the illegal practice of phone-hacking by tabloid journalists.

The scandal resulted in the closure of Rupert Murdoch's 'News of the World' tabloid in 2011 and a wave of resignations after it emerged that journalists had regularly eavesdropped on voicemails and hacked into computers in search of dirt on celebrities.

The UK already has one government-approved regulatory authority, Ofcom, established in 2003 to protect against "scams and sharp practices." The Office of Communications operates under the so-called 'Communications Act 2003,' a parliamentary act that defines the authority of this 'super-regulator' in protecting the public from what might be considered harmful or offensive material.

You can share this story on social media: