Venice to rally for independence from Italy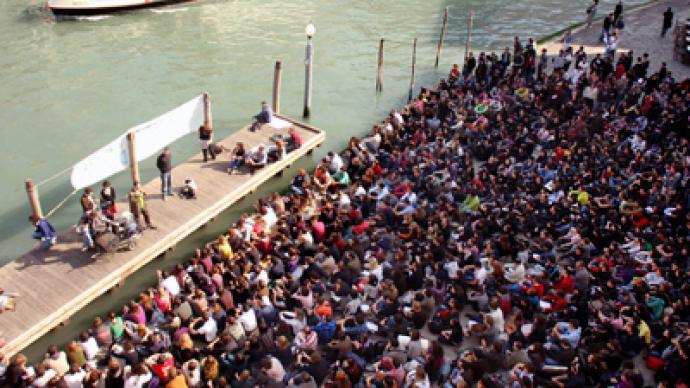 A mass rally is to be held on Saturday, calling for the region's independence from Rome. A large majority of Venetians support the move as financial burdens from central government bite.
Indipendenza Veneta, a pro-independence movement, says it expects several thousand to attend the rally in the center of the city.Recent surveys show that support for independence amongst locals is high and those in favor want a referendum. A poll conducted in September by Italian national newspaper, Corriere della Sera, found 80% wanted to separate from Rome.A more recent poll by Il Gazzetino, a local newspaper, found a lower but still high level of support at 70%.The Venetian province is wealthier than many others in Italy and many resent having to pay the bills for the rest of the country.The lagoon city is following on the heels of European independence movements in Scotland and Catalonia. Both regions have strong separatist movements that believe they would be better off as small independent countries.Indipendenza Veneta said in statement that the economic crisis is hitting the region hard.Venice has a history of disagreements with the central government in Rome.The chairman of the separatist movement Lodovico Pizzati has already submitted a pro-independence petition bearing 20,000 signatures to Luca Zaia, the governor of the Venice region."The declaration of independence is inevitable. Surveys show that it is wanted by the overwhelming majority of Venetians, to speed up the process we need the support and help of as many Venetians as possible," Pizzati said in the statement.He also stressed that Venice was being dragged down by the rest of Italy, complaining "In this time of economic crisis, where the Veneto [region] is squeezed worse than a colony of Africa".The region's governor has acknowledged the high level of support for independence, but said there was no constitutional basis for the Venice region to succeed from Italy.The Venetian Republic was once a prosperous trading state that lasted for a thousand years until it was occupied by Napoleon Bonaparte in 1797. It was only incorporated into the rest of Italy in 1866.
You can share this story on social media: