Catalonia calls early elections in bid for greater independence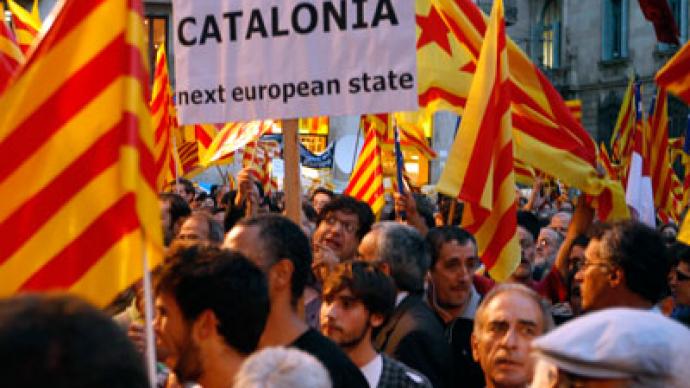 The Catalan region of North East Spain has called elections in November in an effort to get greater independence from Madrid. Catalonia produces a fifth of the country's GDP and has had its plans to manage its own tax revenues rejected.
Economically developed but heavily indebted Catalonia plans to conduct elections two years ahead of schedule on November 25.Unemployment, financial instability and austerity measures imposed by the central government in Madrid have made 46.4% Catalans support independence, according to a recent survey. It is twice as many as four years ago before the financial crisis began.Catalan separatism has been around for more than a hundred years, but since the 2008 crisis the process has been gaining popularity.On September 11 over a million people from all over the region rallied on the streets of the Catalan capital Barcelona in support of independence from Madrid.But despite mass protest in Catalonia Spain's Prime Minister Mariano Rajoy last week rejected province's demand for special fiscal powers.In calling the election Catalonia's President Arthur Mas said 'The moment has come when the village of Catalonia exercises it's right to self-determination, so that the people can decide what sort of future they want as a nation."Catalonia has an economy greater than neighboring Portugal wants to change things.The region is trying to get more control over the tax revenues it gathers because now it is the central government in Madrid that distributes finances within the country.Catalonia currently runs a debt of about 40 billion euro, and that has forced the regional authorities to introduce cuts in health care and education.A meeting of Catalonia's President Arthur Mas and Spain's Prime Minister Mariano Rajoy brought no tangible results on financial concessions to the region so Catalonia has called the elections.Catalonia cannot conduct a referendum on independence because the Spanish constitution adopted in 1978 which does not allow referendums on the matter in the country's provinces.Prime Minister Mariano Rajoy puts blame on the situation on the "most de-centralized in the history of our country" constitution."It is a new crisis being added to the crisis," he said.On Tuesday around 6,000 protesters rallied outside the Spanish Parliament in Madrid. Over 1,000 riot police prevented them from getting near the building. Police used batons while demonstrators threw bottles and stones. Spanish TV reported 22 protesters detained and 28 people injured in the clashes.The protesters called for members of Parliament members to be sacked for misleading the voters with austerity measures which were introduced despite promising otherwise before the elections last November.The unemployment level in Spain is the highest in the EU with up to 25 per cent of working-age adults out of work.Though PM Rajoy has promised not to cut pensions there is a risk the retirement age might be raised to 70. The new austerity measures might be announced on Thursday as government is expected to present a draft budget for 2013.Madrid is making great efforts to assure its European partners and creditors that the austerity measures it is taking are going to be effective in decreasing country's debt.
You can share this story on social media: