S. American leaders call for peace in Venezuela amid violent protests
The Union of South American Nations has called for an end to the unrest in Venezuela, after violent protests left another two people dead. Venezuela has been gripped by almost a month of demonstrations that have killed a total of 20 people.
Venezuelan Minister of Foreign Affairs Elias Jaua announced that the Union of South American Nations (Unasur) will meet on Tuesday in Chile to discuss what Caracas has branded as "fascist violence" in Venezuela. Jaua said the meeting will analyze the causes and consequences of "this new attack on Venezuelan peace and democracy."

"We are ready to work together with Unasur on a dialogue between Venezuelans to achieve political stability, and eradicate the threat that these violent groups represent when they attack the Venezuelan democratic institution and the democratic values of South America," said Jaua in a statement on Saturday.

Venezuela has been hit by a wave of violent protests that have continued for almost a month and have left at least 20 people dead. The demonstration movement is angry at President Nicolas Maduro's government over inflation and the lack of basic products in the country such as paper, sugar and oil.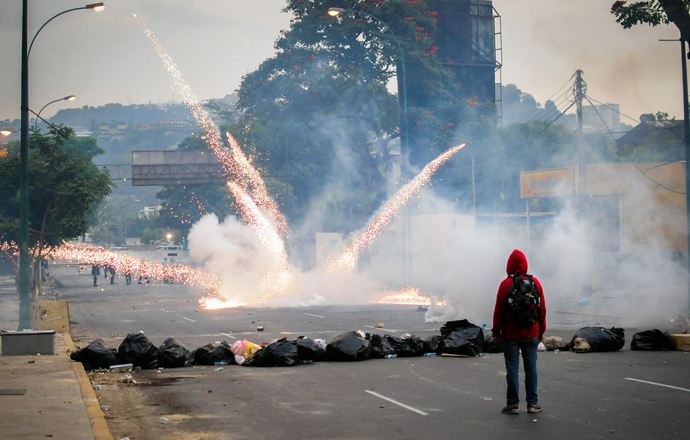 The latest outbreak of deadly violence happened on Friday when an unidentified gunman opened fire on a group of people dismantling a barricade in the East of the Venezuelan capital city. The shooting spree left a riot officer and a motorcyclist dead. Later in the day clashes between student protesters and riot police were reported in the Altamira. Police deployed tear gas to disperse the students who threw stones and Molotov cocktails at them.

President Nicolas Maduro has denounced the violence as the product of a fascist political minority.

"The majority of the opposition are peaceful," President Maduro told CNN in an interview, adding that the Venezuelan government has always respected freedom of expression. On a number of occasions Maduro has pointed the finger at the US for inciting and plotting to overthrow the Venezuelan government in a coup d'etat.

Earlier this week, Maduro ejected the Panamanian ambassador along with three other diplomats from Venezuela, citing their alleged involvement in a conspiracy against his government. He took issue with a petition made by the Panamanian government to the Washington-based Organization of American States for a private meeting regarding the continuing unrest in Venezuela.

Washington, for its part, has urged Venezuela to investigate reports of widespread police brutality during the protests and denied orchestrating the unrest.

Venezuela's South American neighbors have for the most part offered their support to President Maduro. Ecuadorian President Rafael Correa said earlier this week in a television interview that Maduro's government was not repressing its people.

"The truth is that the Venezuelan government is the victim, Nicolas Maduro is a humane person who would be incapable of repressing his own people," Correa said.

Argentinian President Cristina Kirchner also voiced her solidarity, denouncing the violence in Caracas as an attempt at a coup d'état.
Gregory Wilpert, the co-founder of Venezuela analysis dot com, told RT that many of the opposition did not have any "concrete proposals." Despite the fact that President Maduro has invited them for talks, the student protest movement has refused to come to the bargaining table.
"The only proposal that they can put forward to address these problems is that Maduro should resign and that's not going to happen, since he clearly won the election last year," said Wilpert to RT.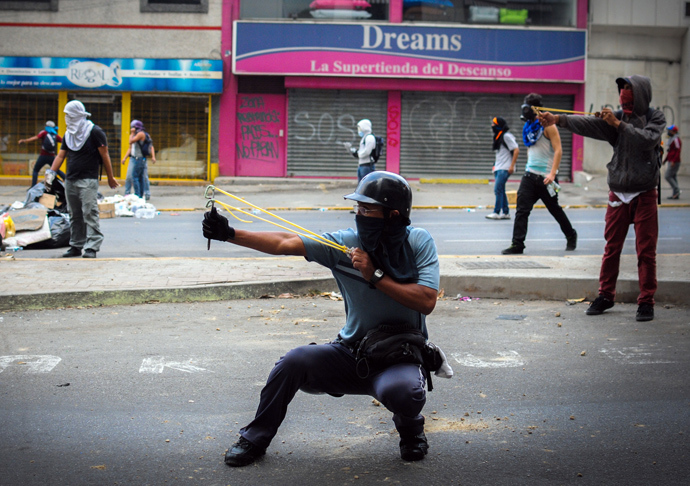 You can share this story on social media: