Students and police clash in Venezuela protests
Student protesters have clashed with police in Caracas, prompting officers to use tear gas to break up the crowds. It comes after almost two weeks of massive street demonstrations that the government has condemned as an attempted coup d'état.
Students marched through the Venezuelan capital on Thursday, demanding the release of their peers who were detained during the last two weeks of protests. The demonstration descended into violence when a group of masked protesters attempted to block a road in central Caracas. The police used tear gas to break up the crowd, while demonstrators pelted officers with stones.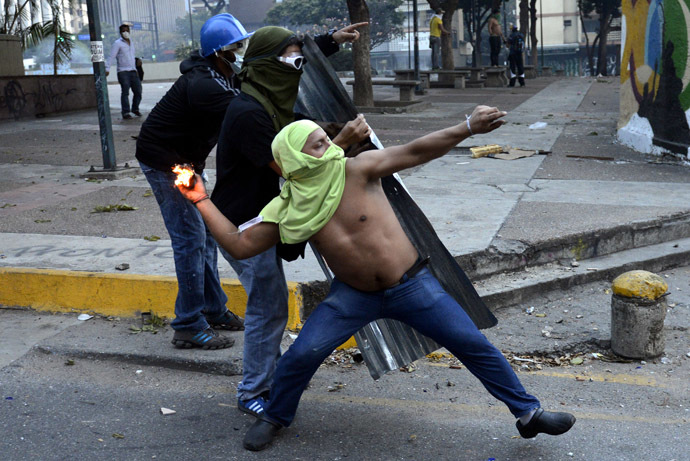 "[President] Maduro, tell us when and where you are going to release the prisoners. Tell us when there will be justice for our dead," the head of the student protest movement, Juan Requesens, addressed protesters on Thursday.
Over 50 people have died in the mass protests that have gripped Venezuela over the last couple of weeks, according to government figures. President Nicolas Maduro decried the unrest as an attempt at a coup d'état orchestrated by fascist elements in the Venezuelan opposition.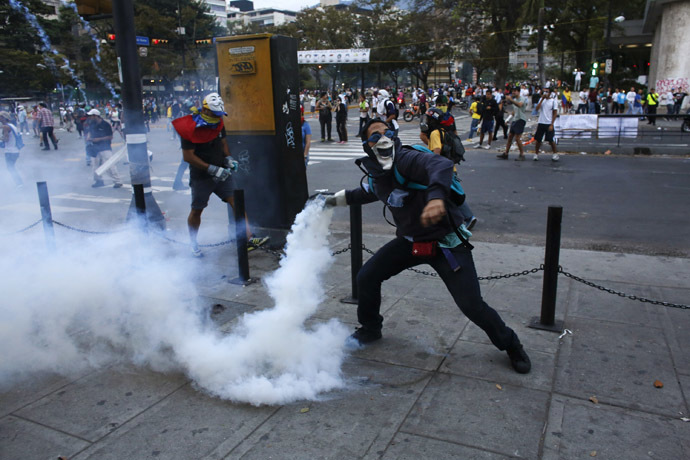 "There will be no coup d'etat in Venezuela; you can rest assured. Democracy will continue, and the revolution will continue," Maduro said on national television on Wednesday. The head of the Venezuelan government has also pointed the figure at President Barack Obama for "financing, promoting and defending members of the opposition that promote violence against our country."

Elsewhere in Caracas on Thursday government supporters gathered to celebrate the 25th anniversary of the Caracazo – violent protests against economic measures imposed in 1989 that left hundreds of people dead. The historical event is widely believed to have prompted the civic-military rebellion led by Hugo Chavez that happened three years later in 1992.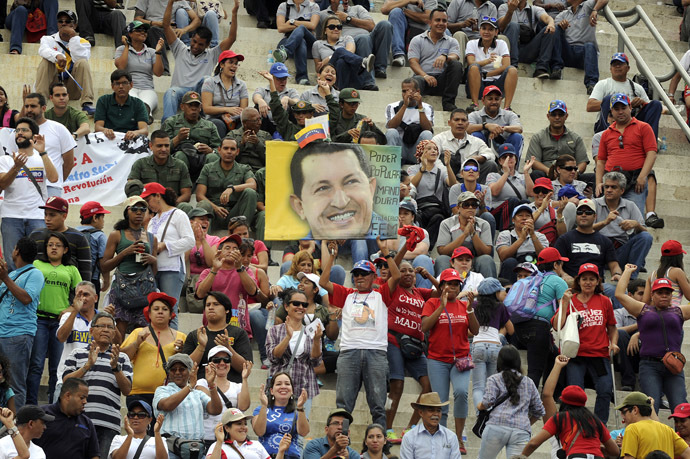 The latest wave of violence in Venezuela comes on the heels of the arrest of opposition leader Leopoldo Lopez who handed himself into police custody last week. The Harvard-educated opposition figure is facing charges of inciting violent protests which carries a potential jail sentence of ten years.

Lopez was initially accused of murder, but his lawyers say these charges have been dropped by prosecutors.

"I said, 'Send him to jail,' and that's what happened and that's what will happen with all of the fascists. I won't allow him to challenge the people of Venezuela, the constitution," said Maduro shortly after Lopez's arrest.

Following the arrest Maduro announced the expulsion of three US diplomats from Venezuela whom he accused of a "fascist" conspiracy to oust the socialist government.

In response, Washington gave three Venezuelan diplomats 48 hours to leave the United States and denied the US had anything to do with the unrest.
You can share this story on social media: