Venezuela breaks diplomatic relations with Panama, citing conspiracy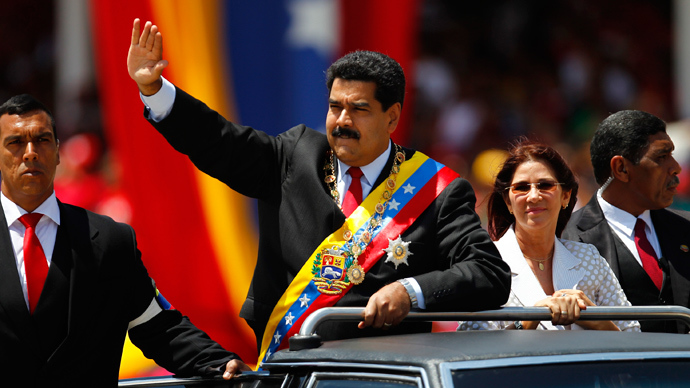 The government of Venezuelan President Nicolas Maduro announced that it was breaking diplomatic and commercial ties with Panama on Wednesday, citing the Central American country's complicity in a "conspiracy."
In strongly worded comments during a commemoration event on the anniversary of the death of the country's late president, Hugo Chavez, Maduro derided Panama's leadership.

"We're not going to let anyone get away with interfering with our fatherland, you despicable lackey, president of Panama," said Maduro.
The Venezuelan leader affirmed that actions to break relations with Panama were in keeping with the day's homage to Chavez.
"This is the best way to honor commander Chavez, by defending our sovereignty."
Maduro directly addressed Panama's petition to the Organization of American States (OAS) to investigate the ongoing situation in Venezuela.
"Let the OAS stay where it is," he added. "We are a pacifist country, but we are also brave in defending our rights."
Panama's government reacted sharply to Maduro's condemnation, branding his comments as "unacceptable offenses."
"The offensive language that was used is inappropriate for a president of an allied country," said the Panamanian government in a statement.
Panama denied their petition to the Organization of American States (OAS) was "interference" in Venezuelan affairs and claimed their only intention was to "strengthen democracy and Human Rights" in the Latin American nation.
The remarks took place during a ceremony with various foreign dignitaries in attendance, including the presidents of Cuba, Bolivia, and Nicaragua.
Supporters of the Bolivarian revolution are busy marking the first anniversary of their iconic socialist leader, Hugo Chavez. This comes amid continuing nation-wide protests mounted by the opposition against Maduro's administration.
Tens of thousands of people were expected to flood the country's streets to attend lavish events hosted by the country's new leader and successor to Chavez and his ideas – Nicolas Maduro. A military parade honoring 'El Comandante' is among the festivities.
Maduro, Chavez's chosen successor, wants to show that despite the feeling created by the current anti-government protests now gripping the country, plenty of people still exist who value Chavez's socialist legacy of economic reform and equality for all.
You can share this story on social media: