Tensions spill over into physical brawl at Venezuelan assembly (VIDEO)
Published time: 1 May, 2013 03:55
Edited time: 1 May, 2013 08:59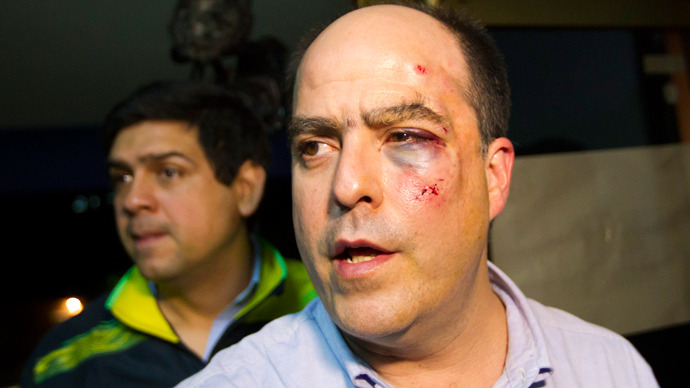 Disagreements between the incumbent socialist party of Venezuela and the political opposition following a contentious April 14th presidential election erupted into an all-out row at the national assembly on Tuesday.
According to images released from the scene, several legislators were seen exiting the chamber bruised and bloodied, with at least 17 members of the opposition parties and five members of the majority incumbent party involved in the incident.
Since Nicolas Maduro was declared president following a series of declarations by Venezuela's electoral body, the largest opposition party, Justice First, under Henrique Capriles has refused to concede under accusations of voting irregularities.

Members of the opposition reported being blocked from speaking at the 165-member national assembly due to their refusal to recognize Maduro's government, blaming their "fascist" counterparts for the violence.

One worker at the assembly told Reuters that the incident began when opposition members unfurled a protest banner reading "parliamentary coup." Laptops and tables were hurled across the chamber during the chaos, with one legislator reportedly hit over the head with a chair.

Diosdado Cabello, the head of Venezuela's parliament and member of the United Socialist Party of Venezuela, decried the opposition's refusal to accept Maduro's presidency.

"Until they recognize the authorities, the institutions of the republic, the sovereign will of our people, the opposition deputies will have to go and speak (to the private media) but not here in this National Assembly," declared Cabello via state media.

"We knew the opposition came to provoke violence," Maduro said following the assembly incident. "This must not be repeated."

Meanwhile, Capriles has vowed to present a petition to Venezuela's highest court in early May to annul the election's results.