Venezuela's Maduro sworn into office as vote recount looms
Published time: 20 Apr, 2013 01:43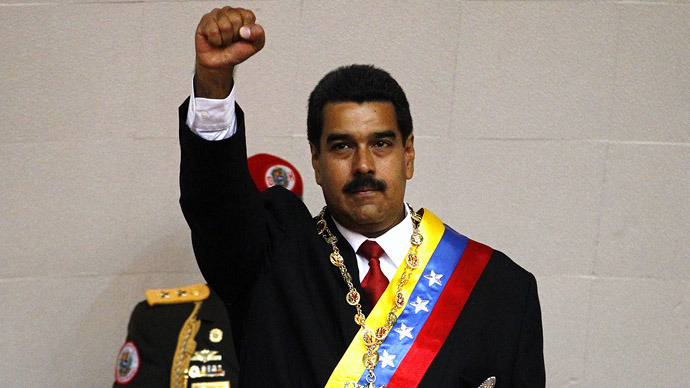 The inauguration of new Venezuela President Nicolas Maduro has gone ahead, even as the opposition continues to challenge his poll victory, and a vote audit is still being conducted.
Thousands of Maduro's socialist supporters gathered on the streets of capital Caracas on Friday morning to mark the occasion.

The ceremony is attended by the majority of South America's heads of state, and senior officials from Russia and China, which have already recognized Maduro's victory.

Meanwhile, opposition candidate Henrique Capriles called off a rally of his backers, to avoid escalating an increasingly fraught stand-off, and asked them to play salsa music as a symbol of their protest against a result they believe was won fraudulently. 
Maduro, the former second-in-command to Hugo Chavez, who died of cancer last month, won 50.8 percent of the vote on Sunday – beating Capriles by a mere 267,000 votes out of 14.9 million.

Center-right coalition candidate Capriles claims that 3,000 violations took place – such as the inclusion of 600,000 dead voters on the electoral roll, expulsion of opposition observers from polling stations, and inexplicable swings in favor of Maduro in certain districts compared to the results of last October's election, won by his significantly more popular predecessor Chavez.


Venezuela's electoral commission agreed to an audit on Thursday, the same day that a court rejected a plea to postpone the inauguration until it is complete. The commission will examine 46 percent of the ballots (54 were studied by default in the immediate aftermath of the vote). The ballot assessment - which the commission refuses to label as a recount - is likely to take around a month.

The concession to the opposition was cautiously welcomed by Capriles, and appears to have lowered the temperature of the confrontation that has divided Venezuela.

The aftermath of the tightly-contested vote was marred by violent clashes, with Maduro accusing the opposition of trying to stage a US-backed coup, and Capriles claiming that opposition activists are being subjected to repressive measures. At least eight people have been reported to have been killed in the violence.

On Thursday, Maduro travelled to Peru for an emergency discussion on ways out of the political crisis with other South American leaders.

All of them have already recognized Maduro's victory.

The 50 year-old Maduro was a bus driver and later a union leader, before rising to the post of foreign minister during the Chavez regime. He has positioned himself as a radical left-wing heir to Chavez, who Maduro says was given cancer by the United States, and routinely refers to opposition politicians as fascists.