Maduro declared Venezuela's president-elect after narrow victory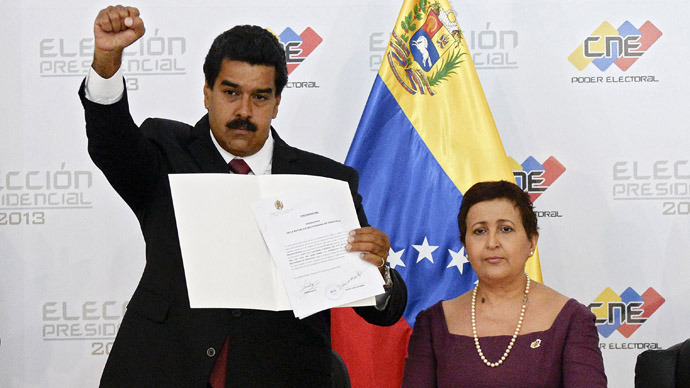 Venezuela's National Electoral Council proclaimed Nicolas Maduro the winner of the country's presidential elections on Monday. Meanwhile, seven people were killed and 61 others injured during clashes between opposition supporters and police.
In Caracas, police fired tear gas and rubber bullets at masked, rock-throwing opposition supporters Monday night. Motorcyclists drove in circles around a pile of burning trash along the city's main highway.

Other members of the opposition banged pots and pans, while Maduro backers responded with fireworks and music.
Venezuelan authorities have arrested 135 people suspected of involvement in violence Attorney General Luisa Ortega Diaz said in a Tuesday statement.

The National Electoral Council certified a narrow victory of 50.8 per cent to Maduro versus 49.0 per cent for the opposition candidate, Henrique Capriles.

Venezuela's opposition party has pressed for a full recount and called for peaceful protests. Sources who spoke with Reuters claim that Capriles won by over 300,000 votes, and stated it had evidence of over 3,000 voting day irregularities ranging from fraudulent IDs, and voter intimidation at polling centers.
The electoral body's president, Tibisay Lucena, dismissed complaints of voting irregularities lobbed by Capriles and the opposition, stating that "the entire country is witness to the efficiency of the voting process" and added that few events which could have compromised the integrity of the results were noted. Maduro is now set to be officially sworn in on April 19th.
Meanwhile, Maduro and his campaign team have accused Capriles of planning a coup.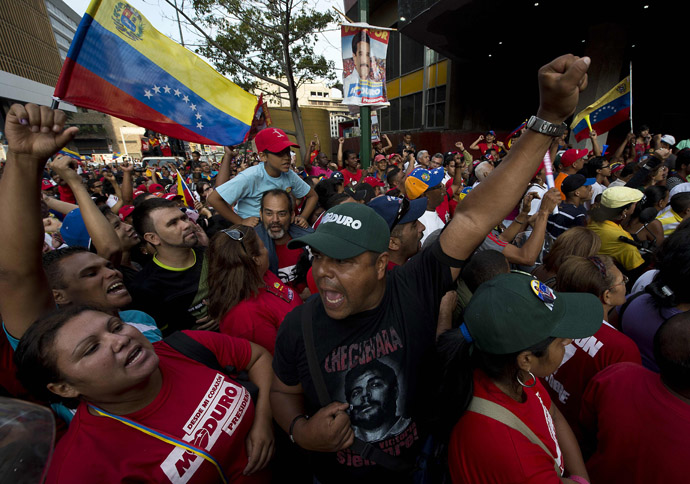 Hundreds of Capriles supporters protested in several upscale districts of the Venezuelan capital, some hoping to attract the attention of unofficial international election observers. Police fired tear gas to disperse young demonstrators who threw rocks at them. El Universal newspaper has reported of opposition supporters mounting protests in the cities of Zulia, Tachira, Lara, Barinas and Miranda.
Though he advocated against any violence, Capriles himself has stated publicly that he is sure of having won the election, and only plans to concede the race once there is a full recount.
In response, Lucena responded that "threats and intimidation will not be the path to appeal the decisions " of the electoral body. The official also accused the US as well as the Organization of American States of attempting to interfere in internal affairs by supporting a recount.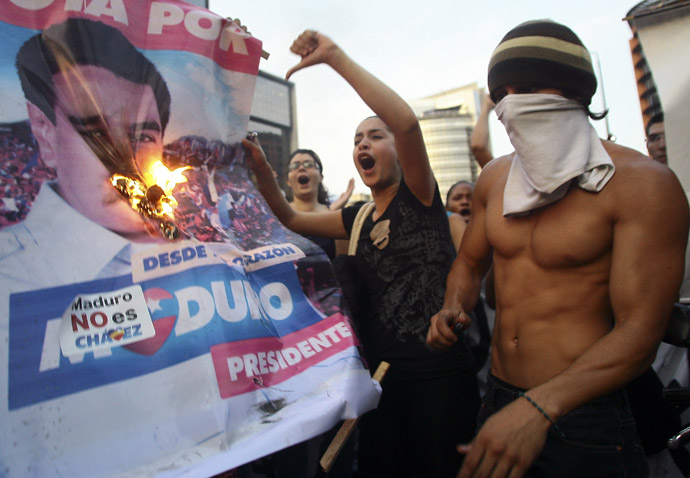 Unlike Hugo Chavez, the former Venezuelan leader who beat Capriles in October's last regular presidential election by 11 percentage points, Maduro's lead quickly diminished in the run-up to Sunday's vote. The narrow victory achieved by the incumbent Socialist Party leader suggests that his political coalition may be substantially weaker than his predecessors'.
Speaking to supporters, Maduro proclaimed his intent to extend the socialist revolution first begun by his mentor, Hugo Chavez:
"I will fulfil the legacy of protecting the humble, the poor, to protect the fatherland ," said Maduro.
Following Maduro's victory on Sunday night, one of the members of the country's electoral body, Vicente Diaz, had supported an audit of the vote prior to official certification. The idea was even acknowledged by Maduro himself, who spoke to supporters outside the presidential residence.
By Monday, however, the five member body seemed satisfied with the election results, and any further recounts or audits seemed very unlikely.